There's no denying it: Montmartre is always pretty crowded with tourists and tour groups - and that's just on weekdays! However, head towards the back of the hill (the "butte") and follow signs to the Montmartre Museum. You'll discover a surprisingly much quieter haven in Rue Cortot.
For 5 euros entry into the Museum's Renoir gardens, enjoy the welcome tranquility and relax with a drink or snack in the timeless Café Renoir.
Here you can avoid the summer crowds around Sacré Coeur and Place du Tertre during a swelteringly hot afternoon. The Café offers a snack menu that changes with the seasons and in the spirit of a tea room.
Café Renoir, Montmartre Museum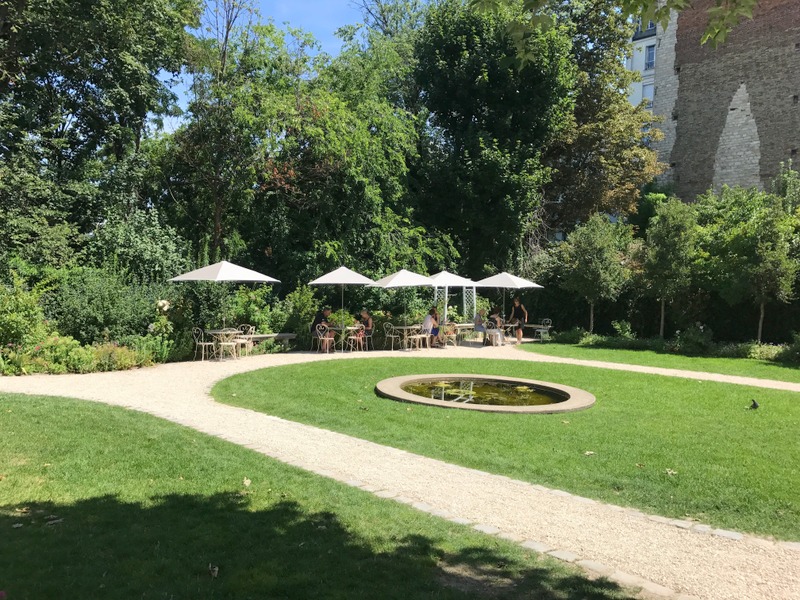 The sun room has been given a make-over with antiques from La Petite Brocante de Montmartre and touches of dried flowers and plants. Apparently it was here that Auguste Renoir was inspired to paint Le Bal du Moulin de la Galette in 1876 when he lived here.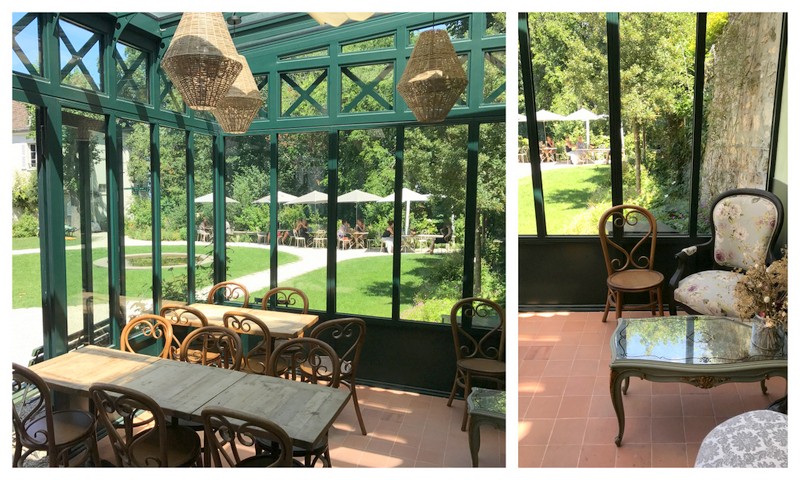 I could have sat indoors to imagine Renoir painting, but a pretty table in the shade was beckoning with a most beautiful view of the gardens dedicated to the painter, with a view on the famous swing ...
By 1pm, I'd already missed the quinoa salad, which was obviously popular in such a heat but when a Moroccan-style chilled carrot salad arrived to accompany a vegetarian quiche (made by Rachel's Cakes), then that made up for it (part of the €16 menu).
If you know me well, I love good wines and so couldn't resist a taste of their chilled white (also choice of rosé and red) - I'm looking out for this again and thoroughly recommend their organic Apremont from Savoie by l'Envin - not too dry, bags of fruit and full on the palate.
All their drinks are supplied by quality brands, with fruit juices by renowned Alain Milliat or Sassy Cidre but as slices of lemon & poppy-seed cake arrived (made by Ryotaro Sato), their own house iced tea with mint was the perfect accompaniment on ice to help bring down the 36°C!
Renoir's Swing in Montmartre, Rue Cortot
The view from the quiet Café Renoir looks on to my favourite part of the garden: the famous swing, La Balançoire, painted by Renoir in 1876 while he lived here for a year.
The painting was presented at the Impressionists' exhibition in 1877 but hard to believe that it was badly received by the art critics. The work was purchased by Gustave Caillebotte, Renoir's artist friend and patron - jolly good chap! Incidentally, I need to visit his home near Orly, outside Paris and take a boat ride à la Caillebotte.
The gardens are so inviting to linger and enjoy the familiar views that would have been seen by Suzanne Valadon and her son, Maurice Utrillo from their painting atelier, which has recently been restored to resemble what it was back in 1912.
The Oldest House in Montmartre
Number 12 Rue Cortot is the oldest house in Montmartre, constructed in the middle of the 17th century. It was home to a number of artists such as Auguste Renoir, Emile Bernard, Suzanne Valadon and her son, Maurice Utrillo.
It wasn't until 1959 that it was restored to house the Montmartre Museum, which houses a unique collection of paintings, posters (notably by Toulouse-Lautrec) and drawings that recount the history of Montmartre, including its infamously animated cabarets.
Making your way to the back of the museum, you'll appreciate the views.
Montmartre's Vineyard
I've already visited the museum many times and one of my favourite exhibits are the slide shows showing how life was through photography and film at the time of these various painters. They also show a memorable photo of the area where the vines were replanted in 1933 for the Clos de Montmatre vineyard.
Around 50,000 visitors celebrate the Fête de Vendanges or Montmartre Wine Festival each year in October. Here's the unique view up close to the vineyard from the Renoir Gardens of the Museum.
This year, the museum has also organised gardening workshops. Learn how to plant, seed and take cuttings for your Parisian balcony; or how to cultivate your own vegetables; and how to add edible flowers to your savoury and sweet dishes.
This is also great for children, accompanied by an adult. For more information, consult the Renoir Garden Workshop information site.
The Café Renoir, Musée Montmartre
12 rue Cortot
75018 Paris
Open every day, 12pm-6pm (May-October) & from Wednesday to Sunday (October-April)
Snack lunch menu: €16
Night opening, 7pm-10pm every Thursday in July & August, and last Thursday of every month (€15 entrance fee, glass of wine included).
Metros: Lamarck-Caulaincourt (line 12); Anvers (line 2)