You've already heard me rave about them, haven't you? These Matcha green tea macarons are by award-winning pastry chef, Sadaharu Aoki. For nearly 20 years, he has been amazing the Parisians with his Japanese influences to French pâtisserie. His yuzu citrus macarons pack a delicious punch, as do the black sesame.
For me, however, his tea-infused macarons are extra special such as Earl Grey, Hojicha grilled Japanese tea, and genmaïcha, which is a green tea combined with roasted brown rice.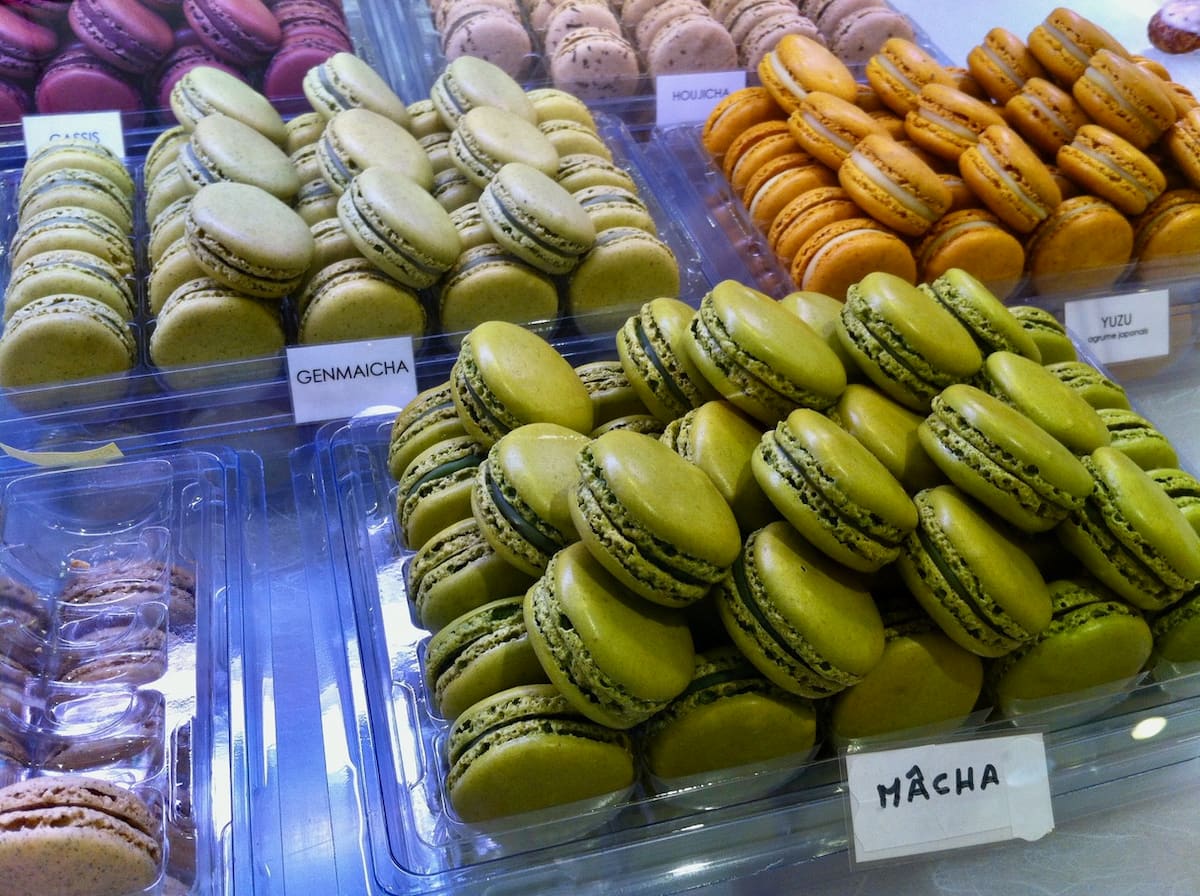 Green tea, however, is the chef's favourite addition to his pastries.
Do you remember the Tokyo Macaron Yaki at the latest Salon du Chocolat in Paris, where Mr. Aoki came up with the idea of sandwiching and baking a chocolate macaron with a green tea waffle? It's most unusual - and highly original - like an oozing chocolate waffle cake with the delicate taste of green tea.
This week was my birthday. So what? It's nothing special but the day started out with a delivery from Waverley Books of a box of my second book, "Teatime in Paris".  The neighbours probably heard the excited squeals down our rue. Smells of new books are now also drifting around the house and they keep turning up next to pastry tastings.
Let me introduce you to Ginza: a raspberry, strawberry and hibiscus pastry which, like his other pastries are wonderfully light and not too sweet. I chose this primarily for the colour and to make a change from the Matcha-inspired pastries, but his green tea combinations are particularly stunning.
As such a creative artist, it's no surprise to see this macaron wall art at Aoki's boutique in Rue de Vaugirard.  I seriously would consider hanging this up at home. So, Monsieur Aoki, if you ever become  fed up with this on your wall, you can donate it to a happy and mad-about-macarons home. Just saying.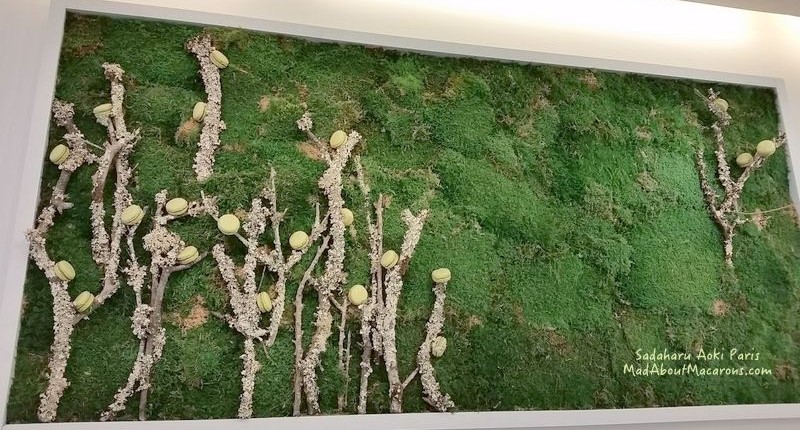 Meet Sadaharu Aoki's Bamboo. It's his more recent Japanese take on the classic Opera, which has had Parisians singing its praises for the past 60 years. Like the Opera cake, each fancy layer is made up of joconde biscuit, buttercream, chocolate ganache, syrup and glaçage - but in place of the traditional coffee syrup to accompany the chocolate, chef Aoki exchanges it with Matcha green tea and adds a splash of Kirsch liqueur, which helps add that special tonality or timbre to the opera singing!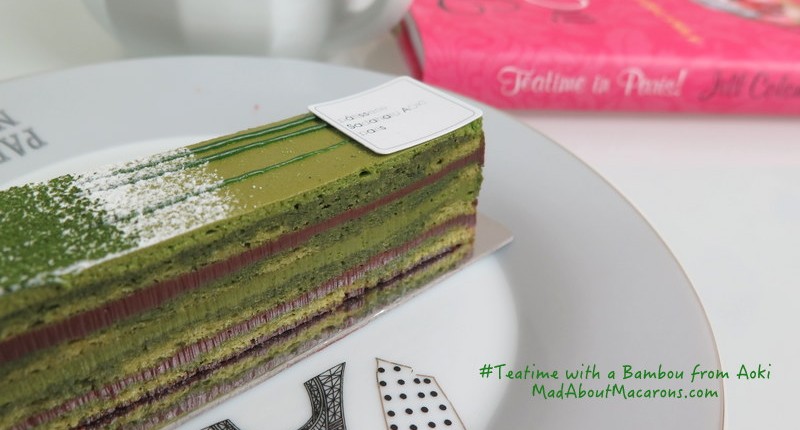 As I've been writing this at teatime, the squirrel corner in the kitchen above the kettle reminded me of Aoki's green tea white chocolate wafer thin bar with lightly toasted black and white sesame seeds.  I nibbled on it with some Earl Grey tea which was a great combination but I'm sure any professional tea connoisseur would have me grilled for that.
Did you know Chef Aoki has a wonderful (and quiet) tea salon near the Eiffel Tower - all explained on my list of Best Tearooms in Paris. I have a feeling that his Matcha Green Tea Mille-feuille or Matcha éclairs are needing just another taste with a cup of tea.
Sadaharu Aoki
Flagship boutique
35 Rue de Vaugirard
75006 Paris
Metro: Rennes or Saint Sulpice
The boutique is closed on Mondays.