Next time you're in Paris and want to avoid the typical tourist route, take a day trip to Saint-Germain-en-Laye. The town is only 20 kilometres west of Paris and 15 km from Versailles.
It couldn't be easier to travel from the City, as it takes only 20 minutes on the RER A line from Paris direct to the terminus of Saint-Germain-en-Laye just opposite the château. As we live only five minutes away from this Royal market town, I'm proud to present it as part of my series on interesting day trips from Paris.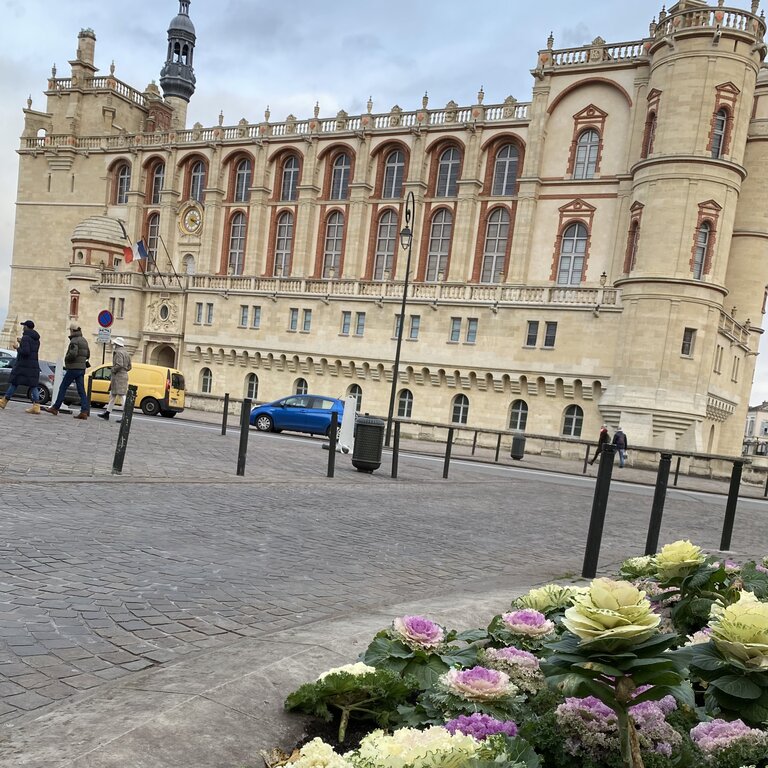 Not to be confused with the quarter of Saint Germain-des-Prés in Paris, the town of Saint-Germain-en-Laye is perched on the edge of a forest of 3500 hectares and today has a population of about 43,000. It's home to the famous Paris Saint Germain football (soccer) team. However, before it was a Royal town, home to the Kings of France before Louis XIV put Versailles on the map.
Saint-Germain-en-Laye & its Scottish Connection
The town even has its own tartan, such is the Franco-Scottish Auld Alliance with the Scots – and Saint-Germain-en-Laye is twinned with the town of Ayr in Scotland. September 2019 was the first ever Scottish festival in the town, complete with dancers and pipers from Scotland – imagine a pipe band passing under Madame La Marquise de Maintenon's residence above – future 2nd wife to Louis XIV.
With my Scottish roots, I'm always patriotic passing the newly renovated church, where King James VII of Scotland (II of England) lies.
Across the road from his tomb (also renovated by the UK after the last time down by Queen Victoria) is the château de Saint-Germain-en-Laye, where the Stuart family lived while in exile.
One of the Best French Markets near Paris
This French Royal Burgh has been a market town since King François I, who decided as of 1526 that there should be two market days.
Today there are THREE legendary MARKET DAYS: on Tuesday, Friday and Sunday mornings (check out my Instagram feed, as you'll see me regularly shop here.) I love our market so much, that I've created a new market produce page to share the experience.
I joined Victoria's weekly guided weekend walk in French (although English is possible on request), organised by the Tourist Office, tracing the influence of King François I on the town.  He stayed in Saint-Germain-en-Laye for over a thousand days – the longest for a monarch choosing between a wealthy choice of fairytale French castles. He left the town with its Renaissance layout, a pentagon-shaped castle and a centre for trade.
Jardin des Arts – St-Germain Tourist Office & Apothecary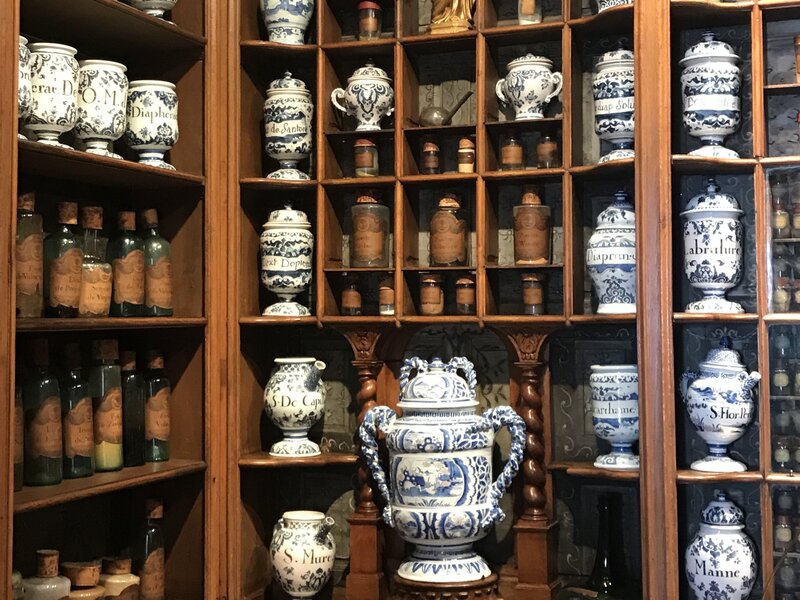 The Tourist Office was previously housed on the ground floor of the Claude Debussy Museum, birthplace of the composer in 1826 in rue au Pain. Today it's in the renovated Jardin des Arts building where, on request, free visits are available of the Apothicairerie, which dates back to 1649, belonging to the general hospital and Hôpital de la Charité.
Between the stunning old faïence in blue cobalt, you can spot 600 items – from Epsom salts, cloves, rose and pastels de guimauve (marshmallows). The most intriguing are les yeux d'ecrevisses: luckily they're not shrimps' eyes but tiny pastels of limescale.
Cheese & More on Bread Street (Rue au Pain)
Rue au Pain, the town's oldest Medieval street, supplied bread to the castle. Today it's still home to a bakery, chocolate shop, Pâtisserie and fromagerie. I recommend stopping here at La Ferme de Suzanne. They mature their own speciality cheeses, such as Le Saint-Germain and Le Debussy, both triple cream (70%) cow's milk wonders. Imagine a cheese shop on bread street?
As we're taken along pedestrian-only cobbled streets, passing boutiques and mansion houses from the 17th and 18th centuries, we learn fascinating facts from taxes to the gradual increase in population. The King had put Saint-Germain-en-Laye on the map.
Today the castle is home to the National Archeological Museum and has been undergoing renovations for the last 5 years. Certain parts now look so pristine, it could have been build last year!  The castle dates from Louis IX in 1235, with the oldest part of the castle that's left, the Royal Chapel, inspired the Saint Chapelle in Paris. Look up and spot numerous reminders of François I's (F) symbol and the invincible salamander; N for the Napoleon III empire; and R symbol of the third Republic.
The chimney-packed castle roof is open to the public for visits too, on demand, from May-September.  See my article here all about visits to the Château rooftop, with views over to Paris.
Birthplace of Louis XIV & Sauce Béarnaise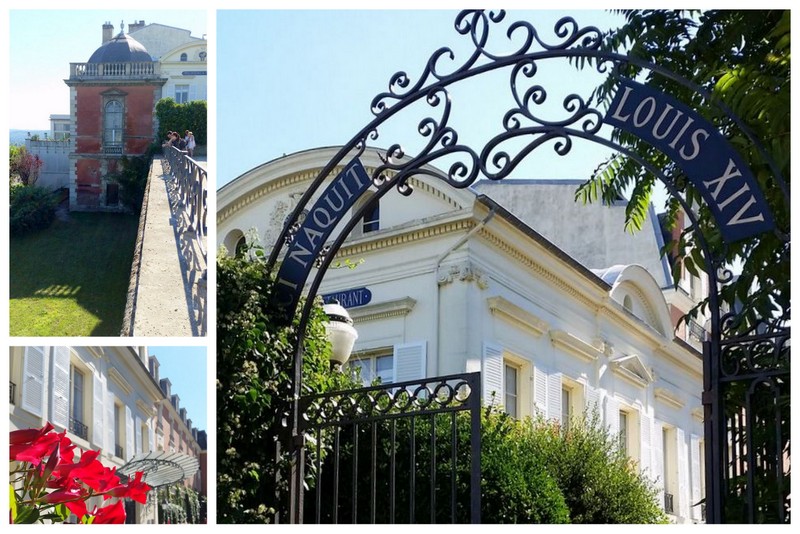 The Pavillion Henri IV Hotel houses the small red-brick pavilion where Louis XIV was born in 1638. It's all that's left of the new castle (Château Neuf) which was demolished in 1776 at the request of Louis XIV's brother, the Count of Artois. Rather than restore the castle that had run into disrepair while Louis had moved to the new royal residence at Versailles, the Count told the King he much preferred the castle in Maisons-Laffitte. So the people of Saint-Germain-en-Laye re-cycled the "new" bricks for their mansion houses.
It wasn't just the King that was born here; the hotel is also famous for inventing the Sauce Béarnaise and Pommes de Terre Soufflées (puffed potatoes) after it opened in 1836.
The Park by Le Nôtre
The Grand Terrace, designed by Louis XIV's favourite gardener, André Le Nôtre, is over 2km long. He worked on this before Vaux-le-Vicomte and Versailles.
For lovers of architecture, there are plenty of explanatory signs in English to learn more about the history and designs of the gardens.
Saint-Germain-en-Laye Vineyards
Replanted in 1999, nearly 2000 Pinot Noir vines grow just under the Terrace to make the Vin des Grottes, although this isn't commercialised. Instead it's traditionally served at the harvest festival in September. Literally, cave wine.
Just look at this perspective, lined with lime blossom trees. Ready for a walk? Imagine in Louis XIV's time this wasn't paved or pathed, there was no grass and no railings with a drop of 13 metres. It was simply sanded so walkers may have felt slightly daunted. The other day on our walk, we saw there had been boars during the night…
From the terrace, the cherry on the cake is this magnificent view of the west of Paris including La Defense: on clear days like this you can spot Sacré Coeur and the Eiffel Tower. Can you see them plus other Parisian landmarks?
It's a favourite spot for weekend walks, which leads to the well-guided paths in the domaine nationale forest, just outside the gates.
The Cakes & Pastries in Saint-Germain
Just to whet your appetite, I have compiled your very own DIY chocolate-pastry tour of Saint-Germain-en-Laye. As there's so much to add in one post, it's where I'll give you a taste of the wealth of award-winning chocolate and pastry boutiques the town has to offer.
It's a Mini Paris
Don't forget Saint-Germain-en-Laye next time you visit Paris – add this 'mini Paris' to your bucket list! There's so much to see just outside the City that's within easy access; there's not just the Palace of Versailles.
For more information, tour reservations & visits, contact:
Tourist Office
Jardin des Arts
3 rue Henri IV
78100 Saint-Germain-en-Laye
Tel: 01-30 87 20 63
This post was first published 5 October 2015 but has now been updated.