This week I was thrilled to discover some incredible French gastronomic sensations at the Lebey Awards in Paris. If you love your food and are willing to try new tastes, then this is for you.
It was a win-win: thanks to an invite from Il Gelato del Marchese, I was reunited with my favourite gourmet Italian ice cream, plus learn from over 40 top French producers showing off their creations at the 4th annual afternoon of workshops as part of the Lebey 2017, the Oscars of French gastronomy.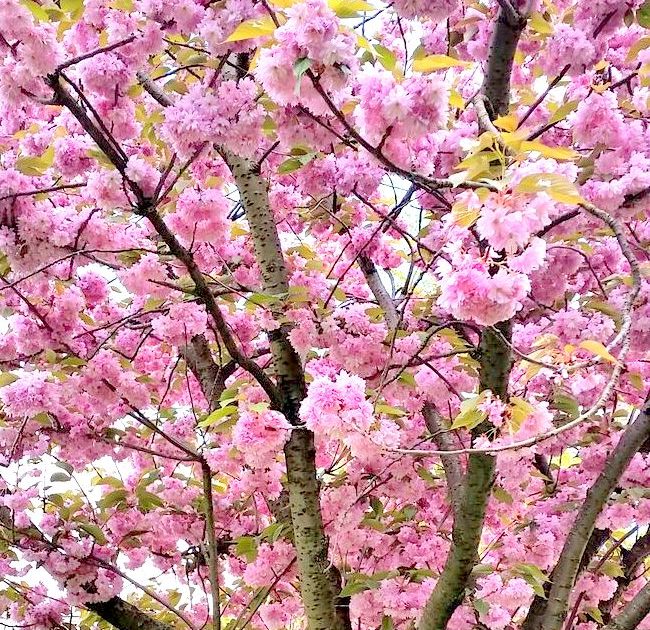 Taking place in the sumptuous Pavilion Gabriel just off the Champs-Elysées near Place de la Concorde, it's surprising just how a few steps away from the main route can lead you to a tranquil park to appreciate Paris in its full mid-April bloom of Springtime.
What is the Lebey?
For the past 30 years, the Lebey has been a reference Guide (in French) of the best restaurants and bistros in and around Paris - and more recently has included London and Belgium on its restaurant guide radar.
For the 4th consecutive year, Les Lebey de la Gastronomie 2017 are gourmet "oscar" awards given to the five best annual culinary creations, first voted by 1200 restaurants of the Lebey Guide, then selected by a group of critics at the influential École Ferrandi. Just to give you an idea of the prestige involved, chefs included Michaël Bartocetti (executive pastry chef, Shangri-La Paris) with a frozen Corsican honey concoction with lemon and eucalyptus, and Beau Clugston from one of my favourite Parisian restaurants, Le 6 Paul Bert, featuring sweetbread with lobster! Winners were announced at the end of the workshops during the prestigious dinner laid on by chefs such as Eric Fréchon (le Bristol) and Claire Hetzler (Ladurée).
Meanwhile, I was a happy bunny making the most of the workshops in a short space of time, surrounded by the newly-sprouting candle flowers on the horse-chestnut trees!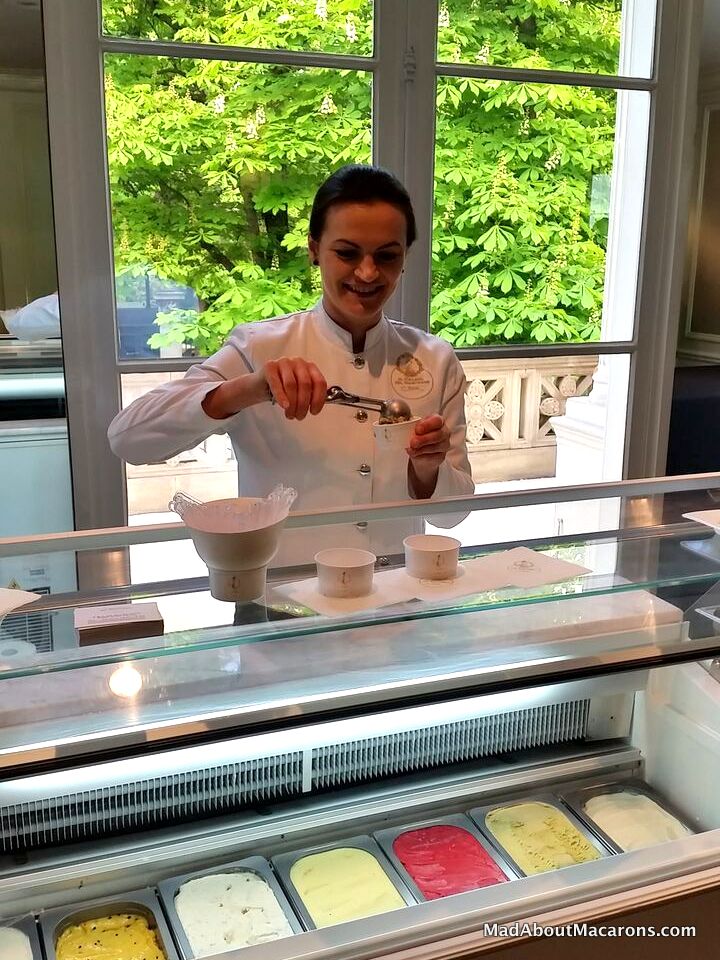 I'll leave you to read all about my tastings at Renato Squillante's Il Gelato del Marchese in much more detail, where I discovered how incredible parmesan ice cream could be - but also more savouries such as olive, artichoke & walnut, and mustard! Here was just a selection of some of their luxury ice creams and fruity sorbets (you have to try the passion fruit, with the odd crrrrunch and perfect acidity). The Marchese's Maîtres Glaciers produce ice creams and sorbets that are all certified vegan and made with top quality healthy ingredients using mineral water, unrefined sugar, and no colourings or preservatives are in sight.
Best Idea for a French Cheese Tower!
As you can imagine, there were many producers featuring caviar, cured hams (charcuteries), red meats, butter, and fromage! What's a French gastronomic experience without cheese? This spectacular tower from La Ligue des Fromagers Extraordinaires incited feelings of asking Antoine to marry me again, just so we could have this as our wedding cake. We'd cut it saying Cheese! (OK, that was bad). I'm also Mad About Cheese.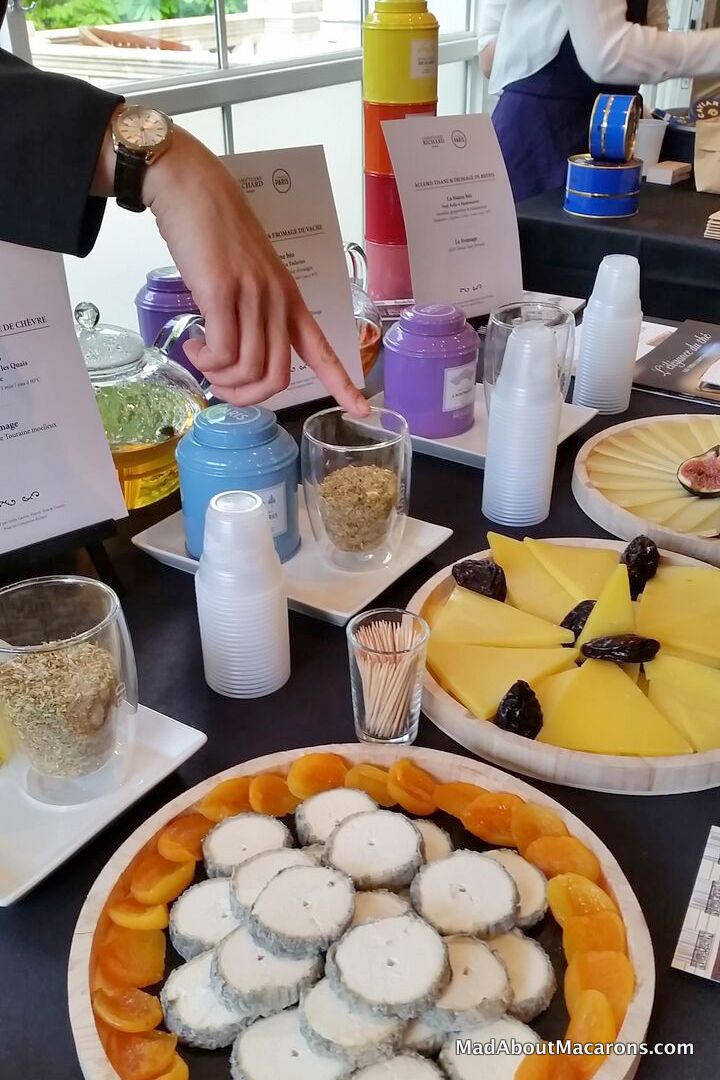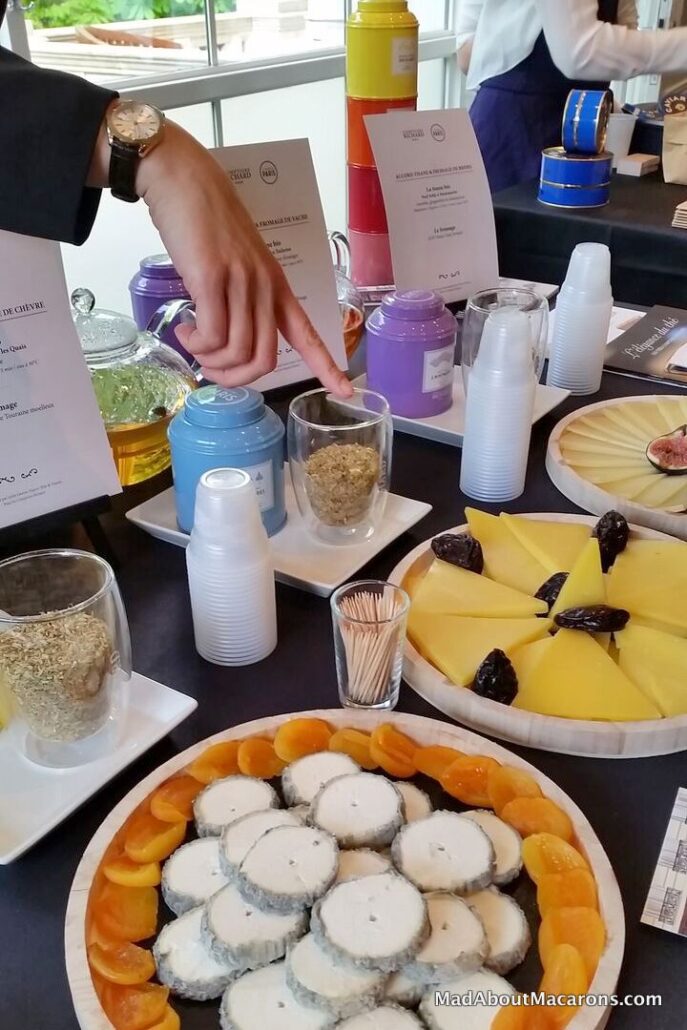 Looking at the list, I made for Comptoirs Richard, as it was teatime. For a coffee and tea company, I didn't expect to see so much cheese here too! They were pairing them with organic herbal teas (Tisanes), something I remembered from my first experience with green tea by Théodor Paris.
Lydia Gautier has created such associations for teas and cheese for the Comptoirs Richard, such as a fennel and liquorice-based infusion (Délicieuse Flânerie sur les Quais) with soft Sainte-Maure de Touraine Chèvre goat's cheese. For cow's milk, what about an 18-month matured Comté with an infusion of Lime Blossom, Camomile & Orange Flower (Sieste Royale aux Tuileries)? And who would have thought that ewe's milk cheese such as Ossau Iraty would go so well with a spicy mix of cinnamon, ginger & cardamom (Nuit Folle à Montmartre)?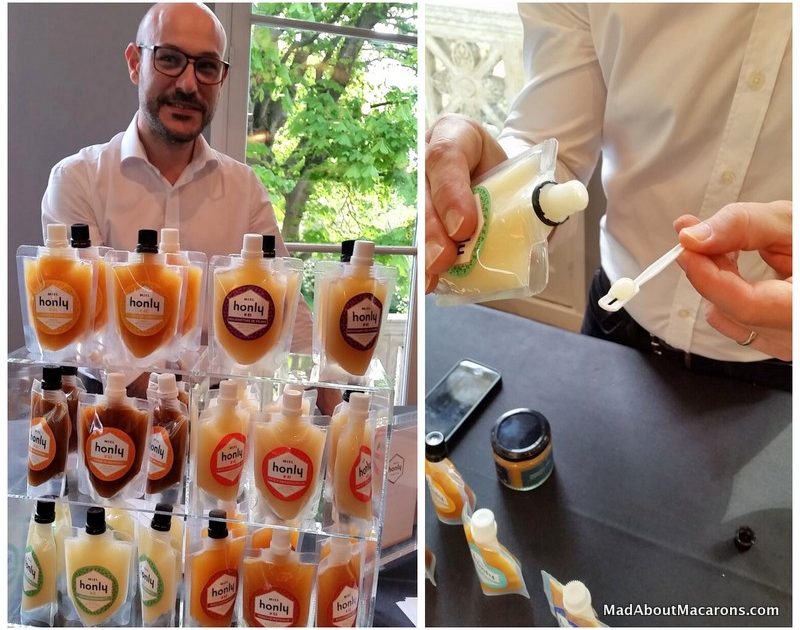 French Honey
At first glance, this looked like an enticing array of portable honeys in clever sachets for picnics. But what was astonishing speaking to founder Alain Coutant here, was that he's not an apiculteur or beekeeper - he's a "Caviste de Miels" for the newly created Honly.
After a few mini tastings of diverse honeys with different textures (creamy smooth vs slightly grainy) and flavour combinations such as rose & honeysuckle; marzipan/pâte d'amandes; Lime or Linden blossom/Tilleul), this is honey from all around France for the serious, tasting terroir above all like one would appreciate a good wine. As I taste one of the honeys, he asks if I get the "animal" element, as it was harvested near a bergerie. Nope. Baah, I still have some work to do.
According to the Lebey 2017 list of producers, I thought this stand would be around pepper via Le Comptoir des Poivres. The Japanese line-up of bottles, however, was simply intriguing! I still have so much to learn about Japanese food and although haven't yet been to Japan (it's on our bucket list SOON!), I do know that I adore their fascinating culinary flavour associations. Thanks to Krystel from Nishikidôri, she helped kickstart my learning experience with tastings of the most sublime miso, starting with a Miso Dengaku, popular with grilled aubergines. I can just imagine this with a simply sliced Daikon radish salad.
She notices my eyes light up as I imagine how I can cook with the various vinegars and condiments with soya, smoked soya, yuzu, ponzu, hot pepper, bonito, seaweed - until she totally gets me at white miso with vanilla. I can envision it being transformed into ... macarons! Pastry creams, too.
You know me by now, I'm sure. There were also many wine producers and this one caught my eye: Montagny Premier Cru from Millebuis. This small area of Bourgogne of the Côte Chalonnaise is not as well known as the big boys but isn't it great to discover great quality wines that are super value for money?
Tasting the first of 3 white wines on show, Les Coères, it's so mineral using Chardonnay vines in a chalky soil (only 34 hectares) and a bit up front acidic for me - ideal if you love oysters but the Vigne du Soleil was indeed full of sunshine, mellower and much easier to pair with food such as roasted chicken. I fell in love with Les Chaniots. Although following the exact techniques for Les Coères, their older vines nearby are deeper and the difference in soil gives it a stunning long creamy aftertaste. (Incidentally- have you visited the annual Burgundy Wine Festival of Saint Vincent?)
Speaking of creamy ...
As it's now Wine O'Clock in Paris, let me leave you with my absolute favourite of Italian pistachio ice creams from Il Gelato del Marchese. Next time you're in Paris, you must pop into their luxury boutique on rue des Quatre Vents in the Saint Germain quarter - and now they're at the Terrasse of the Hotel Marriott on the Champs-Elysées.
Please note that none of the above is sponsored.