A fun look at the range of recyclable patisserie bags in Paris. With a nod to Paris fashion week, match your outfit colours with a temporary handbag from one of the many Parisian pâtisseries. Some ideas to recycle your sweet Parisian souvenirs.
Patisserie & Chocolate Shop Recylable Bags in Paris
I was in the Place de Saint Sulpice the other day, minding my own business. Sitting by the fountain, looking up at the Saint Sulpice church and nibbling on an Ispahan macaron (what else? Here's where I explain what Ispahan is). Suddenly I realised a few people looking at my patisserie bag. Was it a status symbol? A Parisian pastry handbag?
Anyone who knows their Paris pâtisserie bags will recognise it's not just any old bag. Its leafy holes are Pierre Hermé's signature: telling passers-by that you're about to indulge in the sweet works by the Picasso-of-Pastry (as Vogue called Hermé). However, these leafy sneaky-peeky holes waft the temptations of flaky viennoiserie Ispahan croissants for tomorrow's breakfast.
Can I keep my French art of self-control? The goal is to resist temptation and save them for any pre-nibbles for the family's enjoyment later. Besides, if I stay around too long, the butter may just stain this more paper-like handbag and so there's proof in the pudding - or bag's exterior!
Patisserie Bags: Temporary Parisian Fashion Accessories
Which made me think. Over the years, us Parisians can clock up a fair number of patisserie bags, so it's time to recycle. Especially when I realise they all have a colour theme.
Have you noticed people sporting Parisian patisserie bags filled with guide books, rather than pastry or chocolate? The good news is that perhaps locals and tourists are thinking about the environment to recycle them. Pâtisseries are encouraging us to return with the pastry bags - but perhaps we can also just use them as a fashion accessory too?
So, let's look at the colours and see if we can keep a collection of them, depending on weather, outfit colour and size.
Perhaps the most recognised pastry bag around Paris is from Ladurée. Louis Ernest Ladurée would have been amazed 150 years after opening his first shop to see how many tourists now show off the characteristic pastel shade of green with his name cameoed in the centre, bordered by leaves. Ah, leaves again as a royal Versailles look (like Stohrer - see below). The golden rope is comfortable poised on the wrist, and its shape is ideal for positioning Paris guide books after macaron tastings.
Talking of which, I can handle a few other bags with ropes and ribbons.
I love spotting Paris patisserie bags. Particularly if it's to support the annual charity event, the Jour de Macaron. For details of participating Parisian pâtisseries, including Meilleurs Ouvriers de France, Jean-Paul Hévin, and Arnaud Larher, see my Complete Guide to Macaron Day in Paris.
Spot the handles of ribbons, which are not only pretty but easy on the hands too.
The bright orange bags are big and bold. Just like those of A la Mère de Famille, the oldest chocolate shop in Paris (1761). Don't forget to check out the original store on Boulevard Faubourg Montmartre. I love the bright orange colours - dare I say, they are on the same colour scheme as the luxury Hermès bags - but without the price tag of the expected contents.
French celebrity chef, Cyril Lignac gets the applause for the biggest spots on his patisserie bags with bold blue on white. Perfect if matching up a classic French outfit of blue jeans, white top or white trousers, blue striped or spotted top with a blue jacket.
Christophe Roussel's shiny black bags are rather stylish for transporting his macarons and chocolates in Montmartre. The Roussel family are very conscious of the environment and, where possible, encourage locals and tourists alike to think about re-cyling.
When it comes to sturdy handles and Parisian chic, Patrick Roger knows how to concoct the perfect little bright green handbag to say, 'I've been there and tasted his expensive chocolates'. They even resemble the shape of a Hermes Birkin bag but a paper version without the worry of choosing which leather and colours of trimmings needed. Seriously, I jest. It's a worry I could deal with.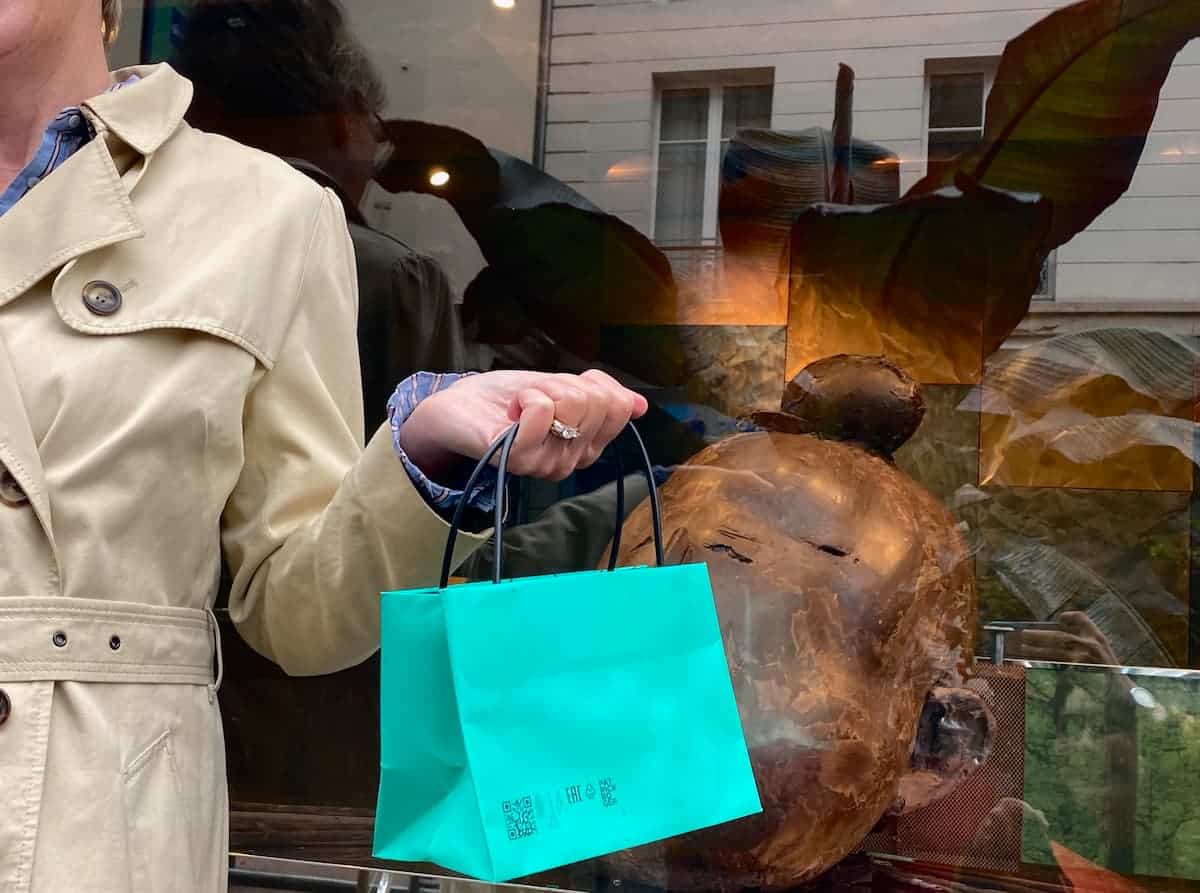 Re-cycling Patisserie Boxes
I failed on this one, as I couldn't find my patisserie bag - just the boxes! However, we somehow managed to preserve the insides of these beautiful blue and white pastry boxes from Stohrer, the oldest pâtisserie in Paris (1730).
Admittedly, it's not that easy to keep the actual pastry boxes as, if you're like me, I tend to move the cakes around too much while walking. By the time I get home, many of the pastries are touching the sides so it's not that hygienic to re-use. Many patisseries stick the undersides of the pastries' base support cards or paper with scotch tape to stop them moving around. It helps to preserve the box to use again but not great on using sellotape. It's not that easy, is it? Any ideas welcome in the comments below.
Now, how about a classic blue and white clothes combination to match before going back for a refill?
Hm. I think I like blue and white. Well, there's nothing to beat the classics.
Plus, bravo to Sadaharu Aoki, as his pastry bags are also quite waterproof!
There are many more pâtisserie bags to choose from in Paris, bien sûr. Hopefully this has just whet your appetite.
Recycle Bags For Leftover Teatime Cakes
Hold on (get it?), I just about forgot to mention the doggy bags. In France, of course, we don't call them doggy bags or say, 'to go'. If you have a wonderful Parisian teatime and can't manage all the cakes, you can politely ask them to put your cakes aside for taking home. For that, I'd say, "Pourriez-vous les mettre à côté, s'il vous plaît?".
You know, there's not even an exact saying we have, as the French don't normally do this. Although it is becoming more popular, as we're all trying more to avoid wastage. Normally, they'll finish the phrase for you and propose to prepare a box (une boîte pour emporter) as a souvenir.
Paris teatime at Le Grand Vefour means black, red and gold; at the Ritz, it's a navy blue patisserie bag. So, either clash or match, depending if you want to be camouflaged with the velvet seats. In any case, I just can't bring myself to throw out such lovely bags like these ones. Let's recycle them!
So, what are your favourite bags that you like to keep as sweet Paris souvenirs?
This post was first published on 29 July 2012 but is now updated. None of this post is sponsored. I buy so many pastries this is purely personal and just for fun to share in the art of recycling bags for the environment.