Blueberry Lemon Bavarois, an easy no-bake French dessert, similar to an Italian Panna Cotta but made with fruit purée and less cream. Add a touch of roasted coriander to bring out their subtle citron flavours and get that extra oh-là-là!
What is the Difference Between Panna Cotta and Bavarois?
You may recall my recipe for red fruit bavarois a few years ago for Saint Valentine's Day. Since then I have developed the recipe further.  Normally French bavarois desserts are made using a crème bavaroise (a mixture of whipped cream, crème anglaise - a runny vanilla custard - and gelatine).
In this recipe, it couldn't be simpler. Instead just add the gelatine to puréed blueberries and lemon and add some thick, full-fat crème fraîche or thick double/heavy cream.
It's like an Italian panna cotta, but the difference is the Bavarois has more fruit pulp actually in it (not served apart) and less cream.
As with this rose panna cotta with cherry & cardamom coulis, I pour the fruity mixture into silicone moulds, leave to chill then un-mould them before serving directly on the plates.
How is Bavarois Prepared?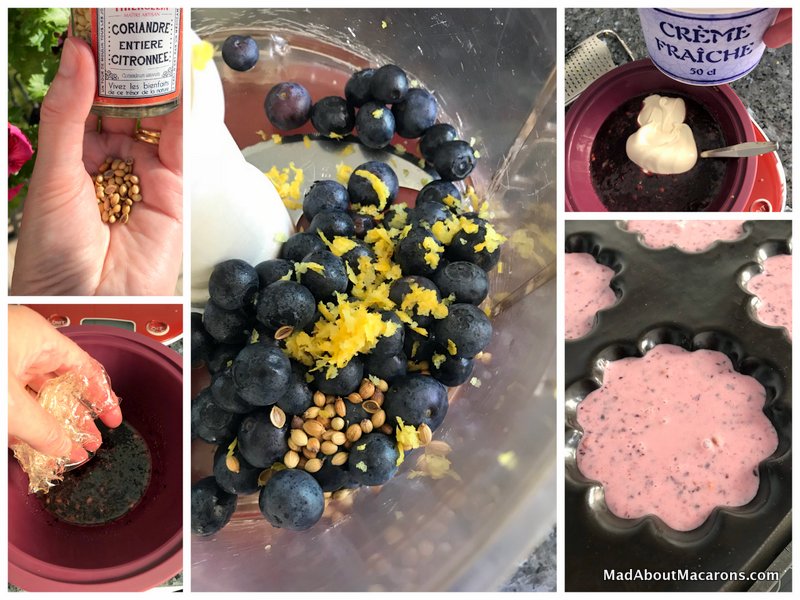 Like a panna cotta, it's a no-bake dessert and so easy to prepare in advance. Simply soak the gelatine in water for ten minutes then add to warmed fruit purée, add some thick double cream, pour into moulds and chill.
For this recipe, toast some coriander seeds while preparing the blueberry and lemon purée.
Blitz the blueberries with the lemon and roasted coriander seeds in a food processor, heat it slightly and mix in the squeezed out gelatine.
Add some thick double cream or crème fraîche, mix together and pour into cute moulds (I use silicone to make them easy to turn out quickly) and chill for about 4 hours.
When ready to serve, unmould directly on to serving plates. Et voilà!
Blueberry, Lemon & Roasted Coriander Seeds Combination
Using blueberries in this dessert makes the recipe even easier: there's no need to eliminate any seeds through a sieve. Moreover, blueberry and lemon are a good match. Inspiration came from Nikki Segnit's The Flavour Thesaurus, by adding roasted coriander seeds.
I love how Nikki Segnit describes coriander seeds, and devotes two pages to its tempting combinations:
"Coriander seeds have a delicious citrus and balsamic character ... (they are) also one of the key botanicals in gin. A spare peppermill filled with roasted coriander seeds could easily get you hooked.... (they) can contain up to 85% linalool, a flavour compound with a woody, floral, slightly citrus quality that's a key component of synthesised blueberry flavour.  Freshly ground, they can lend a fragrant background note to your home-baked blueberry muffins."
Here, the addition of roasted coriander seeds brings out the blueberry and lemon flavours in this dessert perfectly. What's more, roughly ground in a mortar and pestle, adds a delicate crunchy intrigue.
What to Serve with Blueberry & Lemon Bavarois
French Blueberry Lemon Bavarois (Gluten Free)
Blueberry Lemon French Bavarois Dessert (Gluten Free)
An easy no-bake French dessert, similar to an Italian Panna Cotta, made with fruit purée and less cream. This recipe adds a touch of roasted coriander seeds, giving a lovely texture to bring out the lemon and blueberry flavours.
Ingredients
200

g / 7oz

blueberries

organic fresh or defrosted

2

leaves @ 2g

gelatine

ensure each sheet is 2g

1

tablespoon

zest of a lemon

unwaxed, organic

50

g / 1.75oz

sugar

½

sachet

vanilla sugar

½

teaspoon

whole coriander seeds

150

g / 5.5oz

thick crème fraîche 30% fat

or thick double/heavy cream
Instructions
Wash and drain the blueberries. Soak the gelatine sheets in cold water for 10 minutes.

Place the coriander seeds on a baking tray and toast under the grill for 2 minutes. Set aside to cool.

Finely grate the zest of the lemon (yellow zest only, no white pith, otherwise this is too bitter). Add the lemon and seeds to the blueberries and purée in a food processor (or mix by hand with a mortar & pestle).

Heat a quarter of the purée in the microwave for 1m30 seconds. Squeeze the gelatine of any excess water and stir into the purée until melted. Add the crème fraîche or double cream then pour into shaped silicone moulds (here I used briochettes, but half spheres are even better).

Place on a baking tray and chill in the fridge for at least 4 hours or overnight.

When ready to serve, turn the moulds upside down and run under hot water for a few seconds. Turn them upright so that no water touches them and turn out each bavarois with the help of a pastry scraper or pie slice and place directly on each serving plate.
Notes
Serve with fresh blueberries that have been macerated in some crème de cassis or limoncello liqueur. Add any extra roasted coriander seeds for that extra crunch. I added fresh lemon verbena, which complements this dessert beautifully.
Discovered that a red wine (Beaujolais Cru, such as Morgon or Moulin à Vent) brings out the citrus flavours. Serve with lemon or lemon verbena macarons (recipes are in Mad About Macarons and Teatime in Paris respectively).
Ensure gelatine sheets are 2g each, as I've discovered that some brands have smaller sheets and the whole thing is too liquid (if this is the case, block in the freezer for an hour, then turn out and leave to defrost for 20 minutes).