Any visit to Montmartre, Paris's most famous village on the hill, has to include a stop for macarons and chocolate at Christophe Roussel.  As member of the prestigious Relais Desserts Group (since 2006) of pastry chefs and one of the top 5 chocolatiers in the Gault & Millau guide, you're in for a treat.
What's more, the chocolate and macaron shop is conveniently located at the foot of the steps and funicular before heading up to Sacré Coeur.
Christophe Roussel's Parisian Macarons
I first tasted Christophe Roussel's macarons at the Paris Salon du Chocolat in 2014. Already famous as chocolatier and pastry chef in La Baule, he's all along the north-west Atlantic coast from Pornichet to la Guérande. Lucky for us, he also has this Parisian chocolate shop with his chocolatier wife, Julie in Montmartre.
Moreover, after a visit to their pristine laboratory in La Baule, I appreciate just how much work and craftsmanship goes into making all the fabulous goodies here.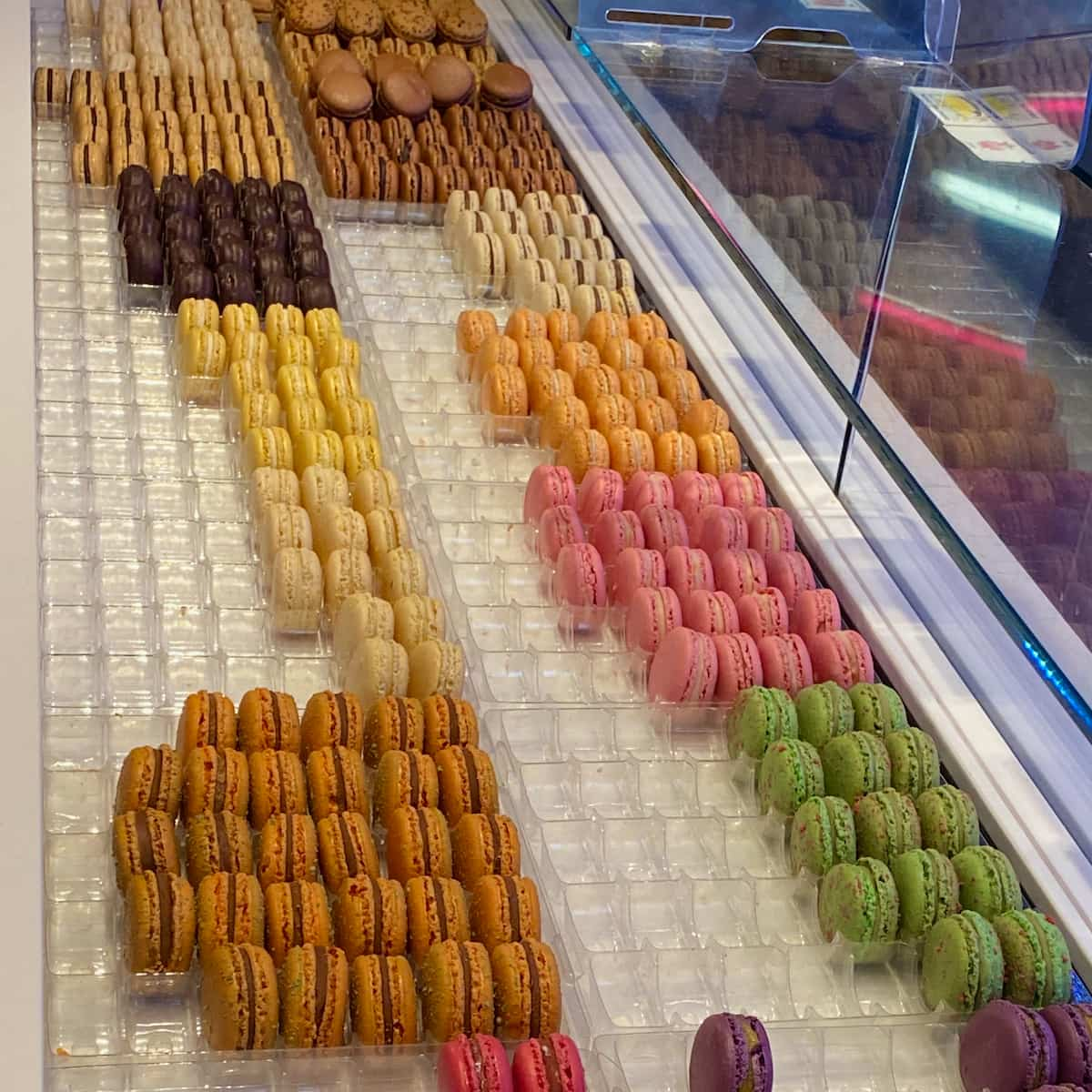 Fast forward to today, and their macarons are as popular as ever. I'll leave you to try them all - but I can help by telling you my personal favourites. Such as this vanilla and passion fruit macaron.
Its filling is a subtle mixture of both flavours with an extra taste of delicious almond paste. Other flavours you must try: café, raspberry, caramel covered in dark chocolate, and salted caramel from la Guérande.  Speaking of salted caramel, try his pots of caramel au beurre salé spread.
What are the Characteristics of a Perfect Parisian Macaron?
Look at that perfect frilly foot, the characteristic of a Parisian macaron.  For those of you who want to know more, see my article on the difference between a Parisian macaron, a French macaron and a macaroon.
The texture has a meringue-like, slightly crispy exterior of the macaron shell. On the other hand, the filling is incredibly fondant; having matured into the shells, the result is soft and gooey. Like all macarons, they're gluten free.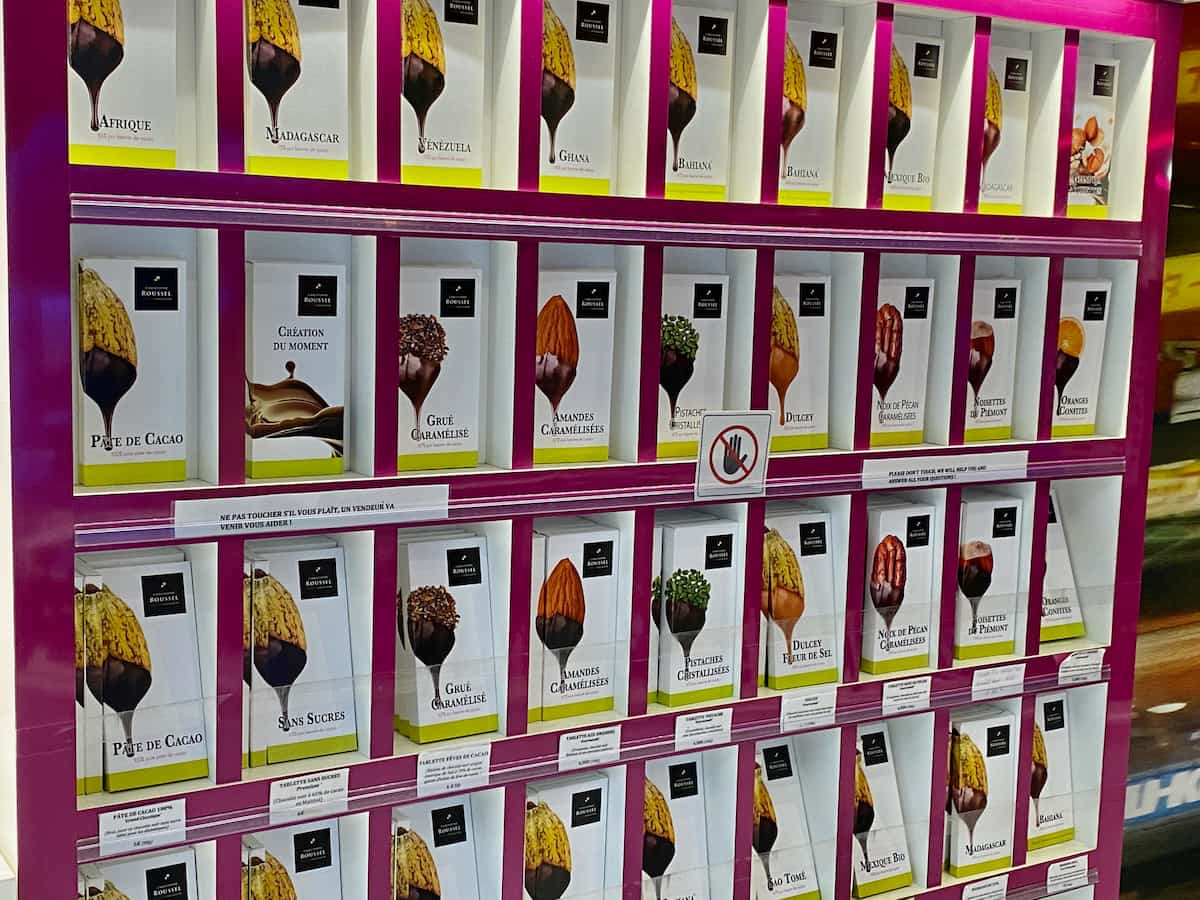 Christophe Roussel's Bahiana® Signature Chocolate
His signature dark chocolate (69%), Bahiana® is from Brazil. It's from the Pêtrolina cacao farm in the Bahia region, a family-run plantation, and made exclusively for Christophe Roussel in partnership with Valrhona – a first in France.
Intense in chocolate with floral and fruity notes, I find it warming - almost like tasting a chocolate-vanilla pastry version of a velvety hot chocolate with playful textures. I first tasted it at one of the prestigious amateur pastry competitions (I have been honoured to be invited twice on the French jury) in La Baule. It left a lovely round satin touch on the palate.
So the chocolate is particularly accessible. For example, his chocolate bars include one without sugar but at 65%, is far more accessible than a 100% cacao chocolate bar.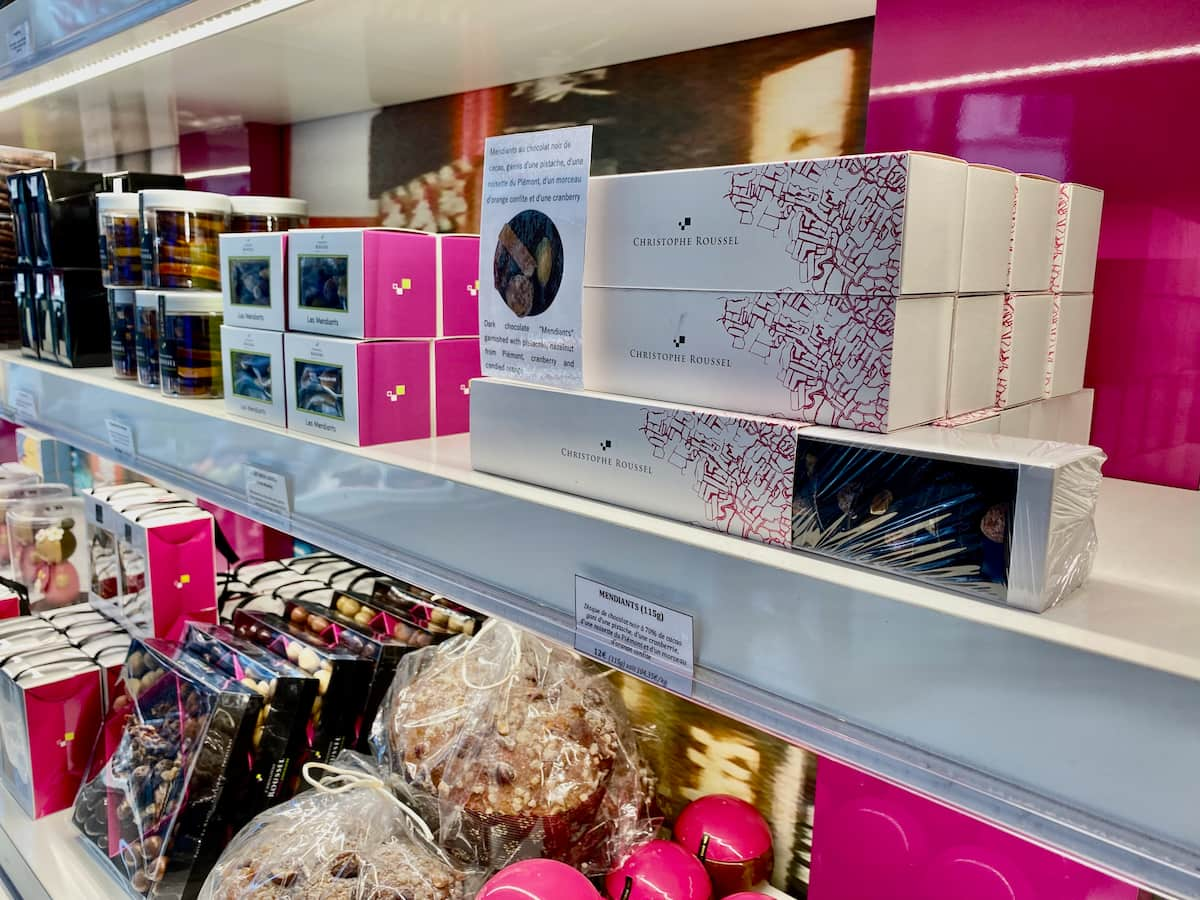 Eco-Friendly Packaging & Practices
Moreover, they're also making more steps (pun intended) towards environmentally friendly packaging. The boutique now uses eco-friendly paper, recycled plastic, and even corn or sugarcane-based packaging materials. According to Relais Desserts and the charming Morgane at the boutique here, their deliveries and practices at their laboratories in La Baule are aimed at making small changes towards zero waste.
So, a note especially for locals - after you've enjoyed a box of their mendiants or other chocolates, don't forget to return with the box and bring a bag to help recycle.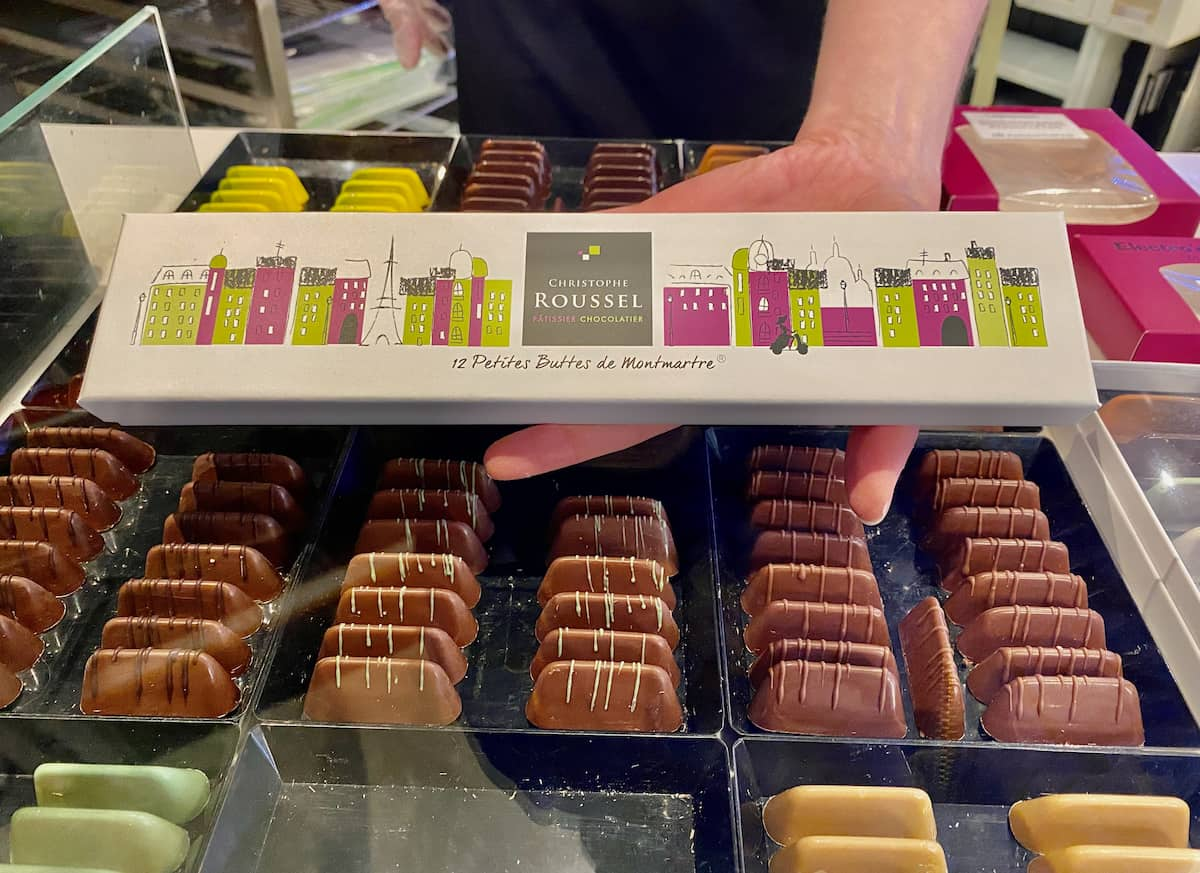 Montmartre Hill Chocolates
The Petites Buttes de Montmartre (Montmartre mounds or hills) are made exclusively for us in Paris. With over a dozen to choose from, they come in Dulcey (32% cacao) white chocolate and his signature Bahiana® chocolate in either milk (46% cacao) or plain (67% cacao).
Looking for an original gourmet experience? Try the Praliné à la noix de coco (coconut praline) in milk chocolate: it fizzes in the mouth using sucre pétillant or popping candy. Great fun. Here's his latest cassis dark chocolate, bursting with blackcurrant flavour.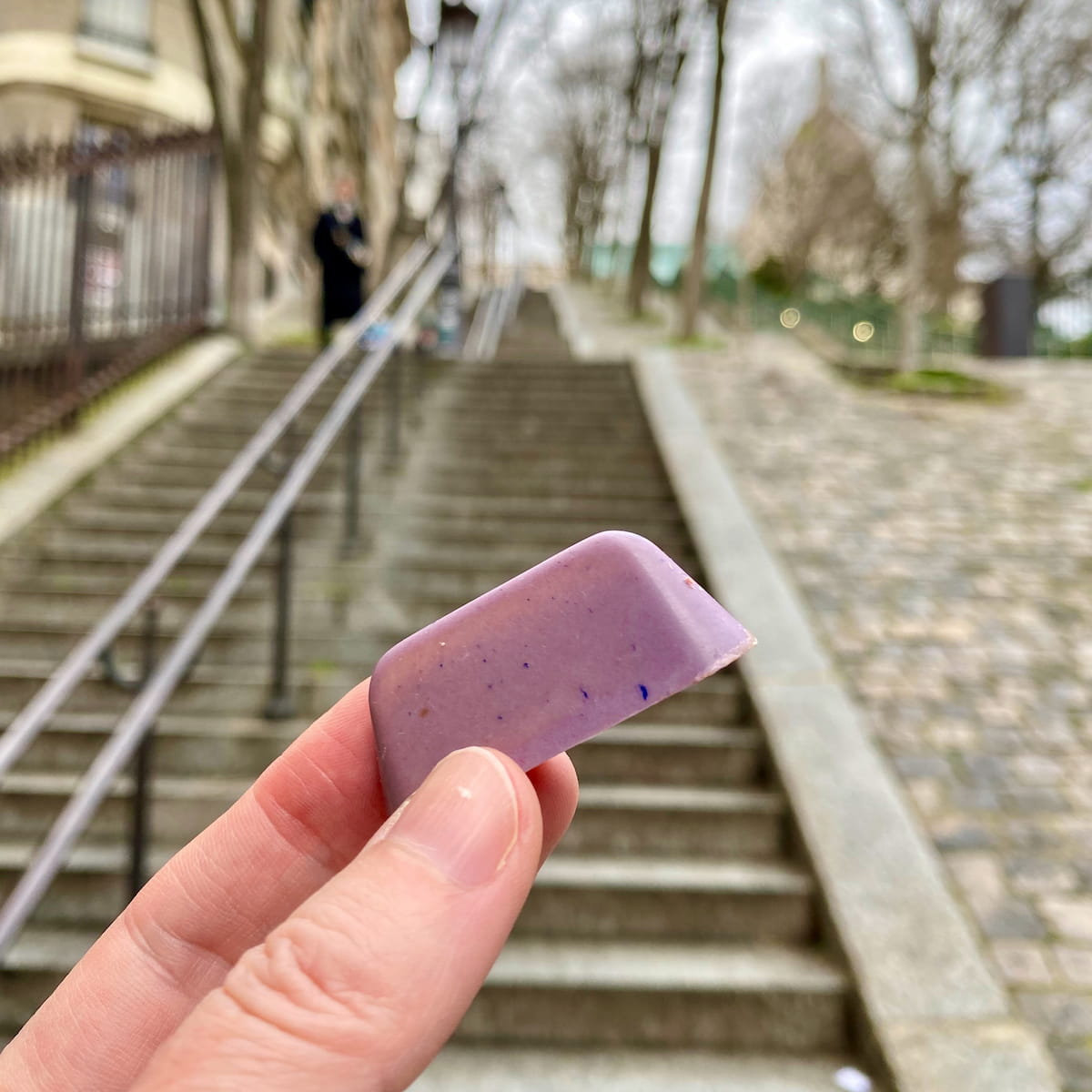 Roussel's Pastries
If you're looking for the exquisite pâtisserie that's seen in the boutiques along the west coast, visit on the weekends. His son, Enzo, has now joined the pastry team so it's a real family tour de force. Over the last few years, he has worked with other top pâtisserie chefs, Maxence Barbot at the Shangri-La Palace and previously with Christophe Michalak (previously at the Plaza Athenée).
Consequently, I'd suggest arriving in the morning for the best choice, as they're so popular, they disappear fast.  Christophe always chooses the best French market produce - these raspberry tartlets are made with Tulameen rasps. These are not just bionic looking fruit but they're packed with flavour.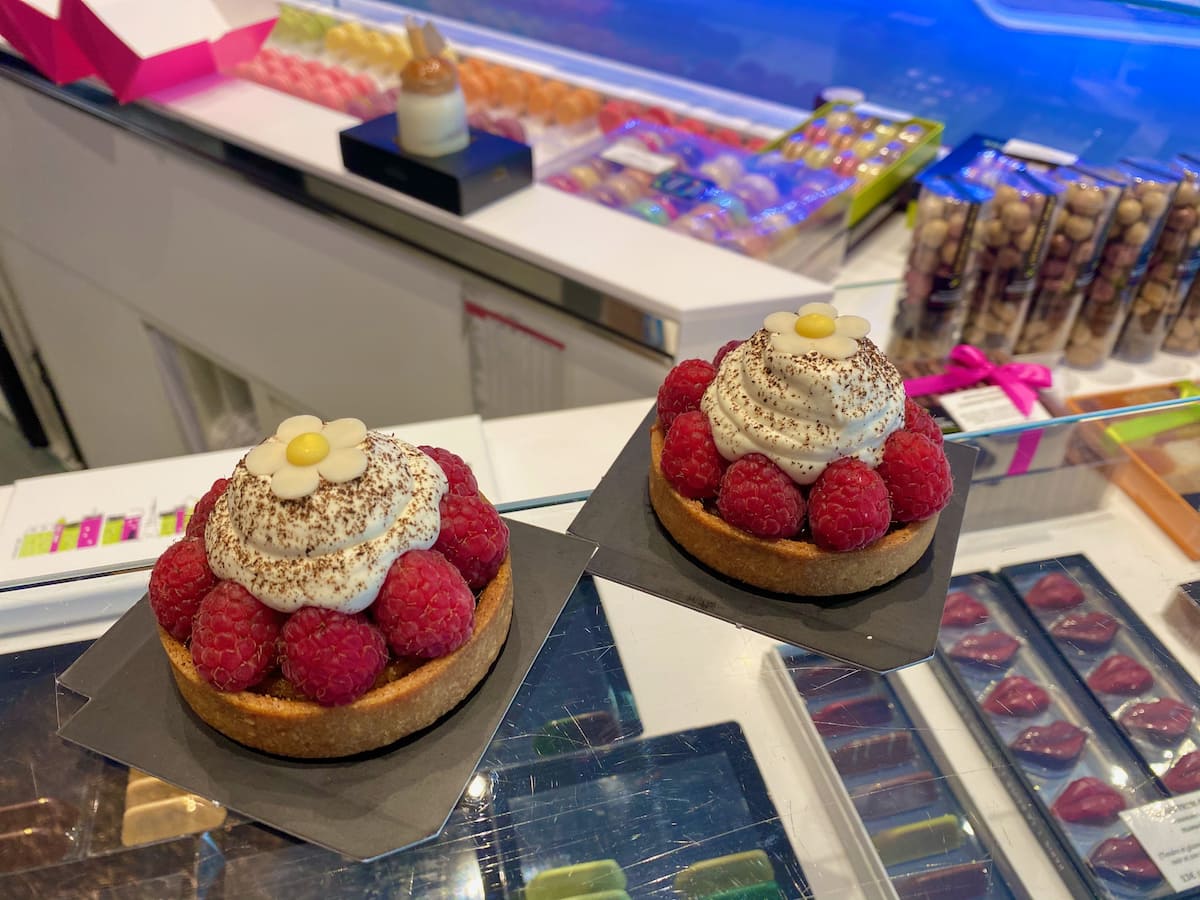 Most Intense Chocolate Cake in Montmartre
If you can't make it on weekends in Montmartre, then rest assured there's the Moelleux au Chocolat. This is one of the most intense chocolate fondant cakes around, made with his signature chocolate.
Moreover, it's excellent value plus a family size for 4 can actually do for 6! Topped with praline, ganache, toasted hazelnuts and chocolate crumble.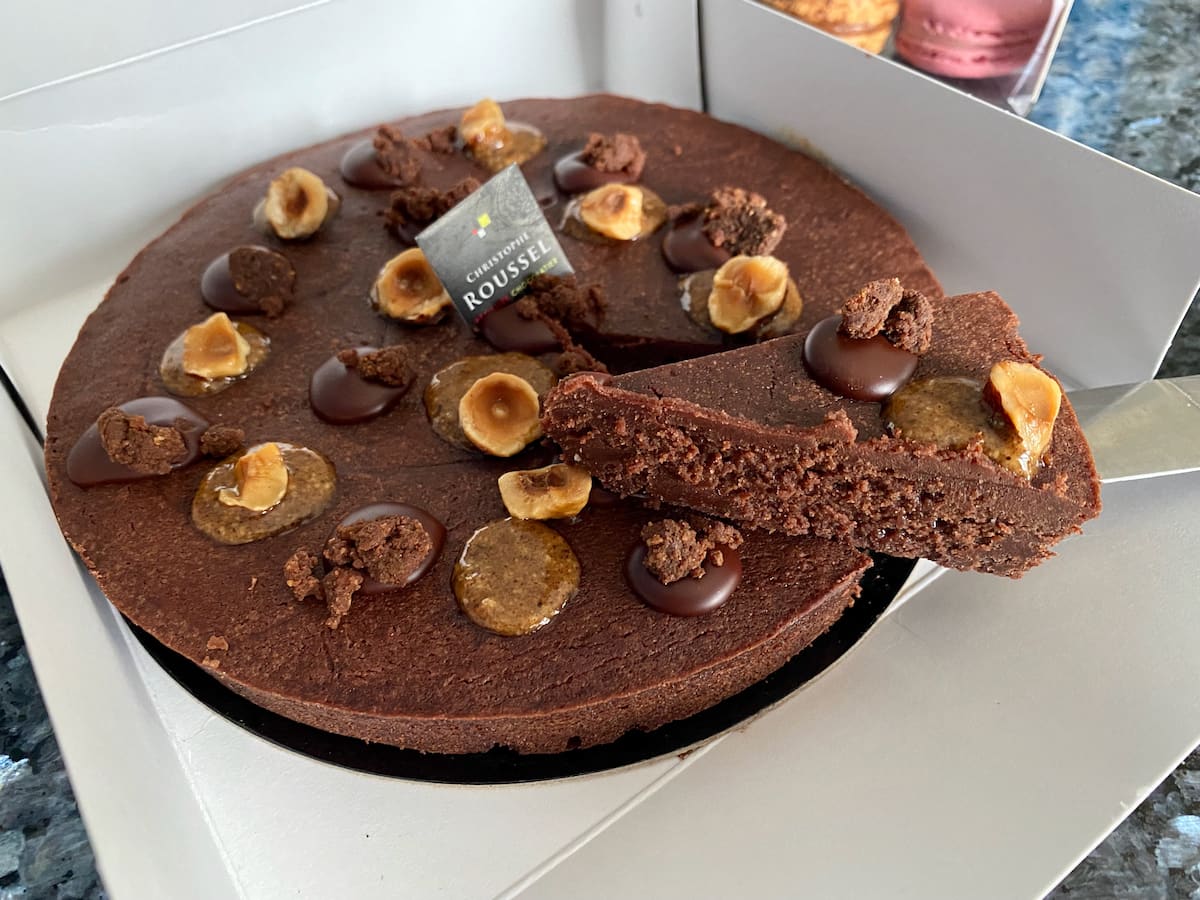 Speaking of chocolate, for the romantics, you must try his kisses - they're nothing like the Hershey ones. These are flamboyant lips - and particularly popular in Japan.
Fun Praline Experience
In keeping with the salted caramel theme from la Guérande and the coast of La Baule, a taste of the chocolate and praline crab is such fun. Don't throw away the sand-like base, as it's chocolate too!
Why is it fun?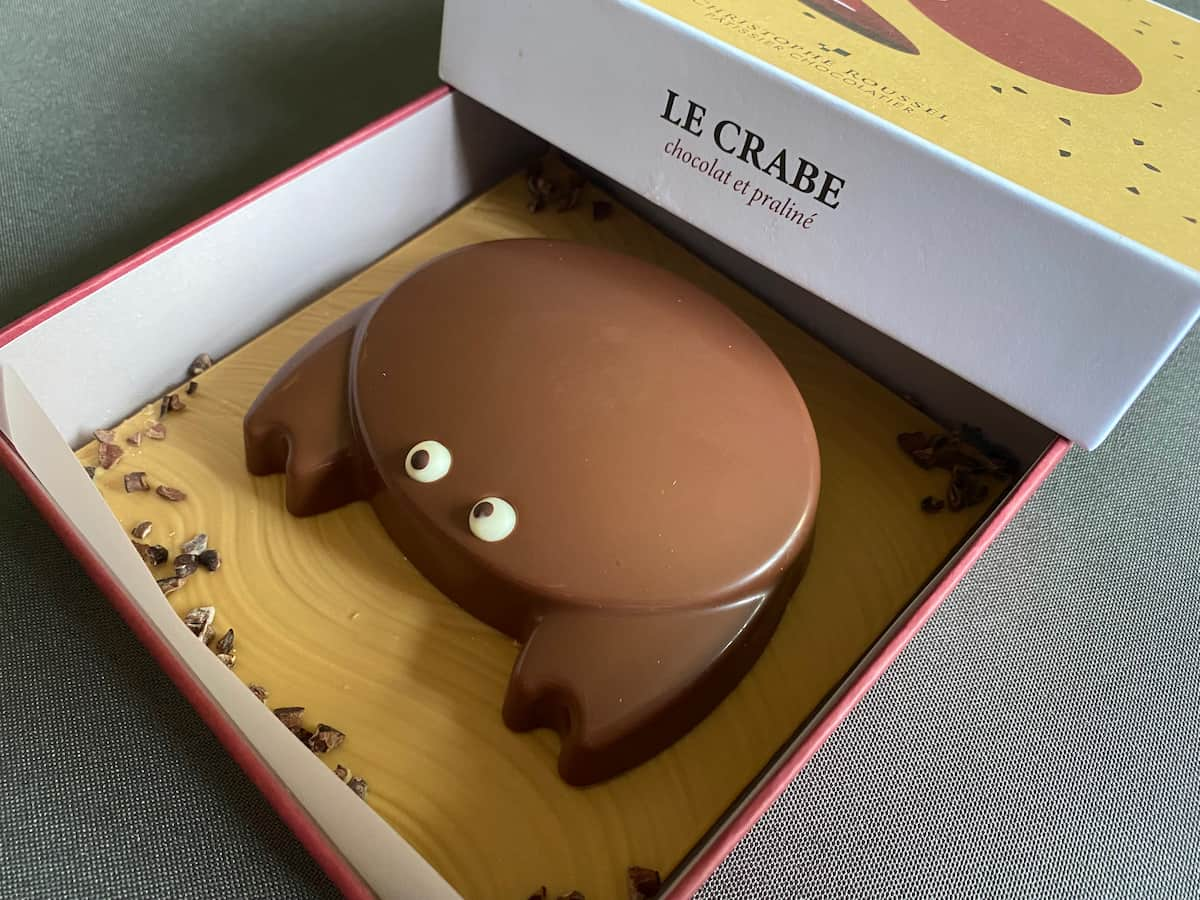 The crunchy texture of the praline hits you first then wait.  The next tasting sensation with have you pinching yourself: it's made with popping candy (sucre pétillant). I'm still laughing at the delicious fun of this yet!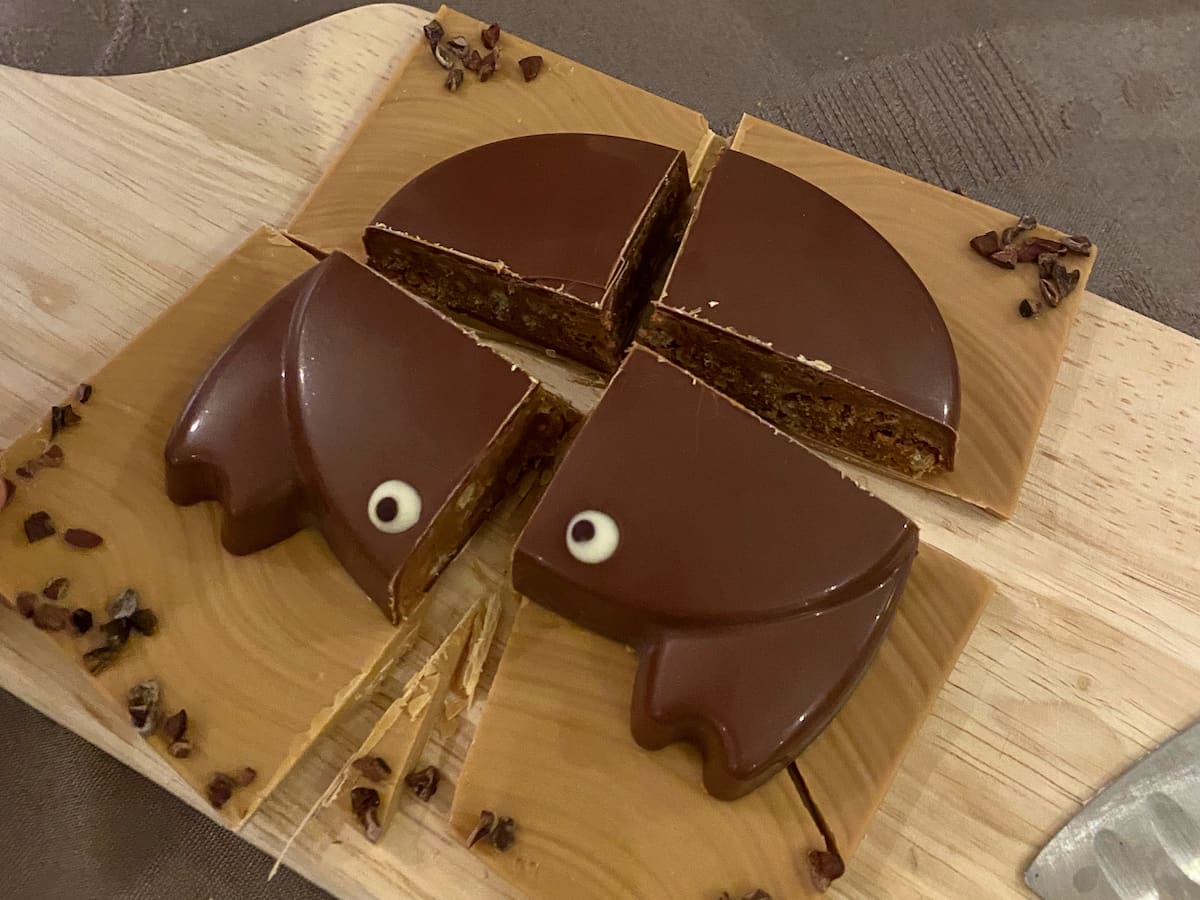 So before you race up these steps up to Sacré-Coeur and the butte (hill) of Montmartre, at least stock up on some chocolate and macarons - plus cake! Check out his annual collection of Easter eggs in my article on Easter Eggs in Paris), which include a nod to Japan with Mr & Mrs Manga.
There's now a bar area where you can sit and enjoy a pastry and hot chocolate, for example, for a tasting sur place. I mention this in my list of tea salons. For more, see my Paris Tearoom Guide.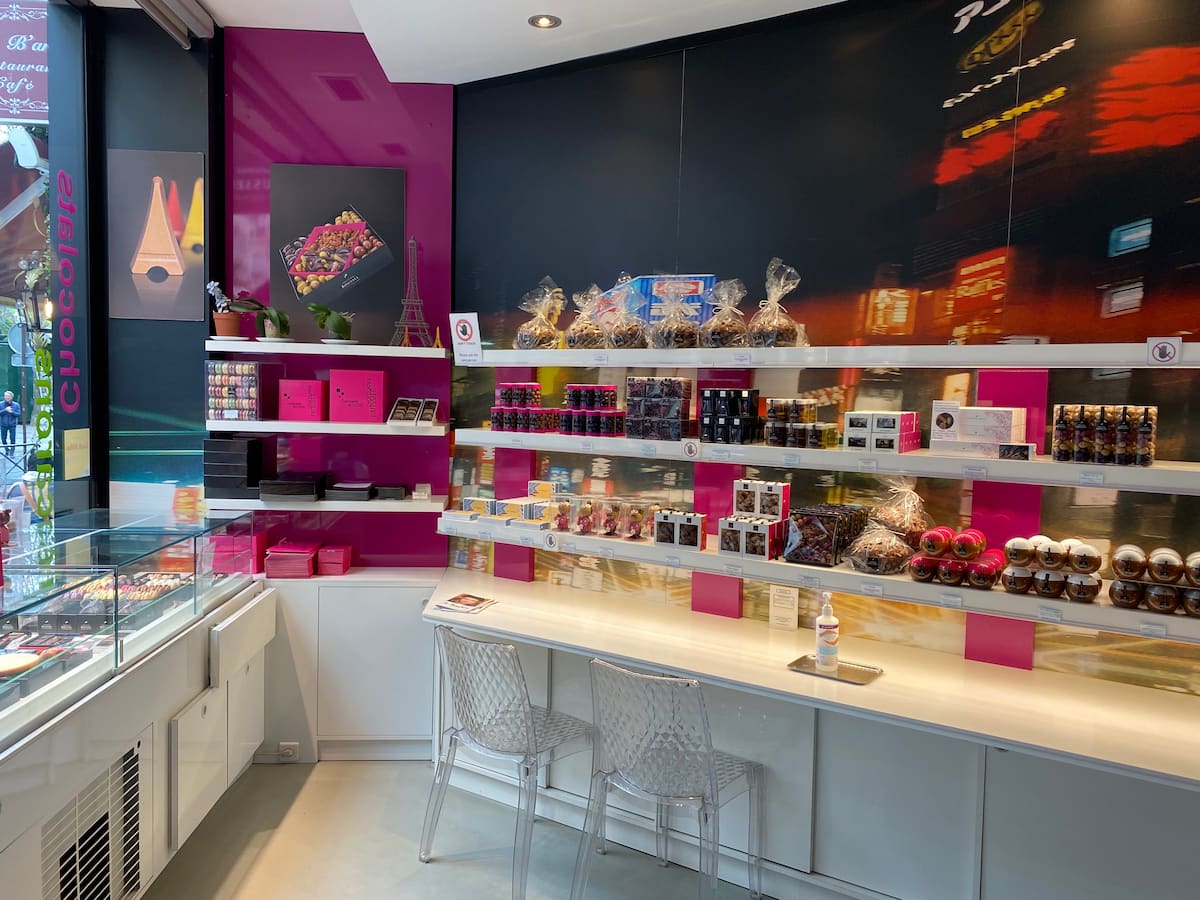 Meanwhile, I'll leave you with this delicious coffee macaron - see if you can resist biting into one before running up these steps.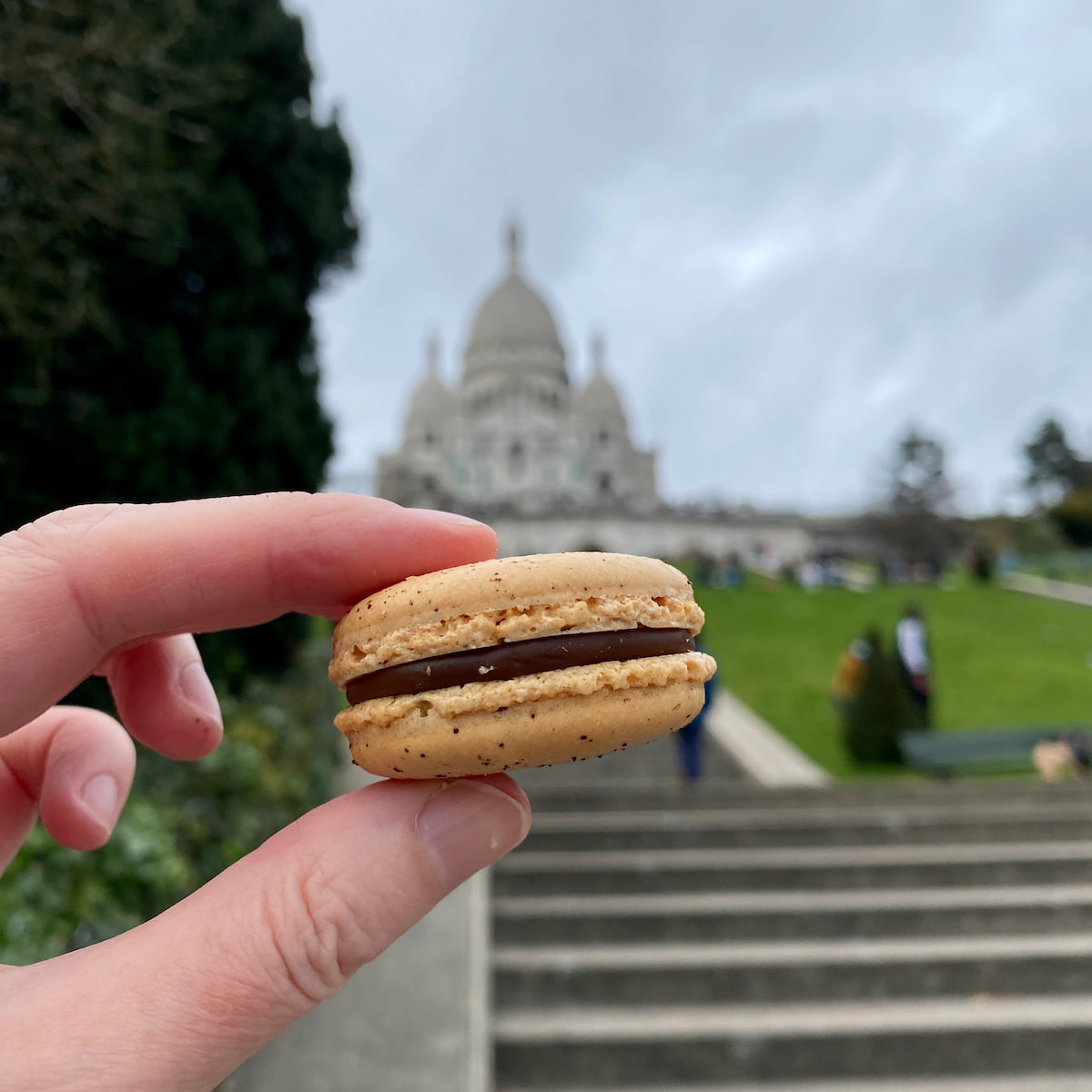 Christophe Roussel - Duo Creatif Avec Julie
5 rue Tardieu
75018 PARIS
This post was first published 6 June 2012 but is now updated to reflect the latest choices of macarons and chocolates in Montmartre. NOTE: none of this post is sponsored. I'm just a hopeless gourmande, sharing my favourite boutiques in Paris and the Roussel family are the most lovely people too.