Experience of a Japanese tea ceremony plus the steps involved for an authentic teatime. With details of the kinds of wagashi and namagashi confectionary served in Japan - to how to have a tea ceremony at a tea pavilion in the heart of Paris.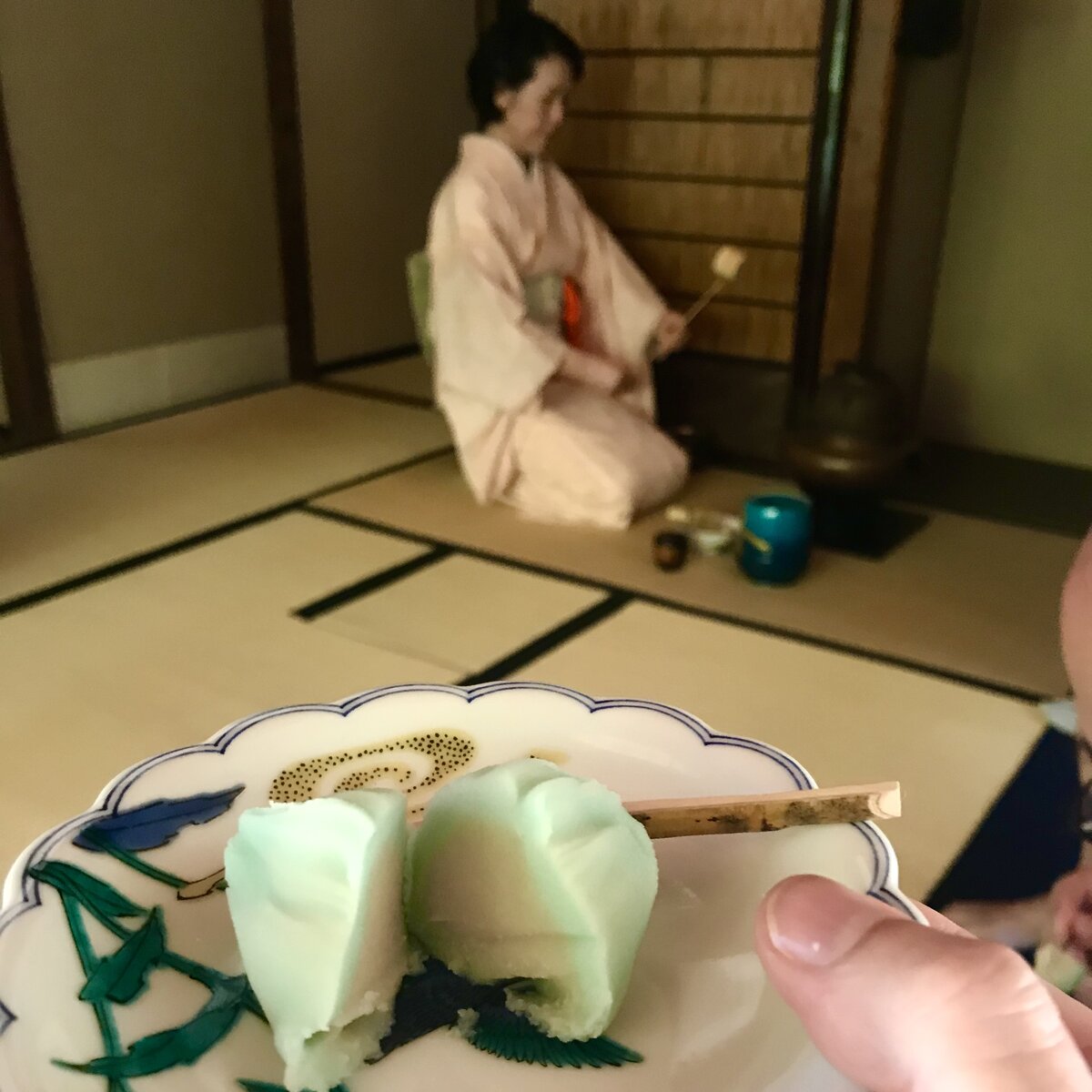 Japanese Desserts
How many of you read the desserts on the menu before savoury? In many Japanese restaurants, we were surprised to find that dessert was often not even mentioned, with savoury ruling; at best, Purin (Japanese crème caramel) was the only dessert listed. To satisfy our sweet tooth, it was best to seek out speciality confectionary boutiques - or stop in a café or teahouse. So, welcome to my version of Teatime in Japan - from Osaka, Kinosaki Onsen, Kyoto, Shirikawago, and Kanazawa to Tokyo.
Here is just a selection of some of the sweet treats we discovered during our (personal, not sponsored) trip.  Far from being an exhaustive list, I don't claim to be an expert on Japanese tea and confectionary; this post reflects our own personal first experiences of Japan, sharing interesting features learned along the way.
UPDATE: The trip was so inspirational, that our daughter, Lucie, is now studying Japanese and is currently studying at Kobe University in Japan for her 2nd year.
Authentic Japanese Tea Ceremony in Japan
One of the family's all-time favourite trip highlights was our first experience of a most tranquil Japanese tea ceremony in the Nishida Family Garden (part of Gyokusen-Immaru garden) in Kanazawa, next to the world-famous Kenrokuen garden, home to the oldest fountain in Japan.
Held in the Saisetsu-tei Roji tea house, it's one of Japan's oldest at 350 years old, yet the tradition continues. However, today apparently, it's so different in that 80% are women who enjoy the traditional tea ceremony, compared to the previously more male-dominated custom. Saisetsu-tei takes its name from "snow flutters", part of a Haiku poem (by Junan Kinoshita, a Confucian scholar) that hangs on the wall.
Japanese Tea Ceremony - First Steps
Our gracious tea hosts made the tea and explained the philosophy behind the tea ceremony.
As you walk through the Zen gardens to the tea house - only on the stepping stones - all thoughts of everyday life should vanish, as if in a meditative state of HARMONY (wa). As before entering a temple, we purify our hands with water (and mouth for the real tradition, although thankfully we were spared going the full monty) before entering. This purifying ritual permeates the soul.
Inside the tea house there is no hierarchy; lords, peasants? Everyone is on the same level to appreciate the tea, the ambience. A Samurai would leave his sword outside - in fact, this TRANQUIL (jaku) meditation was particularly important to the Samurai in order to focus on being the best of warriors. When we visited the Samurai family of Nomura house in Kanazawa's Samurai district (Nagamachi Bukeyshiki area with pretty little canals and bridges), a small open-air garden was designed in the building purely for tea ceremonies.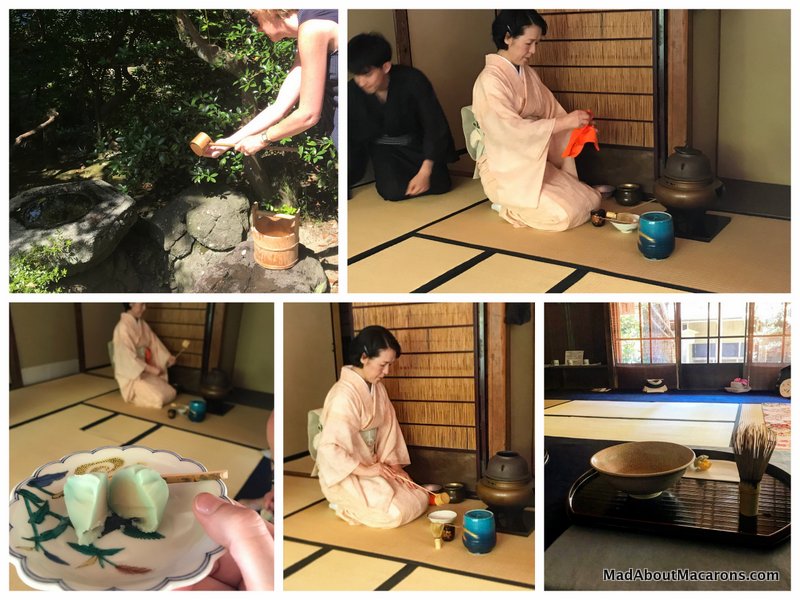 Japanese Tea Ceremony Steps
The hostess cleans all her tea-making implements with precision, ensuring PURITY (sei), as she heats up the water using the firepit (known as the furo - as it was during the record 2018 summer heatwave she used a different traditional stove not built in to the flooring, as it heats up the room), pours in the Matcha green tea powder, pours over the pure water then whisks vigorously back and forth with a bamboo whisk (the Chasen) to create its characteristic creamy foam.
As a sign of RESPECT (kei, evidently a particularly intrinsic value in Japan), each person thanks the hostess for taking the time to make the tea (Oshôban Itashimasu) then each person in turn asks politely to join in (Otemae Chôdai Itashimasu). The bowl's prettiest pattern always faces outwards to the others and as the bowl is inspected, is turned around clockwise a couple of times then enjoyed.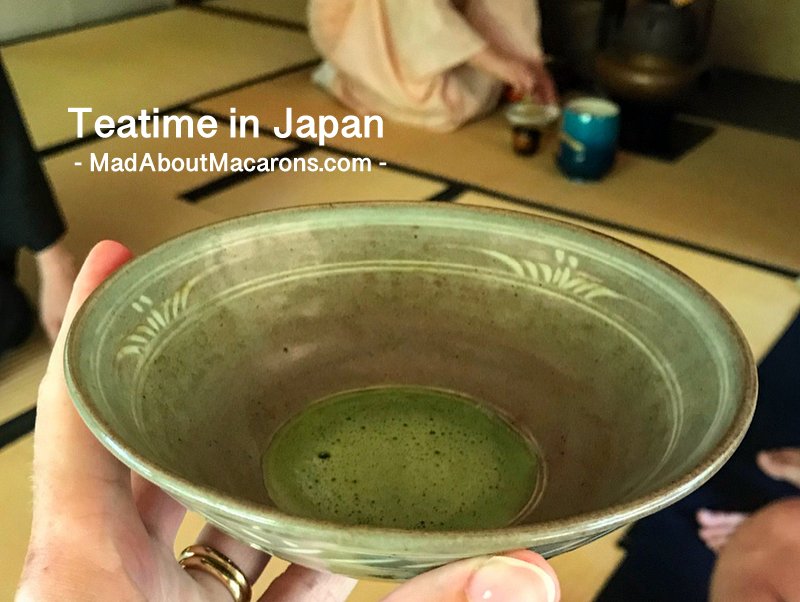 Whisking Matcha Tea in a Japanese Tea Ceremony
Following the ritual lesson, we were encouraged to try our hand at preparing our own tea. As the hot water (not boiling) was poured gently on top of the Matcha powder, our wrists were given the exercise by whisking the green tea with the Chasen. It tasted different; reassured it was the same Matcha tea, it must have been the water as it was heated using a different kettle/stove.
Japanese Confectionery: Wagashi
As with the previous bowl of tea, small ceremonial wagashi were served and we were invited to eat them before sipping. Wagashi are bite-sized confections, not too sweet, traditionally enjoyed with tea and have been such since the Edo period, when tea was imported to Japan from China.
However, to be more correct, we were served Namagashi, specifically served during the tea ceremony (a subset of wagashi). We were served  soft, melt-in-the-mouth Rakugan, made from glutinous rice and sugar. Each small rakugan were in pretty cute (kawaii) summer floral designs, shaped using a wooden mould. Wagashi and Namagashi are made with local ingredients such as rice flour, red bean paste, yuzu, matcha and sweet potato.
What a most harmonious and tranquil experience, learning the most fascinating virtues of tea culture (Harmony, Respect, Purify, Tranquility) along the way. Just before we left our delightful hosts added to our vocabularly, Ichigo Ichie (literally 'one time one meeting') meaning LIVE THE MOMENT - something we certainly did throughout our trip as a result.
Doriyaki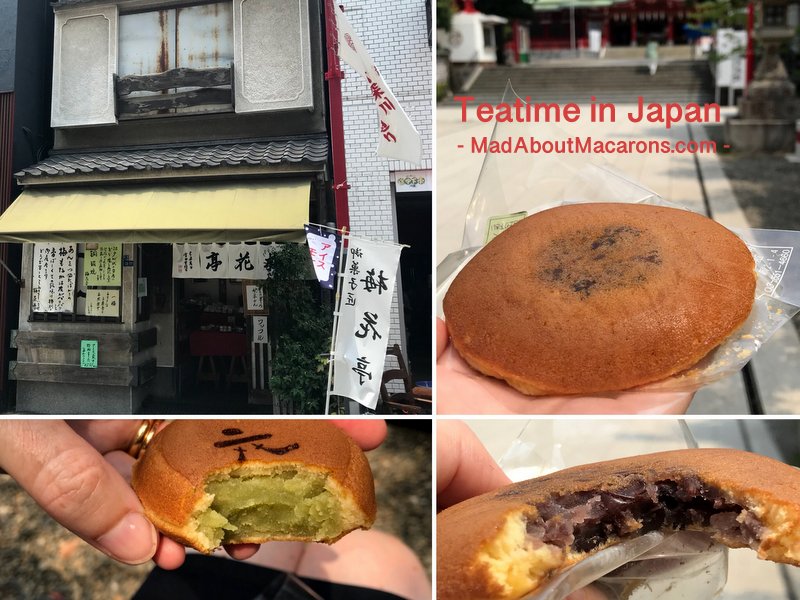 For the best Dorayaki, I'd recommend our experience in Tokyo, just 5 minutes from Monzen-Nakacho metro station (plus an incredible temple that I'll leave you to discover for yourself, including Taiko drums and fire).
Established in 1850, this store is apparently where the dorayaki was invented. Normally made with two sponge-like pancakes and stuffed with slightly sweet Azuki red bean paste (Anko), this is a surprising version with only one pancake that's not that sweet, beautifully soft and moist, filled with a generous amount of Anko. They also had a green bean paste but frankly, it was like eating a mushy peas pancake. Vive the doriyaki with traditional handmade Anko.
I've had a few in Paris before but nothing I've tasted to date equates to this gourmet version.
MOCHI

Mochi are everwhere: on the street, in cafés, tea rooms and traditionally served with green tea. It's a soft, small glutinous rice cake shaped into a ball and comes in all varieties of flavours. This popular store in Kyoto had such a big queue that we didn't have time to stop (and with temperatures around 38°C with high humidity around midday, we thought we'd return later). So, if you get there for us, let us know how they are!  Alas, I took photos but put them up on Instagram stories and now I can't find them. Guess I can blame the heat...
That's a Wrap!
A few mochi are wrapped in different leaves, such as Sakura-mochi, filled with azuki bean paste (making it beautifully pink) and wrapped in a sakura leaf. Kashiwa-mochi are wrapped in oak tree leaves.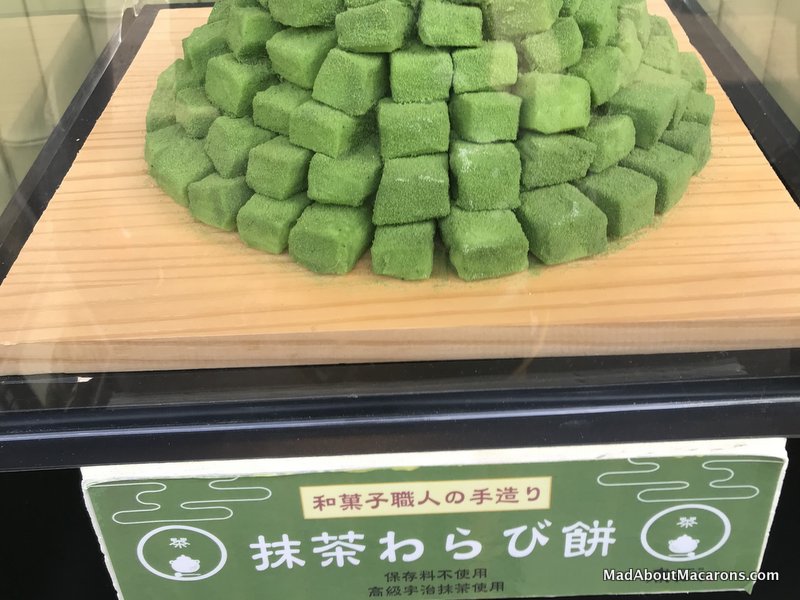 Warabi Mochi
As we were in the Kansai region, Warabimochi were particularly popular.  Extremely chewy, they're jelly-like treats made from bracken starch and either dipped in Matcha green tea or Kinako, roasted soybean flour.  By the end of the trip, I was addicted to the Kinako versions, probably due to their fascinating roasted flavour. They remind me of a less sweet Turkish Delight (Loukoums) with Japanese flavours.
Fukusa Mochi
One of the delicious specialities of Kanazawa: Fukusa mochi, a Japanese baked roll cake (glutinous Gyuhi roll cake, a bit like a hole-packed pancake that looks remarkably like a huge bath sponge) with Azuki red bean jam. The outer layer is made from either baked brown sugar or Matcha green tea.
I could have eaten this whole tasting plate but remembered my manners. Instead bought them as a gift, as meeting up with Japanese friends in Tokyo; I hear it's tradition to offer typical gifts from your travels.
Another speciality of Kanazawa is gold leaf - appropriate, as Kanazawa literally means 'Marsh of Gold'. We particularly loved seeing gold leaf conveniently sold in tubes (not to be confused with lipstick in my handbag!) to sprinkle on top of coffee, ice cream ... you name it and it turns everything to gold!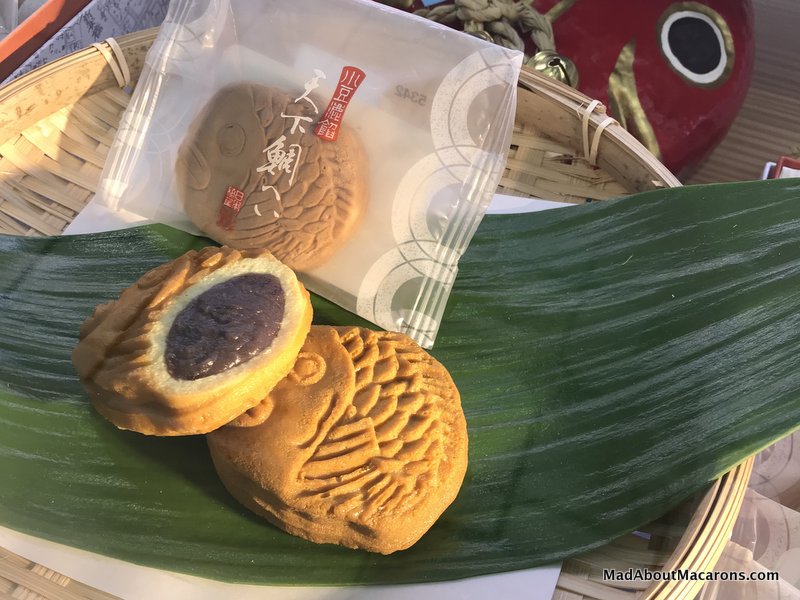 More Wagashi Sweet Confectionary
Tai-yaki: a fish-moulded pancake-like batter or waffle filled with red bean paste, although we saw other varieties on sale such as vanilla custard cream and chocolate (unusually we didn't see much chocolate in general on our trip). They also appeared in biscuit or cookie form too.
Daifuku: a form of mochi filled with sweet bean paste or other fillings (e.g. strawberry) and dusted in potato starch to prevent them from sticking.
Mizu Yokan: a jelly-like sweet made with mashed azuki beans mixed with gelatin. I forgot to take a photo of it, but to see the whole picture, including a recipe, check out my friend Nami's post how to make Yokan on Just One Cookbook.
Oshiruko:
 a type of dessert soup that consists of hot, sweet bean soup with grilled rice cakes (mochi) or 
rice flour dumplings
. The red bean soup may be either smooth or chunky. We enjoyed a variation of this at the Zen Café in Kyoto's Gion district, where the soup was chilled with almond pudding and fresh figs - sheer bliss during such a heatwave!
The list is apparently endless and if only we had more time to try and discover them all!
Bake Cheese Tart
Although more French in spirit, this Matcha baked cheese tart is worth a mention from the Japanese chain, Bake Cheese Tart. The pastry base is spot on: a crispy, perfect quantity to matcha the filling, which is more liquid than I expected but not too much that it falls out of the base. There's a real tease between sugar vs salt - even on the aftertaste.
There's also a plain version, not unlike a Portuguese tart (see recipe for Pastéis de Nata) but less sweet and yet there's definitely a cheesecake taste to it - yet it's a tartlet. Frankly this is heaven! So glad we saw the enticing advert for this in the Kyoto metro. That's all the shop makes but boy, they do it well.
Macarons
We were delighted to see macarons in many boutiques and in Osaka, they were even served at the breakfast buffet in our hotel (mango-passionfruit). The most beautiful ones I saw (sorry, the image was on Instagram stories and I can't recuperate it) were from the Matsuya department store in Asakusa, all individually wrapped.
There are also many French pastry chefs who have stores in Japan, and so the more western specialities of Parisian macarons, patisserie and/or chocolate can be found at Jean-Paul Hévin, Pierre Hermé, Foucher, Christophe Roussel, Sebastien Bouillet, Laurent Dûchene, just to name a few. Many are found in larger department stores and it's a real treat to discover a gastronomic world always in their basements.
Alas, the only image I had was the surprising green tea pointy-looking macs I saw in a most touristy boutique near the Senso-ji temple in Anakusa, Tokyo. We were wondering if they were called nipples (sorry, couldn't resist).
Green Tea Ice Cream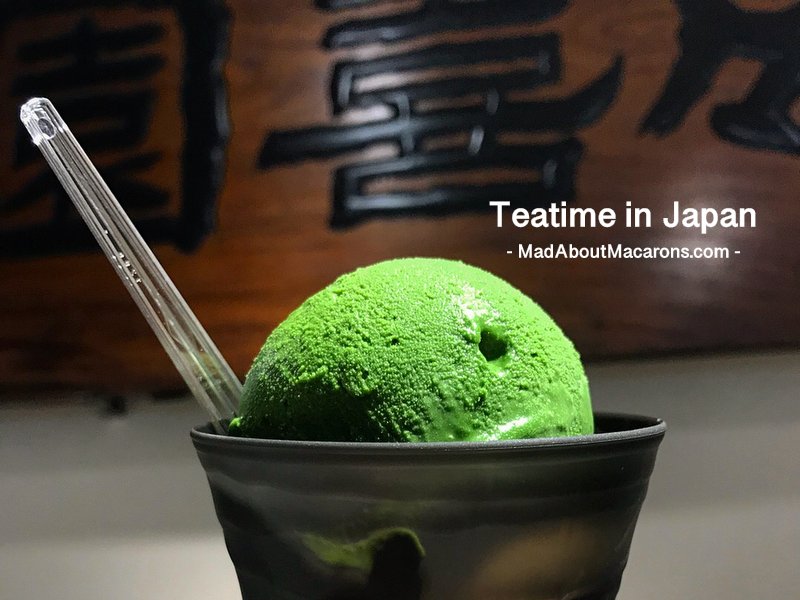 Speaking of the Anakusa area, here we discovered the strongest Matcha Green Tea ice cream in the world from Suzukien in Tokyo. The strongest gelato came in at number 7 and it was indeed incredibly intense with little sugar, like the majority of the sweets in Japan.
Our unanimous favourites throughout the trip were Anko (sweetened red bean paste) ice cream in Kinosaki Onsen, Hojicha (roasted tea) ice cream in the Japanese Alps in Shirikiwa-go, and here in Anakusa, including Black Sesame ice cream (this recipe is also now on video).
Japanese Canelé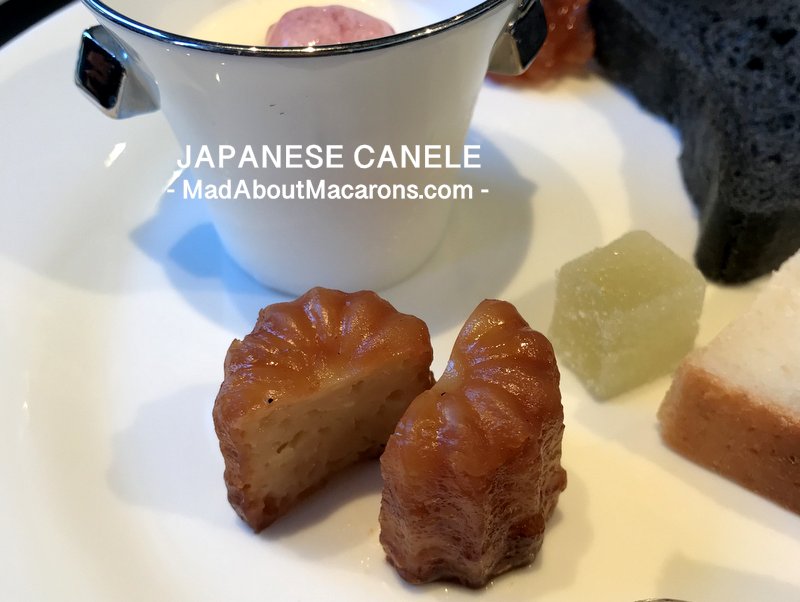 You heard me right: we discovered these remarkably French-looking canelés in Osaka at Canelé du Japon where they came in all sorts of surprising flavours such as yuzu, sweet potato, apple-caramel, or  flower salt (fleur de sel) from the Guérande. This may be for Teatime in Japan but they were served mini canelés at breakfast at our hotel in Osaka - more like the original ones we find originating from Bordeaux with their typical vanilla and rum soft centre with a caramelised exterior.  Also seen at breakfast were French pains au chocolat, spelled Pan'ochokora - how adorable is that?
If you'd like to make Canelés, my easy recipe is in my recipe and travel book, Teatime in Paris,
along with the story that goes behind them and where to find the best in Paris.
Japanese Ceremonial Tea in Paris
For a taste of Japan in Paris, see my personal listing of best Parisian tea salons, particularly around the rue Sainte-Anne area in Paris's 2nd arrondissement.
However, if you would like to experience an authentic Japanese tea ceremony in Paris, there is a tea pavilion in the gardens of the Hôtel Heidelbach next door to the Asian Musée Guimet.
For more details and how to reserve a tea ceremony are all documented directly on the Guimet Museum's website, La Voie du Thé (Tea Trail). Reservations are made the preceding month and each tea ceremony lasts an hour.
It is recommended to bring socks to enter the tea pavilion and wear loose clothing for ease of sitting comfortably on the knees.