As you may have gathered, I'm not just mad about macarons, but also rather crazy about choux buns too. These Nougat Glacé Choux Buns oozing with sticky orange caramel are a must for the festive season!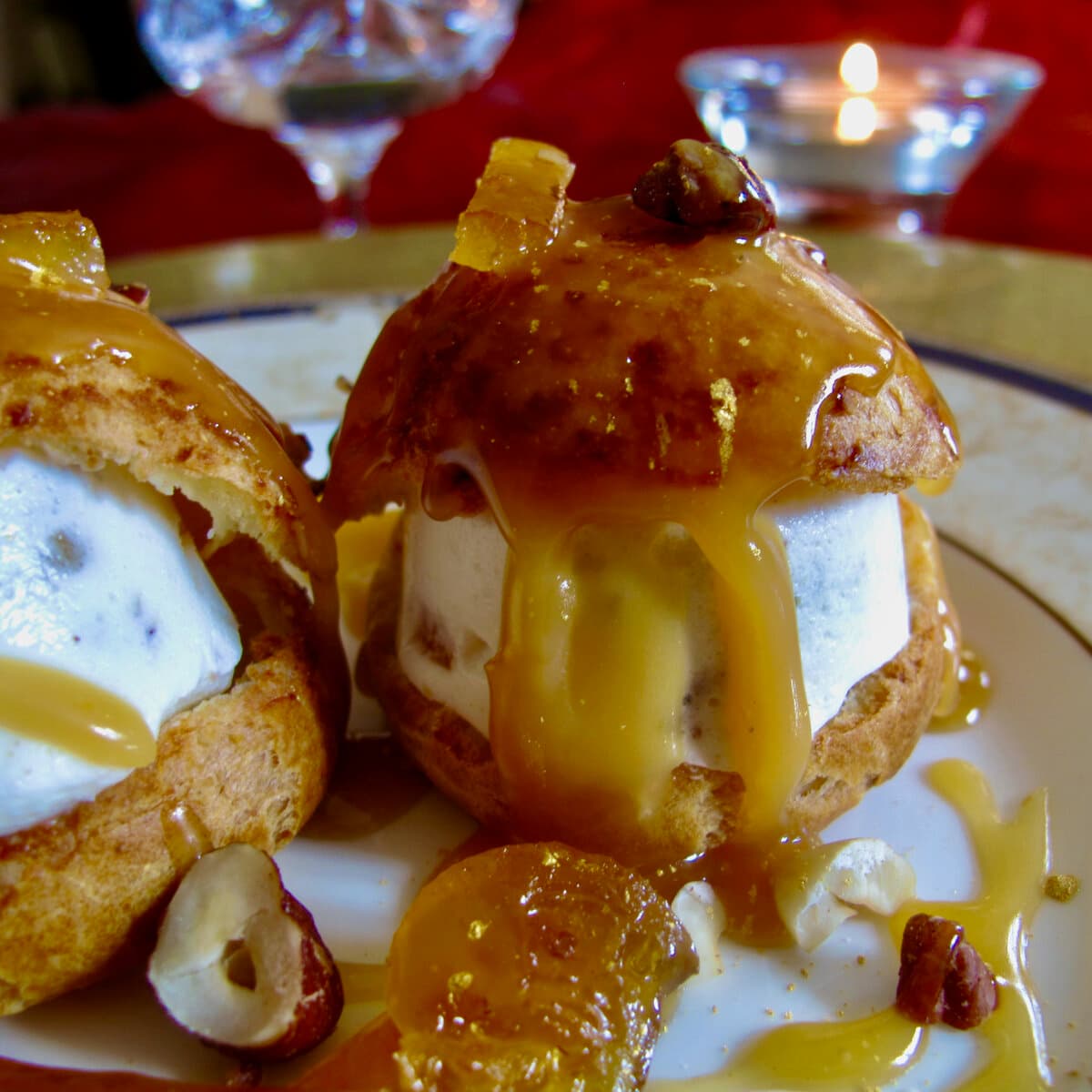 Nougat Glacé Ice Cream
One of the first classic desserts I discovered in France was the nougat glacé. It may perhaps sound posh but there's no nougat in it; it's essentially just fancy honey ice cream containing a mixture of predominantly orange candied fruits and toasted nuts, then traditionally served surrounded by a pool of tart, red berry coulis.
Much that I love the classic version, I've never appreciated the red fruit sauce that accompanies it. When Nami explained that the Japanese adore choux buns, I could just see it for her readers: why not prepare a light nougat glacé ice cream, fill it in a choux bun and replace the red berry coulis with a sticky, seductive orange caramel for a simple yet festive dessert for the holidays?
Don't be put off by the long recipe. This is ridiculously easy to put together quickly and without fuss – my kind of stress-free recipe for a holiday menu. Each of the 3 parts can be made in advance: the caramel can keep in the fridge for up to 3 weeks; the ice cream can be made a week or two in advance and the choux pastry can keep in the fridge for up to 5 days (so handy to have in that piping bag!) What's more, the ice cream doesn't even need an ice cream maker!
On the day itself, just pipe out the buns, wham them in the oven for 20 minutes, and when ready to serve simply fill them with a dollop of the ice cream and dribble on the warmed caramel. Decorate with the nuts and candied fruit and serve with a chilled glass of Muscat and let the toes curl in front of the fire.
Christmas Profiteroles with Orange Caramel
ORANGE NOUGAT AND HONEY ICE CREAM
Serves 8
Preparation Time: 20 minutes
Freezing Time: Minimum 12 hours
60g hazelnuts, roughly chopped
50g pecan nuts or walnuts, roughly chopped
100g candied fruit, preferably orange peel and candied kumquats, roughly chopped
4 egg whites
3 tbsp runny honey (I used a strong pine honey)
300ml whipping cream, chilled
1. Put a glass bowl in the freezer in preparation for whipping the cream.
2. Whisk the egg whites until they form soft peaks.
3. Heat the honey in a pan until it starts to bubble. Pour it hot onto the egg whites then whisk for another minute or two.
4.  Whip the cream in the chilled bowl until it's stiff. Add the nuts and fruit (but keep some aside for the decoration) and fold the mixture gently into the beaten egg whites.
5. Pour into mini muffin molds (I used silicone), or simply into a sealed container and freeze.
Adapted from a recipe by Trish Deseine.
CHOUX BUNS
Preparation Time: 15 minutes
Cooking Time: 20-25 minutes
140g water
100g milk
1 tbsp orange flower water
pinch salt
1 tbsp sugar
90g unsalted butter
150g flour
4 eggs
1. Preheat the oven to 180°C.  Boil the water, milk, orange flower water, salt, sugar and butter in a large saucepan.
2. Once boiling, quickly add the flour and whisk until the dough is smooth and comes away from the sides of the pan.
3. Transfer to a mixing bowl (or electric mixer) and gradually add the eggs. Whisk until you have a lovely smooth, sticky paste.  At this point, you can transfer the pastry to a piping bag and keep refrigerated for up to 5 days.
4.  Using a piping bag, pipe out small heaps on baking trays covered in greaseproof/baking paper (or Silpat) Leave a good space between each mound, as they will spread out during baking.
5.  Brush with a glaze of one egg yolk mixed with a tablespoon of water.  Bake in the oven for 20-25 minutes.
ORANGE CARAMEL SAUCE
Preparation Time: 5 minutes
Cooking Time: 20 minutes
160g sugar
120g salted butter
200g whipping cream, slightly warmed
grated rind of an orange, or 3 kumquats
1 tbsp Cointreau or Grand Marnier (optional)
1. Put the sugar with a few drops of water into a small saucepan. Using a wooden spoon, stir it now and again over a medium heat until a golden syrupy caramel forms.  This should take about 10 minutes.
2.  Stir in the butter, still over the gentle heat and keep stirring for about 10 minutes until thickened. Don't worry if it looks like too much butter at this point: when you add the cream it will all come together.
3. Turn down the heat and add the warm cream, zest (and liqueur if using) gradually. It will look runny but that's good.  Keep it bubbling away for another 5 minutes then cool.
The caramel can last up to 3 weeks if stored in a sealed jar in the fridge. As the caramel cools it will thicken.
Presentation: When the choux buns are cool, cut them in half and fill with a scoop or mini mold of nougat ice cream. Warm the orange caramel in the microwave just for a few seconds and dribble over the buns (sorry, I can't help laughing on that one: you don't dribble but the sauce should be dribbled…). Decorate with candied fruits and the extra toasted nuts. Enjoy!
This recipe was shared as a guest post over at Nami's blog, Just One Cookbook.
Wishing you all a cosy Christmas, filled with fun and laughter – and plenty of macarons!
Update: Don't forget that there are many choux and éclair recipes (in much more detail), along with tarts, millefeuilles and French cakes in my second book, Teatime in Paris!, a great gift for the bakers in your life…