If it wasn't for Carol Gillott's enticingly beautiful, bubbly artwork announcing the 2-day Champagne and Patisserie Salon in Paris this week, I wouldn't have popped out to play. I'd almost forgotten what it was like to venture out again, jump on a train out of Mumsy land, and sip Champagne with a taste of the most exquisite French patisserie.
Thankfully Madame Bauchet came to the rescue. Stepping in to the velveteen-carpeted room fizzing with some of the 33 prestigious Champagne houses at the Pavillon Ledoyen can be intimidating, especially as the chandelier-clad address just off the Champs-Elysées is not only one of the oldest restaurant in Paris (1792), but also happens to be THE address of 3-starred Michelin chef extraordinaire, Yannick Alléno.
The room was popping with the incredibles of French fizz; no patisserie in sight and where was Carol?
In the meantime, I spotted Winston Churchill's favourite (Jill's too), Pol Roger, but headed for the houses I didn't know yet. Madame Bauchet, continuing her family's Champagne since 1920, helped tantalise my palet with her elegant Cuvée Constraste, a slightly mineral extra brut Blanc de Pinot Noir (Blanc de Noirs) from the vines of the Côte des Bar and Montagne de Reims that woke up the senses. Their domaine of 34 hectares produces different crus featuring Chardonnay and Pinot Noir.
I was tempted to try another of her neighbour's 100% Pinot Noir bubbles with Lamiable's Cuvée Les Meslaines (Grand Cru, 2011) from Tours sur Marne, picked from 60-year-old vines named Meslaines.  Subtle notes of hazelnuts and grilled fruit turned my mind to dessert. Hm, I fancy a fruit gratin coming on. It was certainly opening up the appetite, hence why these are excellent Champagnes for an apéritif.
Never be shy with the spittoons or crachoirs. I'm still looking for ways to spit elegantly so any ideas at the bottom of this post are most welcome!  I always feel guilty, especially when the wine-maker is right in front of you. It's like saying, "I spit out your wine!" but honestly, if you want to stay standing by the end of it all, they encourage it.
Eager to get to the next room for some patisserie, I tried out the Maison de Mailly. All their Champagnes are Grand Cru. Again, there was no Pinot Meunier. Before uttering the embarrassing words, "But I LOVE a touch of Pinot Meunier …", I was saved by a jolly English-American who interrupted, convinced I was like Julie Andrews. Most flattered, this was the point I suddenly gathered up some of Maria's confidence and decided it was time for the patisserie, grabbing a taster of Mailly's Rosé Champagne by maceration (90% Pinot Noir/10% Chardonnay), with a hint of strawberries. Surely there was something that could go with it.
As if by magic, strawberries appeared in a form of art in a mini tasting dish. Sébastien Vauxion, executive pastry chef of Le K2 Collections in Courchevel, was demonstrating his Rum Baba, with the show projected on to a bigger screen for those not able to make it to the front line and see all the details. I posted this as a Live Video on Instagram but forgot to take a photo for you here.
In the background is another piece of pastry artwork by the new chef pâtissier from Paris's Hôtel Le Crillon, Pablo Gicquel: an intense vanilla meringue filled with vanilla and almond praline.
This is a Baba au Rhum based on a surprising pronounced twist of saffron from Savoie (the restaurants are all based there, particularly in Courchevel), lemon, strawberry and red pepper. It sounds crazy but I love everything a bit on the mad side and this totally worked. During the demonstration, chef Vauxion ensures that there's plenty of vanilla Chantilly piped on top and adds the finishing touch: candied pears.
Do you know what always amazes me about the finest French patisserie? It's never overly sweet.  It's all in the dosage by the nearest gram: not too little and never too much – just like Champagne. Thankfully, the general manager of the K2 Collection, Jean-Alain Baccon, suddenly appeared as personal sommelier and brought the perfect match: De Sousa's 2008 Cuvée des Caudalies, strong enough in Chardonnay to support the saffron. I could get used to this.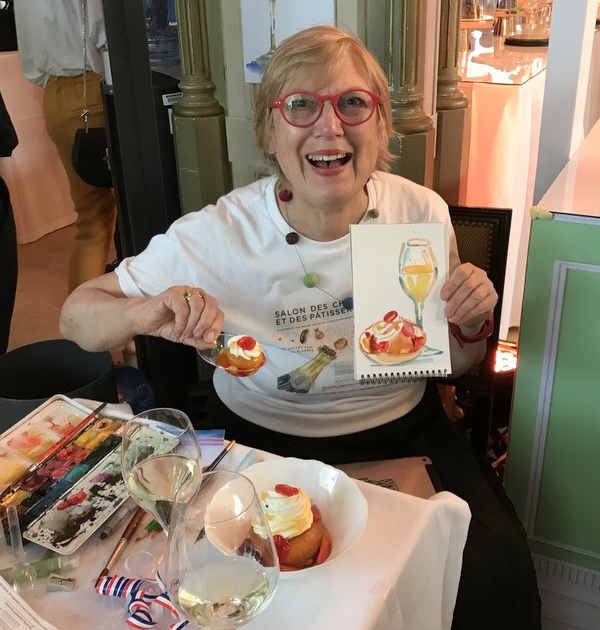 There she was!
Carol Gillott (of Paris Breakfasts fame) had her own artist quarters, tucked in the most deliciously gourmet corner next to the patisserie chefs' central demonstration stand.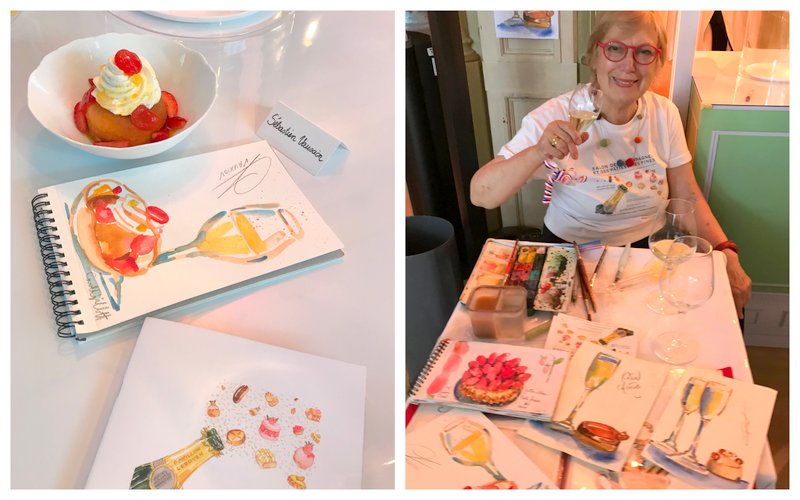 What a table, surrounded by patisserie and bubbles.  She was absolutely radiant, sketching and painting tempting watercolours of the fine patisseries and Champagne on the spot, along with the chefs' signatures.
Did you know that Carol painted the gorgeous Paris map as the endpapers in my book, Teatime in Paris?
Meanwhile, Carol's artistic eye caught sight of Jessica, Chef Vauxion's wife, beautiful in this chic red dress. Carol looked ready to paint her too. No wonder – the ruffles looked like Saint-Honoré waves of a strawberry Crème Chiboust.
I spotted chef Alléno a few times, as I had a quick peak upstairs with Carol. In French, I'd say he's a bel homme and rather a beau-gosse: slim, dynamic, suave, attractive. Typical; I gaze at him as he brushes past, I'm starry-eyed, trying to utter the words in French, 'Please can I take your photo for my readers?' He swiftly targets the disguised, curtained door. I've missed the opportunity – just as well, as I suddenly can't even find the camera button.
Back to see what was going on at the Patisserie stand, next up was Chef Aurélien Rivoire, the only French pastry chef who is head of two three-starred restaurants, the Pavillon Ledoyen and the Cheval Blanc in Courchevel. Again, I took this floral courgette, strawberry and vanilla dessert live on stories and forgot to save it!  Was it the Champagne?
Before heading out the door, I spotted my favourite rosé Champagne, Billecart Salmon, preparing to party. Trust the French to leave an event with such panache.
Meanwhile, it was time to get back on the RER train's carriage to Saint-Germain-en-Laye, just outside Paris and think about my shopping list, the next load of laundry and what's for dinner. Let's see; something with saffron, red peppers, vanilla, strawberries and tucked into a rum baba, please.
Thanks for a most wonderful effervescent afternoon, Carol!