Once you discover the sweet Paris paintings of Carol Gillott, you're enchanted. Her colourful artwork depicts all kinds of French patisseries, teacups and bubbles plus the most delicious of Paris maps in watercolour.
Carol Gillott is an American artist who has been living in Paris for around 10 years. As soon as I started following her popular ParisBreakfasts blog since she arrived, it didn't take long to become hooked. Seeing her artistic eye's view of life in Paris opened my own eyes to a different perspective on a city I'd lived in since 1992.
Carol has been artist in residence for many events around France but my favourite one was the Champagne and Patisserie Salon in Paris in 2018. Her paintings of bubbles, macarons and cakes were an explosion of colour on ads in the Paris metro.
French Desserts and Champagne Tastings
The prestigious location of le Pavillon Ledoyen, just off the Champs-Elysées, is one of the oldest restaurants in Paris (1792) and is the address for 3-starred Michelin chef, Yannick Alléno.
This Salon was a chance tasting from 33 prestigious Champagne houses popping their luxury French fizz plus top pastry chefs from around France with their mini artistic desserts.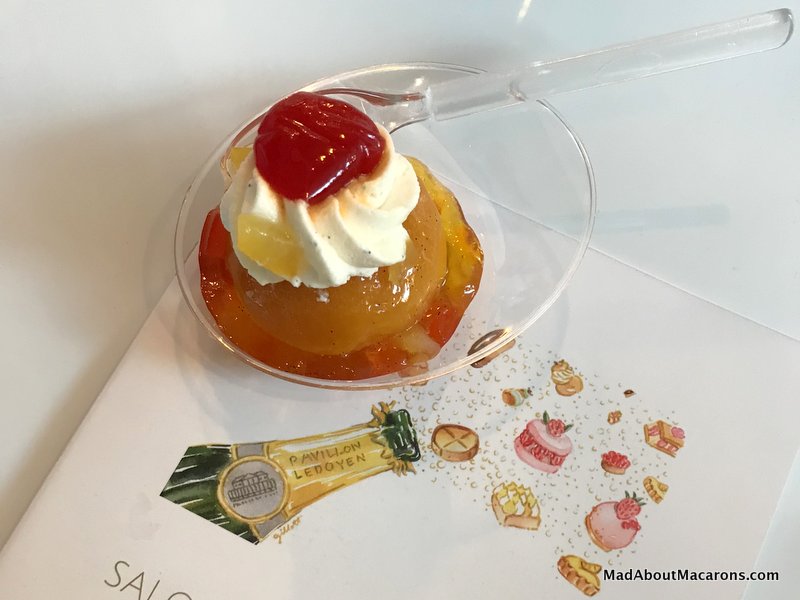 Painting French pastries
As if by magic, strawberries appeared in a form of art in a mini tasting dish. Sébastien Vauxion, Michelin starred executive pastry chef in Courchevel, was demonstrating this Rum Baba.
Unlike the original Parisian classic from Stohrer, his Baba au Rhum had a surprising pronounced twist of saffron from Savoie, lemon, strawberries, candied pears - and red pepper! It sounds crazy but I love everything a bit on the mad side. This totally worked with the Sommelier's suggestion of a De Sousa's 2008 Cuvée des Caudalies, strong enough in Chardonnay to support the saffron.
Meanwhile, Carol was busy painting it all!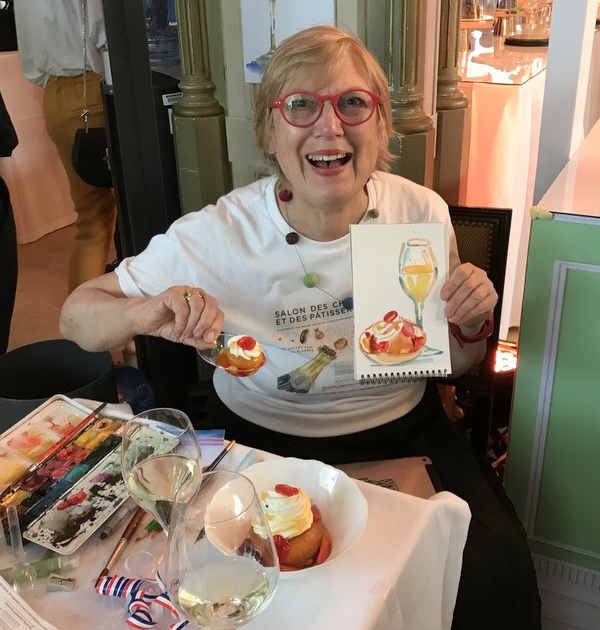 Carol had her own residential artist quarters, tucked in the most deliciously gourmet corner next to the patisserie chefs' central demonstration stand. Sweet artistic, bubbly bliss.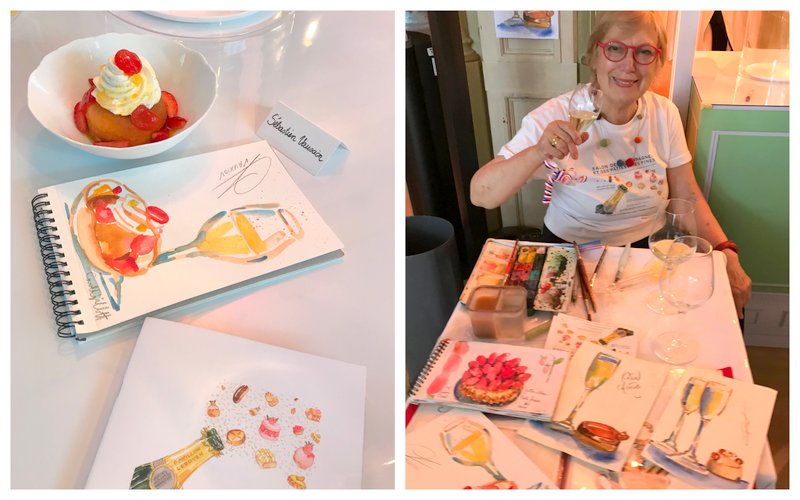 Absolutely radiant, Carol was continuously sketching and painting tempting watercolours of the fine patisseries and Champagne on the spot, along with the chefs' signatures.
Parisian Macaron Paintings
Not long after my first book was published, Carol came to the house to bake her first macarons. Bear came with her to make the recipe to the letter from Mad About Macarons!
Bear didn't miss a thing, including watching these macarons rest for a few minutes before going in the oven. They both discovered how to make macaron feet!
Her paintings of Parisian macarons are so beautiful. Look how she works at getting the pistachio green so well.
I personally know that she goes around the top Parisian patisseries to sketch the best macarons in Paris to come up with the best macaron paintings. Delicious work!
Sweet Paris Maps with Cakes
Carol particularly loves the gourmet side of the City of Light. Whether it's varieties of cherries or Coeur de Boeuf tomatoes floating around the Eiffel Tower, she 'paints Paris dreams'.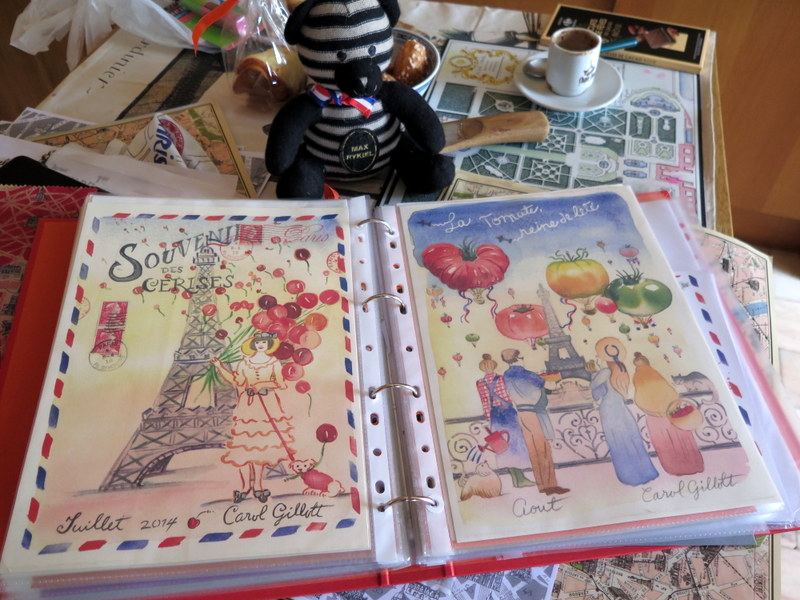 It's no surprise that ice cream also makes a lip-smacking feature, as she lives just a stone's throw from the Parisian ice cream institution on Ile Saint-Louis, Berthillon.
As she says herself, her Mom taught her watercolors at 5 and she's still at it, painting for Champagne Mumm, Peggy Porchen, Guerlain, The Russian Tearoom, the Maharana of Udaipur, and ... for my book, Teatime in Paris!
When Carol agreed to work on a delicious map for the endpapers of my second book, I was overcome with excitement seeing her at work in her studio as she started sketching out ideas based on the book's recipes. I knew she was mad about maps already, but I had no idea that this was her first gourmet map of Paris in the making!
Isn't this gorgeous in my book, Teatime in Paris? She took the recipe photos I took for the book plus personally ran around Paris, tasting her way around the cannéles, éclairs, madeleines, financiers, hot chocolate, mille-feuilles and tartlets - just to double check that she had painted them perfectly.
She got them all perfectly, didn't she?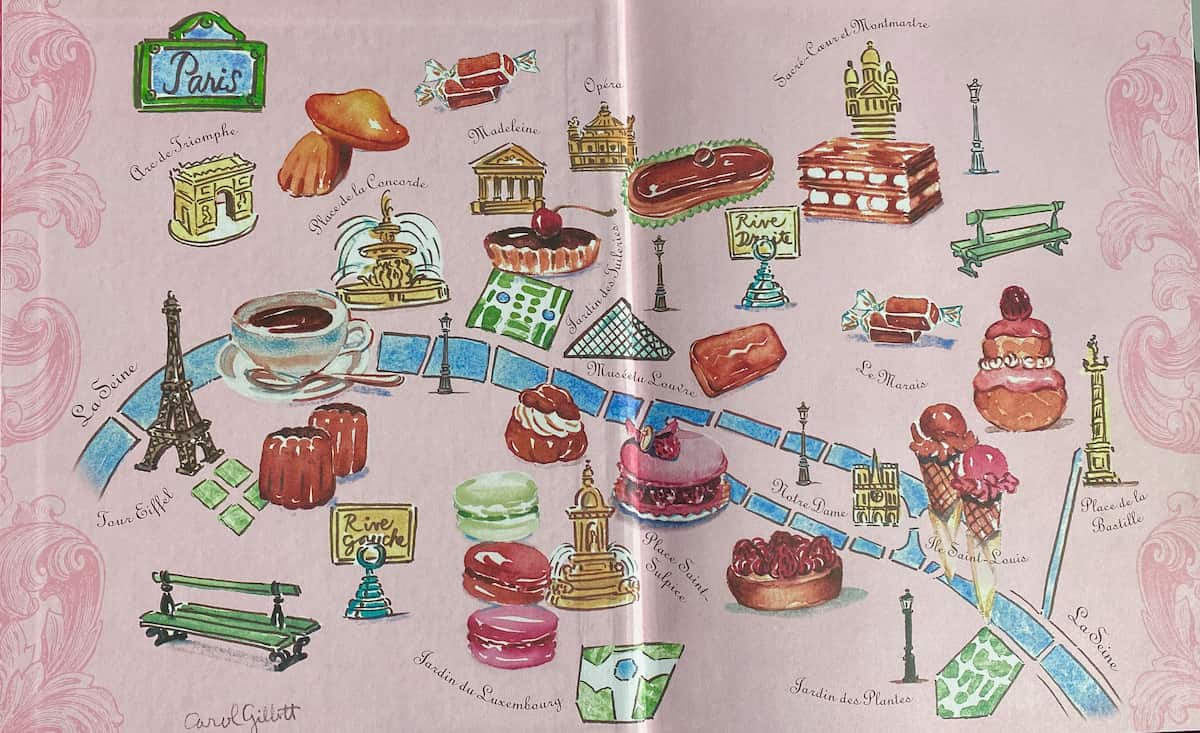 Now with her paintings on Paris maps, Carol started working on a delicious map of Rue du Bac (check out my free guide to the pâtisseries and chocolate shops on Rue du Bac). Her subscribers receive such treats in the mail while Parisian chefs also fall under Carol's sweet Paris map paintings.
She paints these foodie streets plus other artistic surprises from Paris for her monthly subscribers.
Sweet Patisserie Paintings of Paris
Meanwhile, I'll leave you with this beautiful painting Carol did one Christmas that I've cherished. Often she'll paint a favourite pet in front of it.
This one is my very own Parisian pâtisserie - it's here on le blog via my recipes and in both recipe books!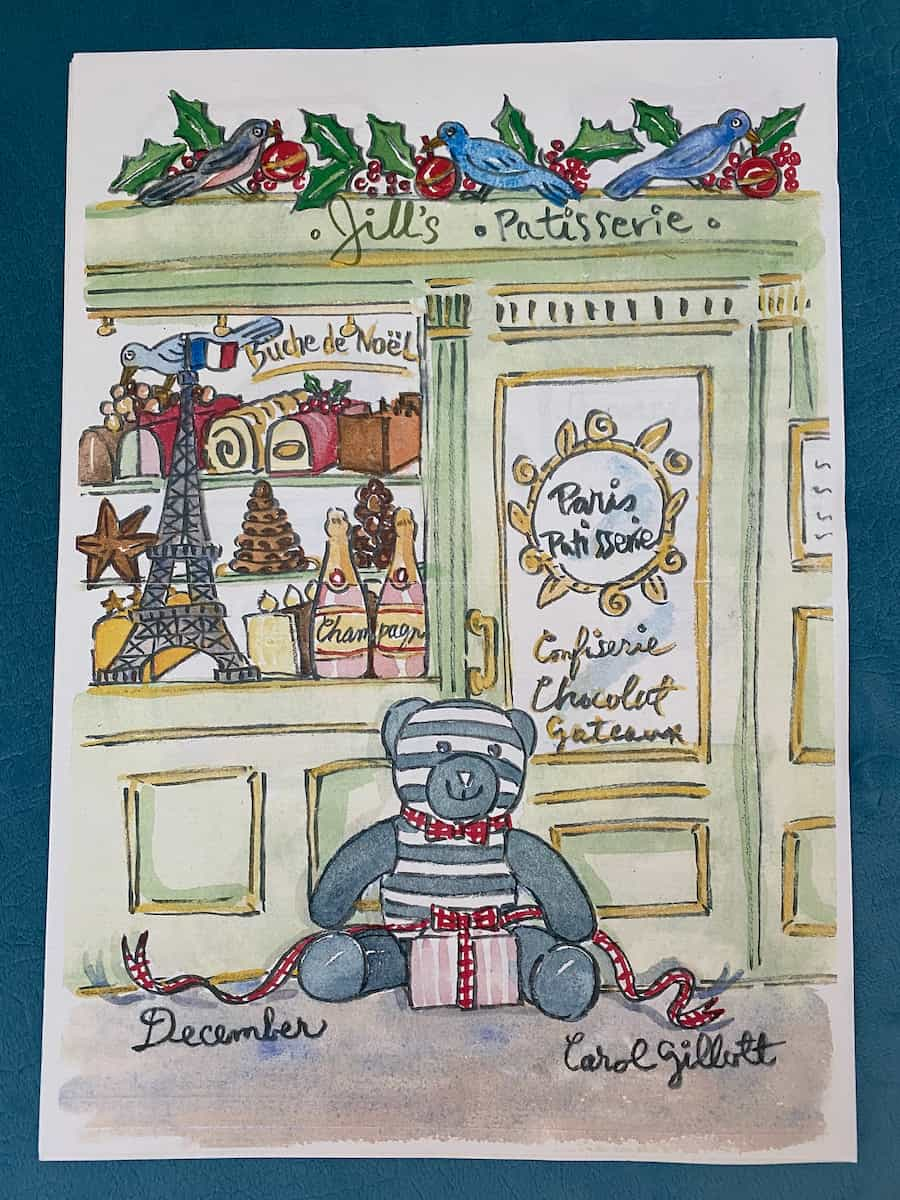 More Paris Paintings
Looking for Carol's paintings of sweet Paris?
Follow her blog, Paris Breakfasts - and above all, her monthly Paris in an Envelope on Etsy.
This post was first published 11 July 2018 but is now completely updated.