Creamy risotto served with spicy chorizo sauce and topped with seared scallops; a saucy French trick how to keep risotto extra creamy and flavourful. Also works well with prawns (shrimp) or fish and made in only 35 minutes.
Quick & Easy Dinner Party Main
This creamy chorizo risotto is my trump recipe card when I haven't had time to go shopping yet need a quick recipe that delivers the goods! It's perhaps in my Top 20 dishes that can be made in no time – as long as there is some good chorizo in the fridge.
As chorizo keeps for a long time, it's a handy ingredient to have in stock – that pun is totally intended! What takes this chorizo risotto to the next level, however, is the additional sauce surrounding the risotto, making it more flavourful and extra creamy.
This recipe was first published as Chorizo Risotto with Prawns on 7 October 2016. This post has now been updated to include a printable recipe card, updated text & photos. However, as it was previously using a strange template, I have lost all lovely comments and recipe reviews – so please give this recipe some new love! Thank you, merci.
Chorizo Risotto with Scallops, Prawns, Fish or Chicken
Not only is it so simple and great on its own, this chorizo risotto is versatile: our family favourite is with seared scallops, but try it with prawns (shrimp), fish, chicken, or just with a few greens.
Chorizo risotto is a handy and versatile recipe for a quick and rewarding family dinner – or for when friends pop in at the last minute, as the ingredients are usually always at hand in the fridge or in our cupboards – and, just for this recipe, I keep scallops or prawns in the freezer.
Extra Creamy Chorizo Risotto: Add a Saucy French Touch
I was first introduced to a chorizo risotto many years ago in a chic restaurant in the Champagne region; it was unforgettable served with a Premier Cru Champagne. Bliss together on a special occasion! The risotto dish was so elegant, packed with flavour with spicy chorizo and the whole dish was topped with the most buttery, flaky fish on top.
Moreover, what was the French twist to the risotto? The spicy, creamy chorizo sauce was served apart.
This sauce was so mousse-like that I'm sure the chef had prepared using a Siphon. The chorizo sausage was blitzed with no 'bits' in it. Personally, over time, I love chorizo bits in it – it adds to the textures. But it's your call. Try both and see.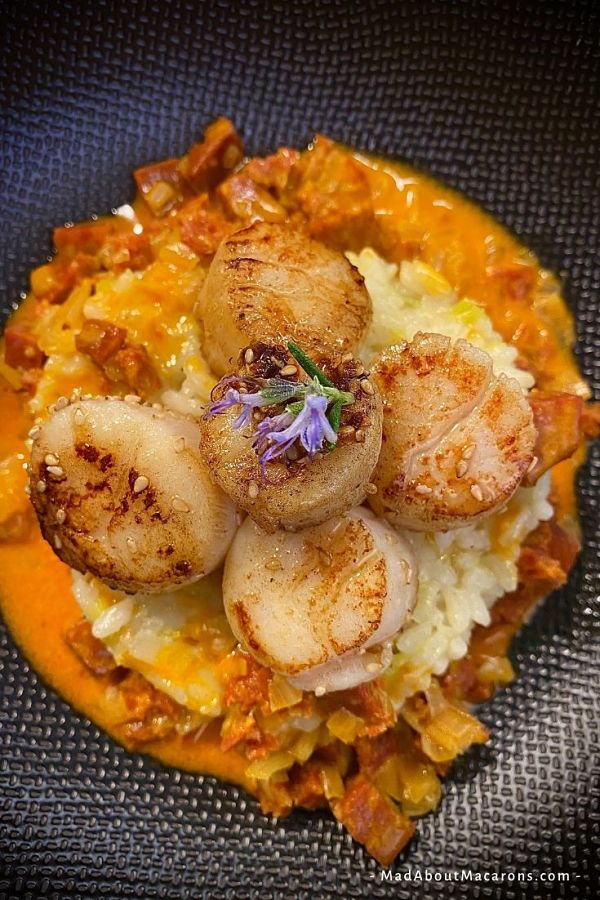 A Quick and Easy French Dinner Recipe
While the flavour combinations played in my mind, I couldn't resist developing this simpler take on it back home (well, I didn't even have the recipe!), serving the chorizo sauce around the risotto and topping with seared scallops. I've made this dish so many times now, that we love it with prawns (shrimp) and fish too.
Normally recipes specify using a finely chopped onion but I love making this risotto with a leek instead.
Gradually, I've tried it with white wine – great! But try it instead with a splash of French Pastis (Ricard or Casanis – all makes of aniseed liqueur).
The splash of Pastis is my French touch, as is the extra sauce.  It's the easiest way to make risotto extra creamy. As long as there are no Italian risotto gendarmes around, we're fine!
To sear the scallops, they just need to be fried in a little butter (or olive oil if your prefer – or both!) for about 2 minutes on each side, depending on their size. If you're using frozen scallops, defrost them in milk so that they keep their plumpness and stay firm.
Top with edible herb flowers for a special occasion or scatter with a few toasted sesame seeds.
Looking for another delicious fish dish? Then try our favourite French Monkfish Stew, known as Lotte à L'Américaine.
Creamy Chorizo Risotto with Leeks & Scallops
---
Description
An extra creamy risotto served with a spicy chorizo sauce and topped with seared scallops
Ingredients
Chorizo Sauce
110

g (4oz)

chorizo sausage

medium or strong, according to taste

1

shallot

finely chopped

1

litre (1.75pints)

chicken stock

(or vegetable or fish, depending on accompaniment)

150

ml (5fl oz)

single cream

(15% reduced fat or 30% full cream)
Risotto
1

leek or onion

(medium), finely chopped

2

tbsp

olive oil

250

g (9oz)

risotto rice

(Arborio or Carnaroli)

3

tbsp

Pastis (Anis liqueur) or white wine

a good splash

25

g (1oz)

butter

salted (or unsalted and add salt)

25

g (1oz)

parmesan

grated

1

tbsp

fresh parsley

finely chopped (or other herbs or choice)

12

fresh scallops

(defrosted if frozen)

2

pinches

salt & pepper

to your taste
Instructions
First make the chorizo sauce: In a small saucepan, dry fry half of the chopped shallot with the chopped chorizo until the shallots are translucent, chorizo-coloured and there's no fat left in the pan. Add about a quarter (250ml/9fl oz) of the stock, boil then leave to simmer until the sauce reduces by a half.

Make the risotto: Heat the olive oil in a large pan and sauté the chopped leek (or onion) until translucent. Add the risotto rice and toss in the oil and leek until also translucent then add a good splash of Pastis/Ricard (or white wine).

As soon as the Aniseed liqueur (or wine) is absorbed, add a large ladle at a time of the remaining HOT stock and stir until the stock is well absorbed by the rice. Repeat this for 15-20 minutes or until the rice is cooked.  

Add the butter, parmesan, seasoning and chopped parsley. Add the cream to the chorizo sauce 5 minutes before the risotto is ready and continue to simmer. Blitz the sauce with a hand-blender if you like it smooth, otherwise keep the chorizo pieces in. Keep the sauce warm until ready to serve.

In a small frying pan, heat the butter just until it browns slightly and smells nutty.  Sear the scallops or prawns (3 per person) until they are just cooked - about 2 minutes on each side, depending on their size.
Notes
Serve the chorizo risotto in bowls (I like to push the risotto into large inox rings or cookie cutters to mould it into shape quickly), top with the scallops or prawns and drizzle around the chorizo sauce. Top with herb flowers or scatter over some toasted sesame seeds.
Choose either mild or strong chorizo, depending how spicy you like it.
Matching wines: Chardonnay or Chenin Blanc or Champagne.
NUTRITIONAL INFORMATION: 431 calories per portion; 19g protein; 36g lipids.
Note on Scallops: if using frozen scallops, first defrost them in some milk and water so that they keep their plump and firm qualities.