A taste of the annual Burgundy Wine Festival in France, best known as la Fête de Saint Vincent which takes place every January. Plus a DIY guide to typical aromas of Burgundy wines.
What is la Fête de Saint Vincent?
Traditionally celebrated over 2 days late January, each year the wine growers around Burgundy get together to pay homage to their patron saint, Saint Vincent.  It's a festival that originated in 1938 but not until 1964 was it opened up to the public and, ever since, each year it has become increasingly popular.
Early morning at sunrise starts with a glass of the wine growers' 'chosen' wine for the festival - with breakfast. This is followed by the traditional red and golden robed procession of the Confréries des Chevaliers du Tastevin.
The wine growers (vignerons) make the procession through the 'chosen' village(s), followed by a religious ceremony. All this is under the protection of Saint Vincent, held high above the vignerons' shoulders, represented as statues amongst the various growers' banners.
St Vincent Wine Village Festivals
The festival attracts around 50,000 visitors a year.
For the 71st wine festival of Saint-Vincent Tournante in Burgundy (end January), it took place in two tiny villages of the Côte de Nuits: Vougeot and Gilly-lès-Cîteaux between Dijon and Beaune.
For the 2015 70th edition of the wine festival, it was the first time it was held in the tiny village of St Aubin (only 260 habitants) in the Côte de Beaune. So imagine the crowds here!
My lack of official photos over our yearly visits over 2014-15 is explained by us actually missing the ceremony. Our excuse? Invitations to legendary tastings of Jean-Claude Ramonet's Chardonnay whites in Chassagne-Montrachet and previously Jean-Pierre Guyon in Vosne Romanée. These wine growers are one of these you-only-live-once opportunities. The only wine bottles we saw were ones without labels, replaced with white abbreviated markings of type and year, not yet ready for the public.
Starting with Bourgogne Aligoté (the dry, even tart wine that's used to make an authentic kir cocktail), we progressed to young wines such as Le Montrachet (I took me years to realise not to pronounce the first 't') and concluded with a monumental Bâtard-Montrachet. The sophisticated aromas were either already full of butter and dried fruits or slightly closed, like under-ripe peaches. What's astonishing is that a couple of minutes later after tasting, the most immense flavours of buttered toast, nuts, cream and peachy fruits start dancing in the mouth.
For example, chez Guyon, we started from the basic of Bourgogne reds, through to other Grand Crus such as Gevrey Chambertin, finishing off with the festival's stars, the Clos de Vougeot and Echezeaux 2013 - still in barrels and not yet ready but boy, the flavours!
With these kinds of wines, you just don't use the spittoon (crachoir in French) or drive!
Clos Veogeot
The history of wines in the village of Veugeot stretches back 900 years when the monks constructed buildings around the vineyards.
Here it wasn't uncommon to see 1298 like this, written on buildings. The theme this year was therefore, "On the Monks' Trail". A fun agenda to spot the monks propped up around the two villages is interspersed with learning about the wines.
Likewise, in St Aubin there are reminders placed throughout the village to explain there are 130 hectares with 30 Premiers Crus there.
What is Le Ban Bourguignon?
Having my modestly petit wine diploma from the Wine and Spirit Education Trust (the first that takes you on to the ultimate Master of Wine), gave me a lame excuse to swirl this drink of the wine gods around the tasting glass.
What I hadn't learned in my student days was the traditional hand-twirling, clapping song, le ban Bourguignon: lala, lala, lalalalalèèère, lalala, lalala, la, la, la.
It's the signature appreciation by the wine growers of Bourgogne to end off an event or tasting.
Saint Vincent Wine Festival Glasses
For the St Vincent festival, 6 wines (cuvées) are normally made especially for the occasion. Glasses sport the chosen village for the annual event. The speciality glass idea for each fête started in 1973.
The glass comes in a special pochette that hangs around the neck, so you can wander about the villages without needing your glass in hand.  Just as well, as I could no longer feel my fingers! Don't forget it's during the bleak mid-winter when we don't need to chill the wine in the fridge.
Every house and balcony are decorated by the village residents with realistic-looking flowers, made from colourful crepe paper. It takes them weeks to prepare as a close community.
What a convivial atmosphere, with musicians and stands with local specialities from Burgundy. My idea of the perfect lunch is a bowl of oeufs de meurette, exquisite poached eggs oozing in a red wine, garlic and bacon sauce mopped up by a crusty baguette (see my article on Dijon food for more).
Then there were stands featuring curried cauliflower soup with seared scallops which was chosen especially to accompany the white celebrity wine.
How Much is a Magnum, Rehoboam or Balthazar Bottle of Wine?
Do you know your Magnum (1.5l) from your Rehoboam (4.5l) or Balthazar (12l)? Perhaps useful to have up your sleeve if you're playing 'Who Wants to be a Millionnaire'?
Wine Aromas of Burgundy Wines
This was an excellent experience and demonstration of how to smell the typical aromas of Burgundy wines.
Carafes were filled with typical aromas we refer to in their wines.
From les fleurs blanches, or white flowers or floral notes.
This was my girls' favourite part. They'd already worked it out: touching the buttons below each vase circulated the air inside and the aromas wafted around in the giant glass.  Let's face it, as French children, my girls don't drink the wine YET but can appreciate their aromatic qualities and practise with maman et papa.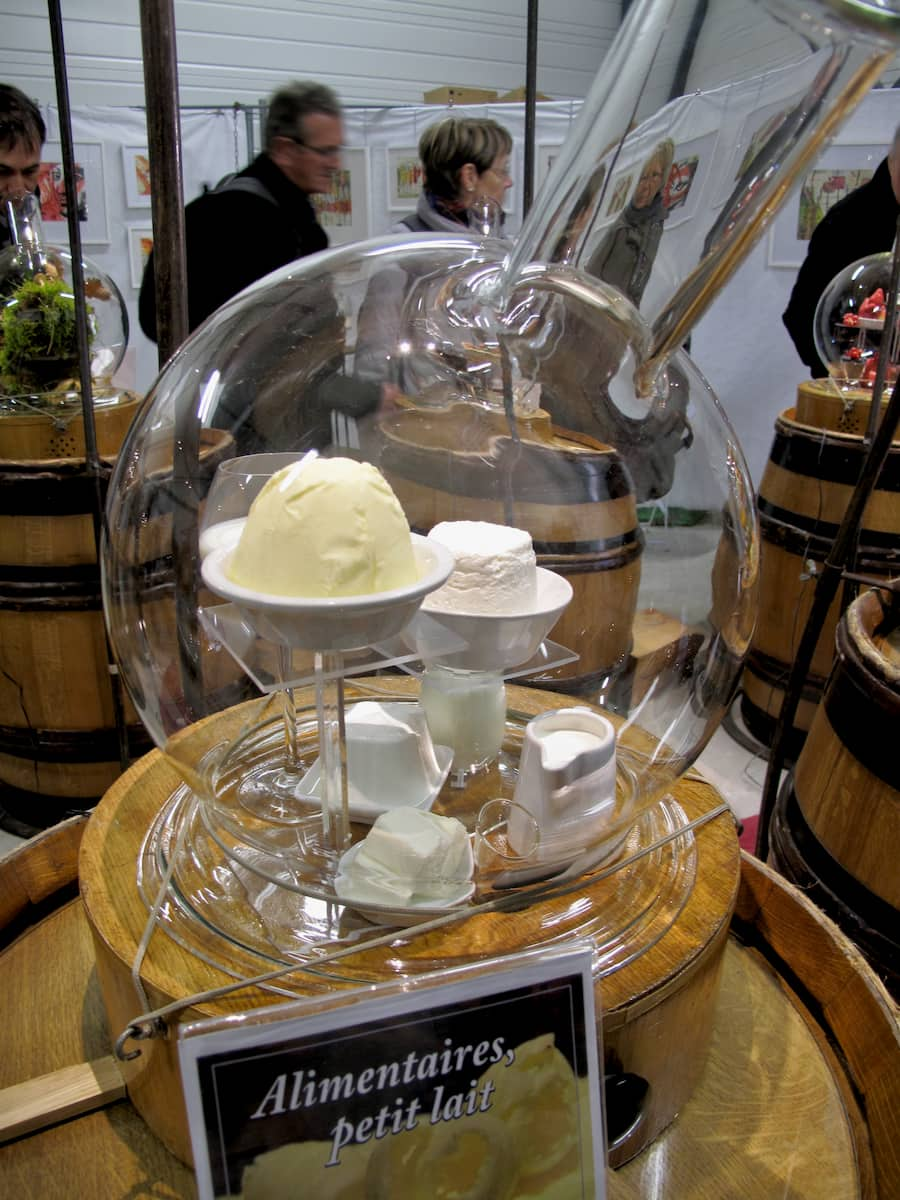 Stick your nose in there. Do you get fresh fruits, citrus, butter or cream? What about dried fruits and nuts?  Each aroma family is more powerful than meets the eye.
When wine conjures up salted butter caramel and chocolate? Life is good.
For red wines in particular, perhaps you discover the animal side: do you get the leather aromas, or wooded vanillas and spices such as cardamom, pepper or coriander?
Or 'sous-bois'.  How many times have you had an earthy red wine, recognising the natural wafts of the leafy, moussy undergrowth?  It was so realistic.
Empyreumatic Aromas
Who can say 'Empyreumatic'?  I still can't say it.
This is a family of aromas that cover anything burnt, smoked or grilled, which includes coffee and chocolate.  It's a sign that wines were aged in wooden barrels rather than just inbox cylinders.  Do you get that toast, reminiscent of a white Burgundy, like Mersault?
The red fruits and candied fruits were definitely to be sniffed at.  Again and again.  Hm. I needed a berry gratin or brûléé after that experience!
Before night was upon us already, we headed back to our gîte at the Pavillon de Chasse hunting lodge).  The only hunting we were doing was checking out the rest of our wine friends next door at the Château de Tailly, where dinner was laid on by our chef à domicile friend, Thomas Le Courbe, who has worked with chefs including Pierre Gagnaire. I have been so lucky to have been taught many of his French chef tricks - such as making homemade egg noodle pasta together.
His lobster claw risotto to accompany a Rully 1er Cru was inspiration behind my creamy chorizo risotto with scallops.  Ever since tasting it, I add more sauce to my risottos. His secret?  A dash of Cognac, tarragon and nigella seeds.
How to Get There
Meursault Château de Tailly
It's a 3 hour drive from Paris, 1h30 from Lyon and 35 minutes from Dijon. See my  Dijon article for more.
Burgundy Wine Festival Website
For the latest details on this year's Burgundy wine festival (always end January), then consult the official Fête de Saint Vincent Tournante website. For more on wine in Paris, see my article on the annual wine harvest in Montmartre, every October.