With only a 3 hour drive from Paris, the Loire Valley is a land of fairytale castles, vineyards, and gastronomic pleasures. I recommend a visit of a few days, covering a circuit south of Tours, along the River Loire to Langeais, and along the River Indre to Azay-le-Rideau, Montbazon and Montlouis-sur-Loire.
How Far is the Loire Valley from Paris?
Azay-le-Rideau is just over a 3 hour drive from Paris and, once off the autoroute, there are so many gems to visit nearby.
The Loire Valley is a beautiful and large region that merits a visit of at least a few days. I have seen many tourists opt for a day trip from Paris to Loire Valley castles. Honestly, if you visit for only a day, you're missing out on a lot!
However, if you are going just for a day, then the area around Blois is closest with the legendary Château de Chambord about 2.5 hours' drive from the capital.
Hotel Diderot in Chinon
Enjoy the change of pace from the capital and step back in time to the châteaux of the renaissance. Using the town of Tours as a base with its many choices of hotels and restaurants, you may prefer to choose the smaller towns and villages where the pace is slower and some quite sleepy.
There are many chambres d'hôtes (B&Bs) and great value hotels such as the Hotel Diderot in Chinon, run by my friend, Jamie Schler and her husband, Jean-Pierre. Jamie's legendary homemade jams are a must at breakfast on buttery croissants and fluffy brioche. Chinon also has many restaurants nearby: La Part des Anges (also the name given to one of our favourite Chinon white wines) and Restaurant Océanic.
French Gardens
It's not unusual to see this scene in castle gardens in May, especially around lime (or linden) blossom trees. Known as tilleul in French, their leaves are dried for a typical night-time infusion.  Herbal infusions like this are very popular, like lemon verbena (verveine). Have you tried this lemon verbena ice cream?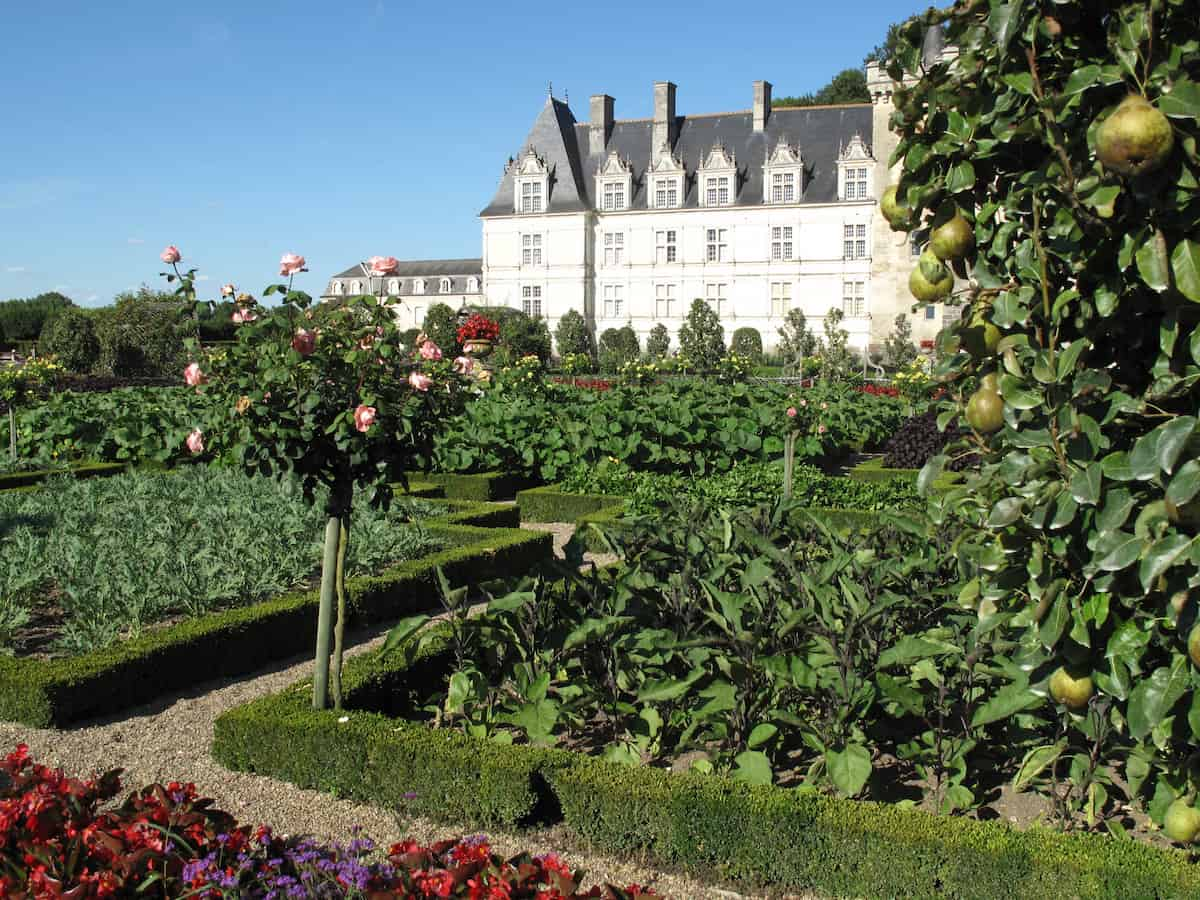 Most Loire châteaux have beautiful gardens, but the most famous garden is that of Castle Villandry, between Langeais and Tours. When we were last there in summer, the pears were ripe but we were even encouraged to eat the grapes growing near the herbal gardens, to encourage growth! Incidentally, the Loire is particularly famous for its cherries, pears, apples and plums (links to more info on my market pages).
Local Loire Wines
Wine lovers will adore this fabulous wine country, under the appellation Touraine, as it surrounds the town of Tours. White wines of the Loire are predominantly chenin blanc, also known as pineau de la Loire and are either sparkling or still in dry, medium and sweet. Other grape varieties are Sauvignon, Arbois and Chardonnay. All whites are mineral and oceanic (more on that in my forthcoming Saumur post).
The dry (sec) and demi-sec chenin wines are fruity with floral honey notes and typically go so well with the local goat's cheeses (fromages de chèvre). Paired with chèvre, they give a sensation of honey when paired together. Try a chilled chenin blanc with this goat's cheese walnut pasta sauce, for example, or with a warm goat's cheese salad. With such excellent value for money, a visit to many of the cellars helps to find out more and stock up.
Many vignerons around Azay-le-Rideau choose to make organic wines, like Château de la Roche en Loire in Cheillé (highlight: 2009 Cuvée Céline. It's so intensely fruity and "oily" that it can easily cope with partnering a meal from start to finish). Like all organic wines, you'll see a lot of deposit at the bottom: c'est normal. Domaine de la Noblaie in Ligré makes an impressive white, La Part des Anges. More wines to come in my next post around Saumur.
Most Loire reds are served slightly chilled: such as those from Bourgeuil, Chinon, and Saumur.
Châteaux of Azay-le-Rideau
Did you know there are two castles in Azay-le-Rideau? The most popular is the recently refurbished renaissance castle of the same name, built on the banks of the Indre. However, during peak tourist season it can become pretty busy.  I recommend a visit up the road to the other renaissance Château l'Islette. It's privately owned and the visit centres around the love affair of sculptors, Rodin and his mistress, Camille Claudel, as it was their passionate get-away destination from Paris. See "La Petite Châtelaine", sculpted by Claudel here (although now a bronze reproduction), their love letters in a room devoted to them.
As the castle is actually lived in, take a walk around the beautiful decor - in particular, the modern and well equipped kitchen. The gardens are also beautiful with a tea room and restaurant in the little ivy-covered mill overlooking the castle.
In Azay-le-Rideau, I recommend a visit to the Potager en carrés, a French herb and vegetable garden and school where local gardeners are only too pleased to talk about their growing techniques and savoir-faire about the medicinal use for plants and herbs in cooking.
Gastronomic Restaurant in Saché
Just a 10 minute drive out of of Azay-le-Rideau is the village of Saché, probably most known for its gastronomic restaurant, L'Auberge du 12ème Siècle run by Kevin Gardien and his partner, Stéphanie Marques. Serving local Touraine specialities, this is our kind of gourmet French restaurant serving great value for money in a beautiful location. I'm looking forward to returning since they received a Bib Gourmand award in the 2022 Michelin Guide.
Nearby in the area: Balzac lived in Saché (now a castle museum), and just up the road in Monts is where the abdicated King Edward VIII married Wallis Simpson at the Château de Candé in 1937.
Les Poires Tappées - Pear Tappers
After Azay-le-Rideau, the famous fairytale castle of Château d'Ussé is where Walt Disney was inspired for his own fairytale land - and highly recommended for a family visits (there's a wax museum in the top roof towers portraying The Sleeping Beauty). However, en route, a visit to the village of Rivarennes merits a stop at la Maison de la Poire Tapée.
These are literally dried and preserved pears that got their name from tapping them with a hammer. The tradition continues today by just a small number of artisans but it was all the rage at the end of the 19th century.  After being ruined by phylloxera which had wiped out its vines, the locals moved into this industry. Pears are dried and kept in a vast oven for a few days, turned daily and "tapped" with a little hammer which flattens them. They are then preserved in bottles and can be kept for ten years.
Montbazon
A bit off the main tourist track is the town of Montbazon, a 30 minute drive from Azay-le-Rideau. It's located on the river Indre between the towns of Veigné, Monts and Sorigny. The town is famed for its 10th century dungeon and medieval fortress - with many activities suitable for families and opportunities to see how medieval life,  and cooking, took place. Banquets are also planned over the summer and try their medieval wine, Hypocras. Great view of the region from the top.
Restaurants in Veigné
Veigné has many excellent restaurants to choose from. Here were our favourites:
Domaine de la Tortinière - the restaurant (michelin guide) is perhaps pricey but we found the quality of the food and service is spot on (as long as it's not too busy outside at lunchtime).  We ate here a few times over lunch, dinner and breakfast too as stayed a few days so highly recommend.
Le Moulin Fleuri - this old mill amongst the flowers has a lovely tranquil location and at the time of our visit was indoors due to cold weather.  Although good, the best time to visit is when outdoor eating is possible during clement weather, as the spot is idyllic with good food. Reasonably priced. My highlight was the dessert: a lime soufflé served with a little pot of gin sorbet.
Hardwood Burger Bar - our kids loved this place in particular. And so did we, for something more casual.
Teatime: and for a French goûter or picnic, there's nothing like bringing homemade macarons from either of my books! The Loire Valley has many gorgeous picnic spots to enjoy the local wines, cheeses and fresh fruit from the market.
Montlouis-sur-Loire
Both Vouvray and Montlouis are nestled amongst more vineyards and where the chenin whites reign. So a trip to the local cellars are definitely worth visiting, notably Patrice Benoit and Alain Joulin et Fils in Montlouis.
This is where staying in a château with extensive dalia gardens is possible at the Château de la Bourdaisière. It's home to the National Tomato Conservatory with over 700 varieties of vintage tomatoes. Lunch at the tomato bar during tomato season is a real treat to taste a simple salad of a few varieties and discover the real taste of delicious tomatoes. However, if it's crêpes and savoury galettes, then there's a super crêperie in Montlouis too.
Disclaimer: None of the above links are sponsored. The above is based on my family's personal visits and selected favourites.
This post was first published 20 June 2011 but is now completely updated following several visits to the region of the Loire Valley and Touraine.