Queues for ice cream are inevitable when the Parisian summer sun heats up the City of Light.  But there's a hidden corner of Paris where we can taste the highest quality Italian ice cream in style, right in the heart of Saint Germain-des-Prés.
Il Gelato del Marchese is tucked away on Rue des Quatre Vents, just behind the crossroads at Odéon in an area known as the Chocolate quarter, due to its high concentration of chocolate and pastry shops.
On passing this pristine golden and white ice-cream parlour after it opened in December 2014, I remember first gazing in the window, wondering if the caped gentleman at the counter was the Marchese or Marquis, with such an alluring air of mystery.
The mystery was unveiled when I was happy to meet the lively Marchese himself, Renato. Together with his wife, Veronika Squillante Montoro, the dynamic duo with savoir-flaire have created a luxury brand in the heart of Paris's 6th arrondissement and it's already taking off with a boutique newly opened in Saint Tropez, a new larger laboratory in construction near the Canal Saint Martin, a recipe book due to be published in October and many more surprises in store.
Now certified Vegan, Il Marchese's ice creams and sorbets are all made with top quality healthy ingredients using mineral water, unrefined sugar, and no colourings or preservatives are in sight.
Veronika provides that extra touch of elegance with her choice of porcelain and delicate glasses to complete the plush furnishings.
Thanks to my friend, Maggie, who insisted I taste a selection of savoury ice creams before the sweet, as I would never have normally dared at teatime - would you? What a revelation! Spoonfuls of delectable savoury ice creams to tickle the senses arrived with water, but imagine tasting these on mini toasts with a glass of Champagne or Prosecco in hand: Tomato-Basil sorbet, Artichoke-Walnut Cream, Olives, and Mustard ice creams.
They also whip up the most incredible salmon ice cream which is not only good on small toasts as an aperitif, but they suggest mixing it into hot tagliatelle pasta, as with their parmesan ice cream.
My personal favourites were olive, imagining it on the terrace in Provence with a glass of chilled Rosé (a refreshingly cold tapenade sensation), and the mustard which, like my mini curry macarons from the savoury chapter in Mad About Macarons, it provokes a spicy-sweet tremble!
When I first tasted the Marchese's pistachio ice cream last year just after the book launch of Teatime in Paris around the corner, I admit that it has been hard act to follow elsewhere. Using the finest quality pistachios from Iran, it's not just its exquisite taste that hits the spot but if anyone knows how I shy away from anything that says pistachio without the right natural colour, you'll understand how this is such an important factor too.

As the tasting continued, the Sencha green tea was recommended as an ideal partner with all the ice creams and sorbets.
New flavours appear sporadically according to season and creative artistic flair. The day I arrived, the menu selection was a traditional but tremendously tasty Tiramisu, to an unusual - slightly tart - Ricotta Cacao; then a crunchy passion fruit sorbet, with a finale of chocolate sorbet using 70% dark chocolate from Italian chocolate makers, Domori, based in None - all served with the most delicate (albeit sweet) Chantilly cream, Matcha green tea cakes, light ginger biscuits, and mini cornets.
The Marchese's ice-creams pop up around Paris at the most luxurious addresses, such as at the Italian Embassy, Rue Faubourg Saint-Honoré, and now they have a pop-up boutique at La Grande Epicerie, part of Bon Marché's Rive Gauche chic department store until 22 August, where I hear the Pear and Ceylon Cinnamon sorbet is melting customers.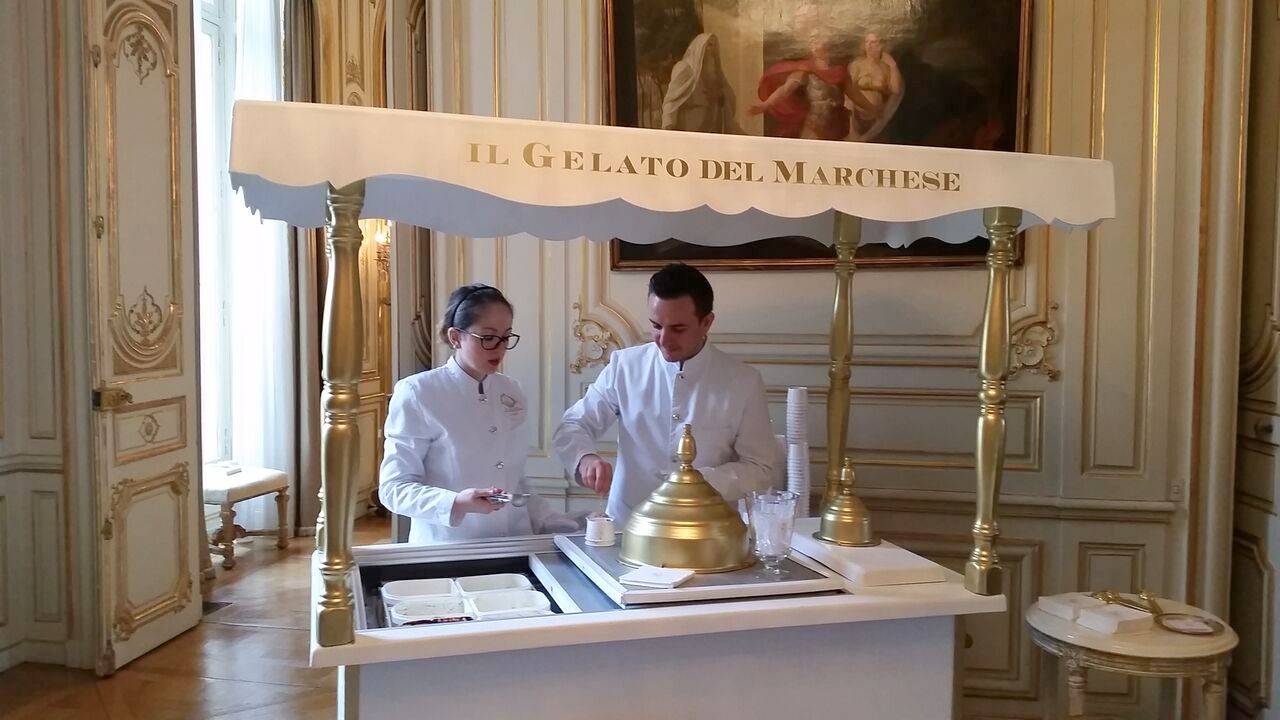 Artisanal cones (cornets) are made on the spot.  I never normally choose a cone but when they're as good as this all the way until the last crunchy bite with its hint of honey, I'm not just going for a plain little paper tub to carry out!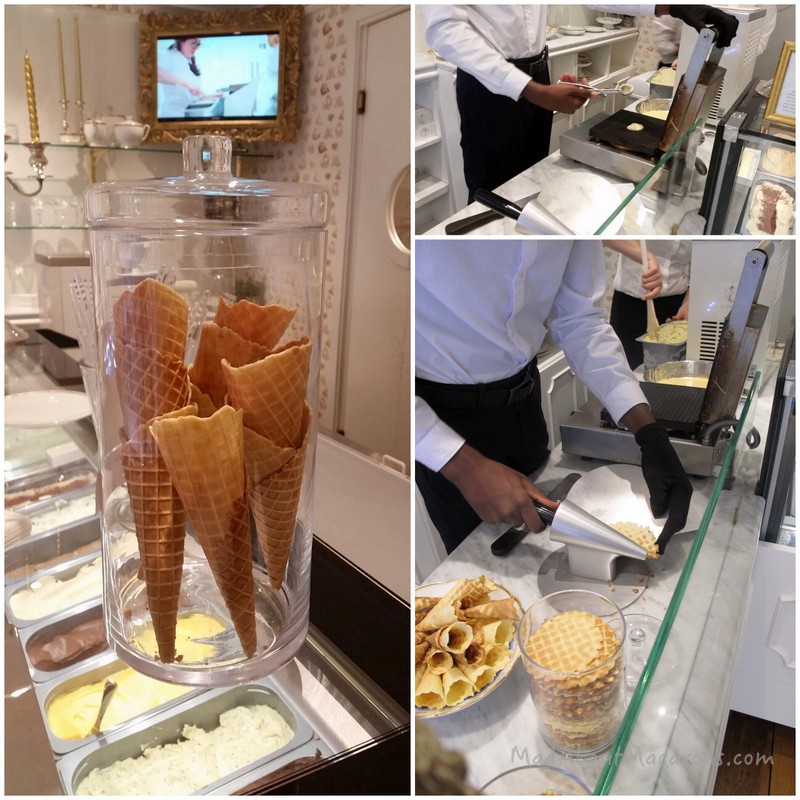 I couldn't resist popping in for another dose with the family; this time pure sorbet in the weekend heat - a taste of mango and their new Detox Vegetal sorbet.  It reminded me of what Renato said:
It's more than ice-cream; it creates an emotion.
I found myself giggling at such a surprise concoction of predominant cucumber and apple, with cheeky hints of lemon and ginger - were there herbs in there too? You have to try this refreshing cocktail and tell me what you think are the ingredients!
To finish off your afternoon, walk up Rue de Condé to the Luxembourg gardens and sit at the Medici Fountain to complete the luxury taste of Italy in Paris.
Update 31 May 2016: Il Gelato del Marchese ice creams are now also available on the Champs-Elysées Terrace of the Hotel Marriott.
Il Gelato del Marchese
Italian ice-cream parlour/tea room or take away
3, rue des Quatre Vents
75006 Paris
Tel: 01 46 34 75 63
Open every day: 12 noon - midnight