Are you more trick or treat? These Top 10 Halloween Macaron Ideas have been creeping up on me with the weather changing around Paris, the nights suddenly drawing in and clocks changing this weekend.
From black liquorice macarons to fun, surprise flavours or simply spooky – take your pick and join the party.
Top 10 Halloween Macaron Ideas
Create a one-eyed monster's bloodshot look using black and pink edible pens.
Smarties are great for making quick and easy edible eyes. Stick them on with a dab of melted chocolate – see bottom photograph of the Witch's Hat Macaron Tower, as even too much chocolate 'glue' can make them look like black eyes!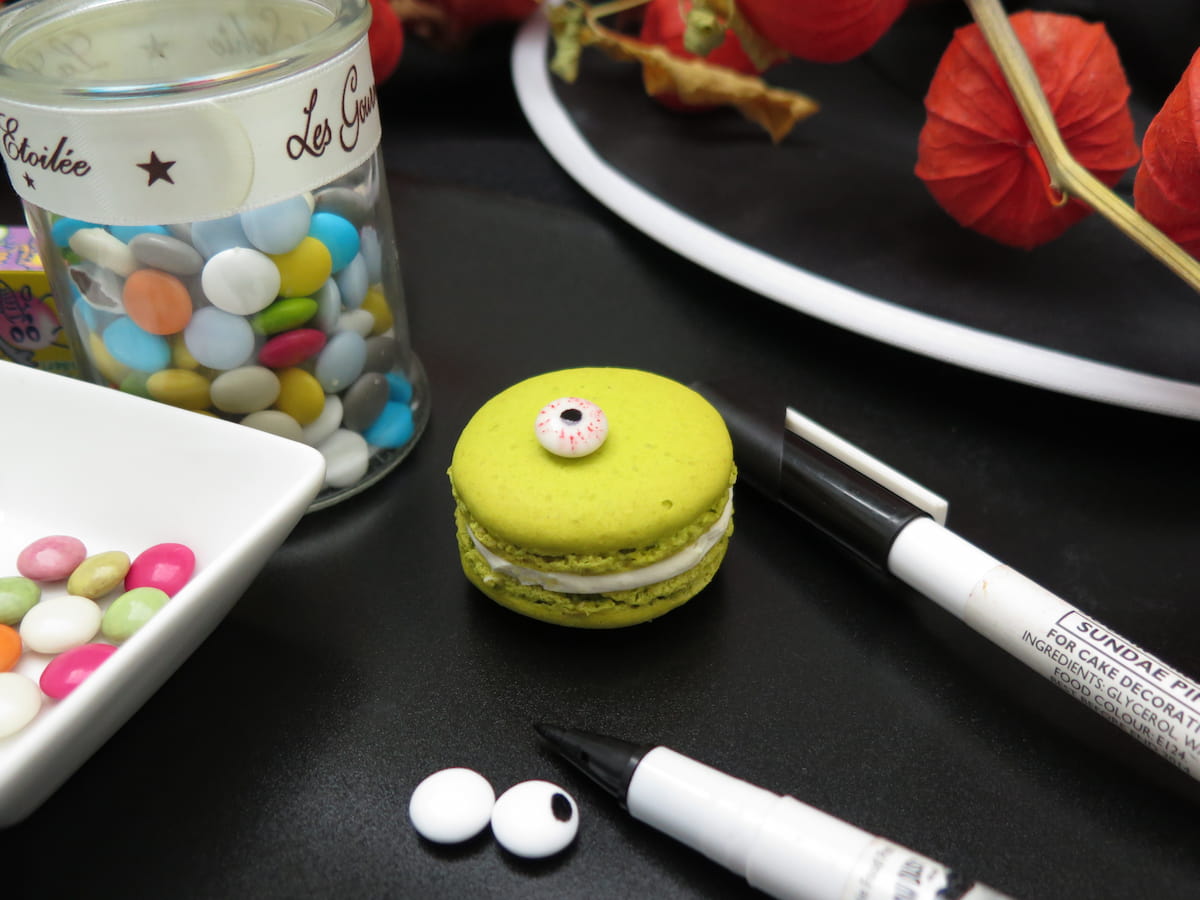 If you're not into spooky and prefer to enjoy seasonal Autumnal flavours, then check out the recipe for these Pumpkin Spice Macarons with Roasted Red Kuri Squash (potimarron).
Unlike the macarons in my books, this filling recipe can be eaten the day they are made. Many pumpkin macarons just use pumpkin spice but these ones actually contain delicious roasted pumpkin – with a good hint of spice too. If you're looking for pumpkin recipes, there are plenty here, including these Pumpkin, Sage and Parmesan Financiers – great with Hallowe'en party drinks.
Last week when I was visiting Julie in London (yes, she has flown the nest to study there), I couldn't resist popping into Fortnum and Mason's to check out the macaron display (do you really believe I go in there JUST for macarons?). They have some Hallowe'en treats with names like Pick your Poison.
These skeleton faces, done using a stencil for large quantities, are fabulous. However, for smaller quantities at home it's just as easy to draw them on by hand.
Create your own simple spooky faces using a jet black edible pen – available in all good specialist cake shops.
Incidentally, if you have any of your favourite stores with good quality products, leave me a comment below and I'll add it to the stockists page.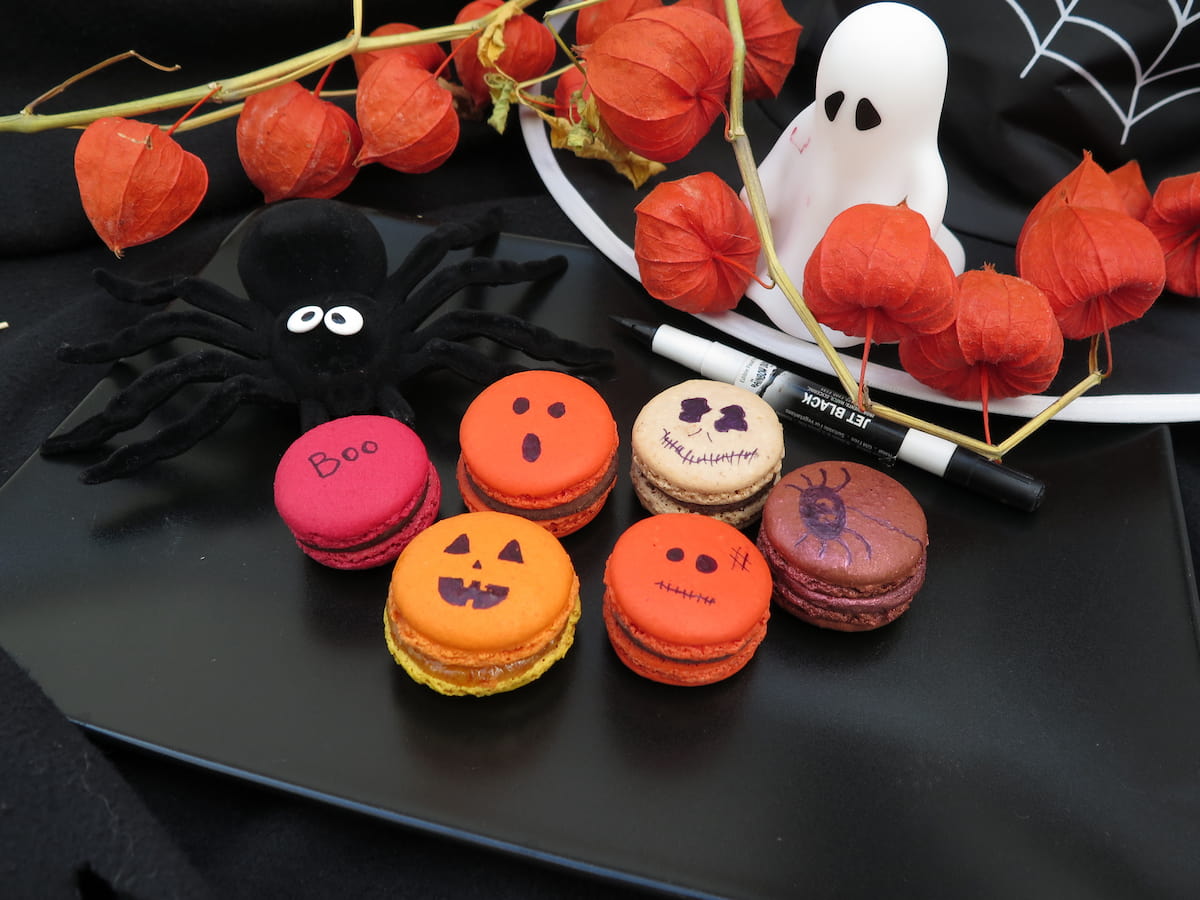 I'm not much of an artist but if you are, then I'm sure you can do more elaborate Hallowe'en decorations on your macarons.
These macarons are to die for: Pistachio, Coconut and Wasabi Macarons.  The recipe is in Mad About Macarons – with just enough wasabi to add some intriguing heat yet the sweetness of the macaron puts out the fire!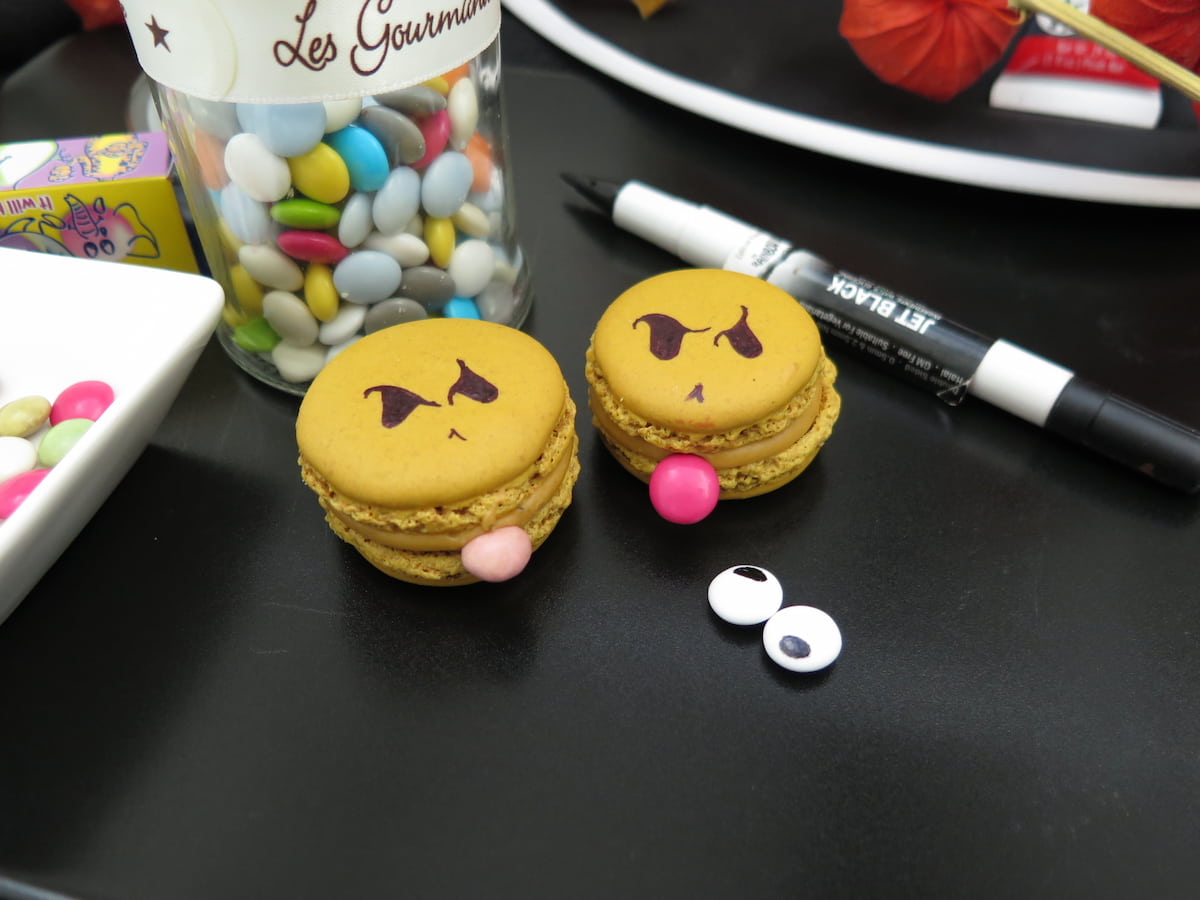 Although it looks like a whopping load of wasabi in the ganache recipe, the right dosage of white chocolate, coconut cream, vanilla and pistachio makes a perfect Hallowe'en concoction. The surprising mixture cuts out the fire just leaving the hint of wasabi behind on the tongue (I should have made the smarties tongues green, I know! You'll do a better job.)
If you haven't tried them yet, then what are you waiting for?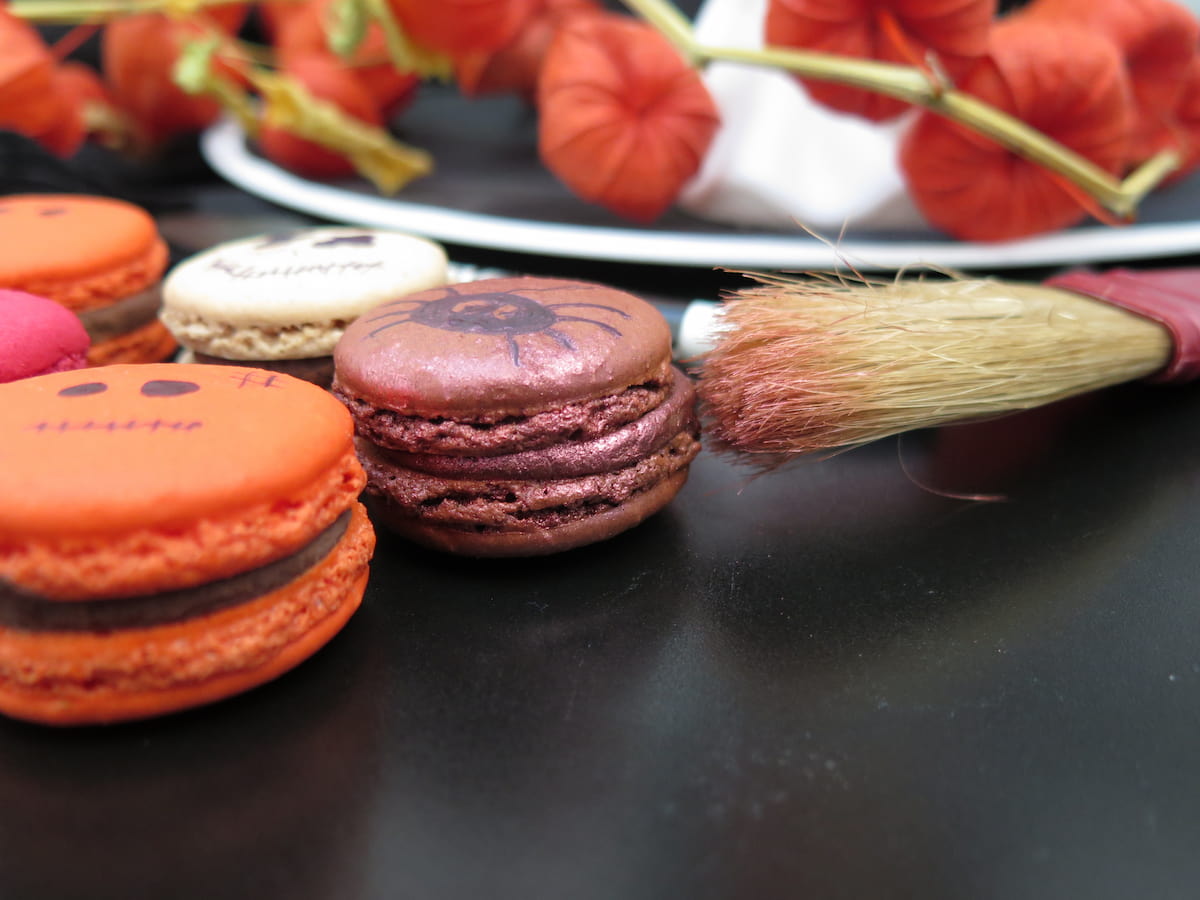 Brush on some edible glitter (lustre) – such as bronze or deep pink – to make your macarons extra shiny. They're particularly good on salted caramel, rose and chocolate macarons.
Element of Halloween Macaron Surprise
Add some extra exploding sugar (sucre pétillant) to top these already fizzy Orangina or Fanta macarons. The recipe is in Teatime in Paris and is easily adaptable to make Coca-Cola macarons too, making it a spookily black filling!
Savoury Macarons: Witch One?
Mini savoury macarons create a real element of surprise (found in a whole chapter in Mad About Macarons). Have you tried the curry tikka mac'sala mini macs with creamy cauliflower soup, known in France as Crème Dubarry, for example? Curry macarons are great fun served with drinks – partnered with a Gin & Tonic for an adult Hallowe'en party!
How to Make Food Purple for Hallowe'en
Replace orange carrots with purple carrots – try this purple carrot cake or in soups (replace regular cauliflower with purple cauliflower – yes, it exists! It's natural too). Moreover, for some purple fun serve mini beetroot and horseradish macarons with a fun and fiery spicy beet risotto.
There are also Bloody Mary macarons or Thai Green or Red curry macarons to choose from for a real trick AND treat.
Meanwhile, back to the sweet side, these spider macarons are far from creepy. Just cut up some liquorice shoe-lace or coils (do they have a proper name in English?) and stick them into the ganache before placing the macaron shell on top. Marzipan stuck with melted chocolate also helps make Mummie macarons.
Have you made any of the recipes from le blog, my books, or fancy sharing any of these Top 10 Halloween Macaron Ideas?  Please leave a comment below or take a picture and hashtag it #MadAboutMacarons on Instagram or Facebook.
A Hallowe'en Macaron Birthday Party!
Did you know that Mad About Macarons is heading for its 12th reprint? What a thrilling way to celebrate its 10th birthday, so THANK YOU with all my heart for your support: for following, for liking, for taking the time to comment and for leaving a review. It means so much. So, cheers to you for joining the party – I love to see you enjoying the recipes!