A triple chocolate moist bunny cake recipe, and how to make cake paws. No packet mix - deliciously made from scratch with reduced sugar.
So, paws for thought and make this for Easter, for birthdays, baby showers or just for a fun activity with your young bunnies at home!
My eldest daughter then hopped back over the Channel - as a mix of happy and hot cross bunny - to prepare for her first university exams. Julie turns 19. I mean, how on earth did that happen?
The older she gets, the more she asks for treats she loved when she was little, such as Melting Moments (oat biscuits), fresh strawberries now in season, macarons (surprised?) - and an extra large dark chocolate cake!
Easter Bunny Butt Cake - Easy and Healthier to Make from Scratch
She may be 19 but she's still my baby so her wee party did look more like a baby shower. Inspired by Easter Bunny Cake images on Pinterest, I loved this 'Bunny Butt' version as it's easy to put together.  To achieve a clean, round mound without even needing to cut off tops - simply bake the cake in a greased glass Pyrex bowl and make 3 smaller cakes in cupcake or muffin moulds for the paws and tail (many sites tell you to use candy floss but I can't find it here).
All the recipes I found on the internet, however, used a packet mix for both the cake and the topping. Like all my recipes, this is a recipe made from scratch which is still easy but you'll see why it's worth making your own.  Why should we bake from scratch? Because we can control the amount (and type) of sugar we use.  Too sweet and you lose the good chocolate flavours.
Moist Dark Chocolate Cake - Using Good Quality Ingredients
When it comes to chocolate cake, we're serious chocoholics. After years of appreciating good chocolat noir - dark, bittersweet French chocolate - it has to be pure and simply our best chocolate cake: moist rather than crumbly with melted intense dark chocolate, good quality unsweetened cocoa powder, plenty of good quality chocolate chips and not too much sugar to let the chocolate's quality shine through.
Terrible image, I know, but we ate it too quickly and this is all I got as a shot of showing you what a dense, intense, moist chocolate cake this is.
Reduced Sugar Chocolate Cake
For a white rabbit topping, either use my easy dark chocolate glaze recipe and sprinkle coconut on top, or cream cheese frosting (from this purple carrot cake) - or make this topping using good quality white chocolate, making it a triple chocolate cake.
White chocolate is naturally sweetened so it doesn't need any extra sugar. If you see recipes adding sugar to white chocolate and butter - DON'T. With some recipes, you could end up throwing in a whopping amount (as much as 250g/9oz!) of totally unnecessary sugar.  Just add a touch of vanilla powder, if you like, for more natural sweetness. The result? The white chocolate buttercream topping on this balances the overall cake's sweetness.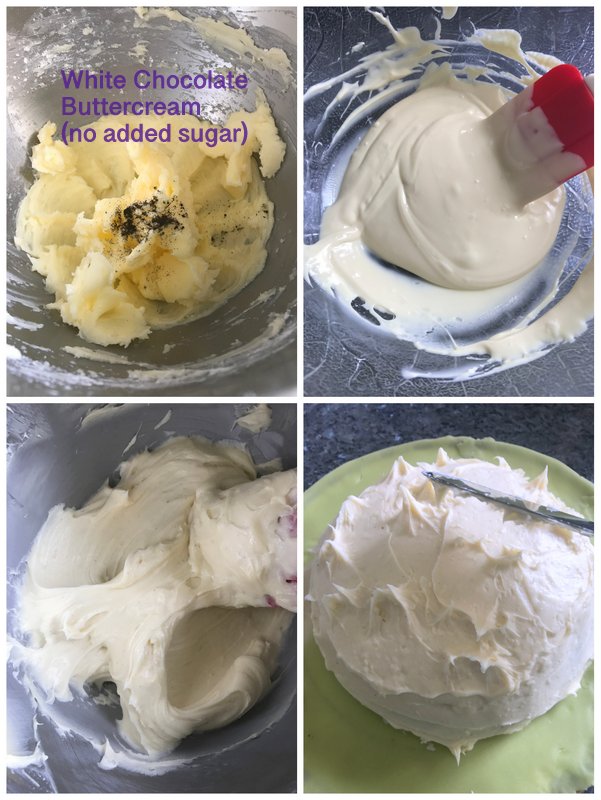 How do you make Cake Paws?
To make cake paws for the bunny cake, roll out ready-made pink marzipan and cut out these paw shapes using a sharp knife. If you have a piping bag tip, then pressing through paw circles is even easier.
Cut the two muffin-sized cakes to form triangular feet, coat with white chocolate buttercream then stick on the marzipan.
Triple Chocolate Easter Bunny Cake
Triple Chocolate Easter Bunny Cake
A triple chocolate bunny cake that's great for Easter, birthdays or baby showers. Dark, bittersweet chocolate cake is topped with reduced sugar white chocolate buttercream and decorated with pink marzipan for the paws and ears. No packet mixes in sight!
Ingredients
75

g (3oz)

dark cooking chocolate

at least 60% cocoa (broken into pieces)

225

g (8oz)

unsalted butter

softened

125

g (4.5oz)

brown cane sugar

(I use organic cocoa flower sugar)

150

g (5.5oz)

plain (all-purpose) flour

75

g (3oz)

ground almonds (almond flour)

(for a nut-free cake, replace nuts with more plain flour)

2

teaspoon

baking powder

½

teaspoon

salt (fleur de sel)

4

medium

organic eggs

75

g (3oz)

unsweetened cocoa powder

(I use Van Houten)

150

ml (5.5 floz)

milk

semi-skimmed (or full fat)

110

g (4oz)

good quality chocolate chips
White Chocolate Buttercream
150

g (5.5oz)

good quality white chocolate drops

or broken into pieces

135

g (5oz)

unsalted butter

softened

½

tsp

vanilla powder or extract

(optional)
Decoration
100

g (3.5oz)

pink marzipan

(for paws & ears)

250

g (9oz)

green marzipan

(optional)
Instructions
Preheat oven to 180°C/160°C fan/360°F/Gas 4. Grease a large ovenproof glass (Pyrex) bowl and 3 muffin moulds with extra butter.

Melt the cooking chocolate in a bowl over a saucepan of simmering water (bain-marie), ensuring the water doesn't touch the bottom of the bowl. As soon as it starts to melt, take off the heat, stir until completely melted and leave aside to slightly cool.

Cream together the butter and sugar until light and fluffy. Gradually add the flour, ground almonds, baking powder, salt, melted chocolate, eggs, cocoa powder. When well mixed, add the milk and chocolate chips and combine until smooth.

Pour the mixture into 3 muffin moulds and the large Pyrex bowl. Bake the smaller cakes for 15 minutes and the large cake for 40-45 minutes or until a skewer comes out clean from the middle of the cake. Set aside to cool then upturn on a cake rack.
White Chocolate Buttercream
Melt the white chocolate in a bowl over a saucepan of simmering water (bain-marie), ensuring the water doesn't touch the bottom of the bowl. As soon as it starts to melt, take off the heat, stir until completely melted and leave aside to cool for 10-15 minutes.

Cream the butter in a stand mixer or using a wooden spoon in a large bowl. When the chocolate is cooled right down but still liquid, beat in to the butter (both should be the same temperature). Using a spatula, spread on top of the large cake. Chill until ready to serve. Remove from fridge 30 minutes before serving, to appreciate the chocolate flavours.
Decoration
Using a rolling pin, roll out the pink marzipan to a thin sheet and cut out paw shapes using a sharp knife: 2 ovals and 6 small circles (use a piping tip).

Cut the top off to even one muffin cake for the tail. Cut off the sides of each of the 2 muffins to make a triangular shape for the paws. Spread on the buttercream, plopping one for the tail and place the 2 as paws, sticking on the pink paw-prints. Optional: roll out the green marzipan into a large circular sheet as a grass-looking base and decorate with edible flowers, Easter eggs and macarons.
Alternatively, love a lemon cake? Try this gluten-free Almond & Lemon Easter Cake.