Chocolate brownie cookies that turned into wonderful crumbles. Not to be confused with chocolate crinkle cookies, these are fudgy lush and brownie like in texture - so intense in chocolate with added flower salt and nuts.
Previously named crumbles, as my daughter took them out the oven and bashed them half way through baking to make them look crumbly. Mistakes in baking can often lead to deliciousness - that's the way the cookie crumbles!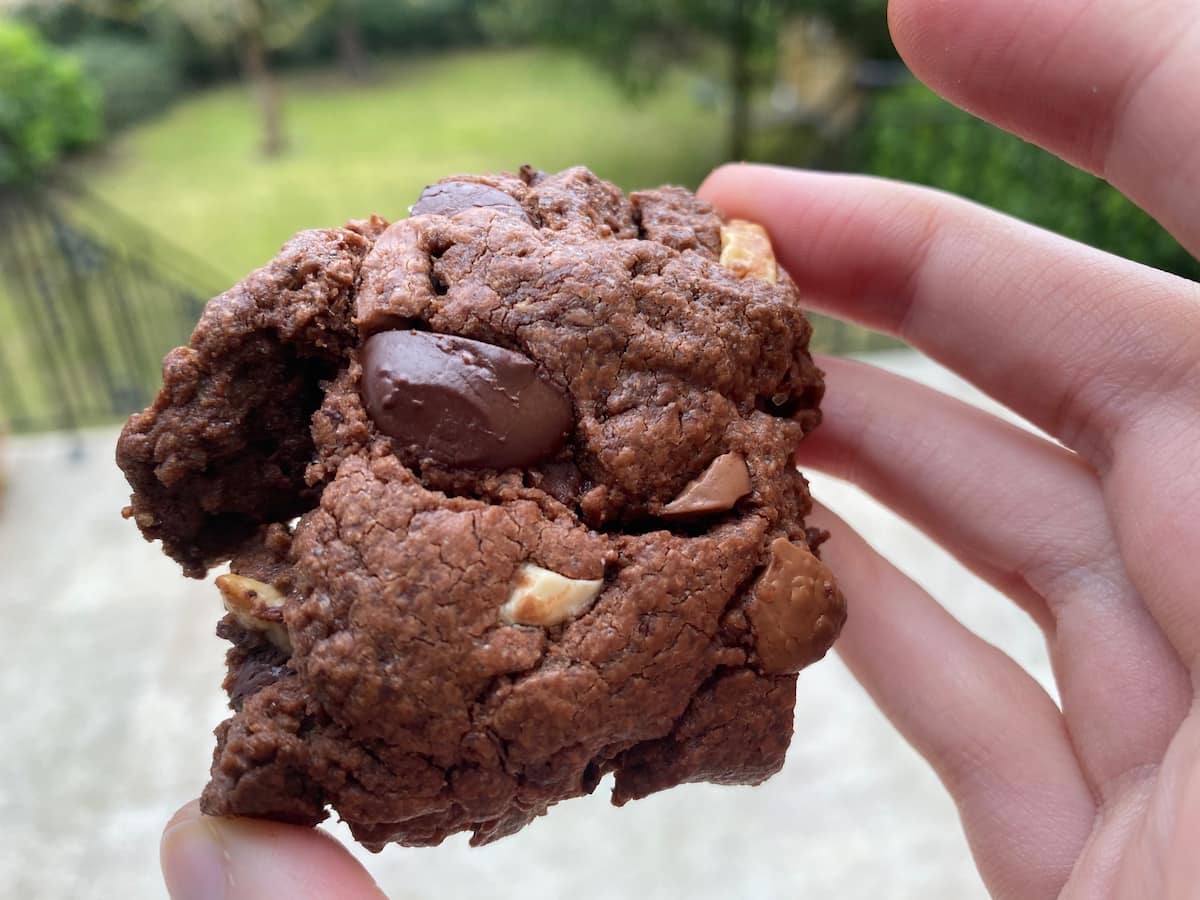 It all started one August.  Lucie rebelled after her 12th birthday in the loveliest possible way: she flung me out of the kitchen. She had a burning desire to make cookies.  But on her own.  No Mum intervention whatsoever.
Alas, I can't help myself: somehow I have to intervene.  Am I a control freak?  If anyone knows me, you could say I take over the kitchen so it must become frustrating. I mean, even I'd hate to live with me.
She followed the recipe to the letter, or so I thought, from her book, La Cuisine C'est Simple! by Katharine Ibbs.  It's in French - and so well-presented for kids learning to cook from scratch.  But then she added nuts and told me afterwards she added more peanut butter than stated and cut down the sugar (she remembered I tend to do this as habit). Before we knew it, the recipe had changed quite a bit.
Placing large dollops of the cookie dough on the tray, she saw them rise in the oven after the first few minutes.  Panic struck, and without telling me, opened up the oven door, took them out and bashed them all flat with a pie slice, then returned them to the oven.
Et voilà!  The cookie crumbles were born.  A delicious accident.
Sometimes mistakes in the kitchen are a way of discovering new dishes - the best one we know is the classic French Tarte Tatin.  The kids asked me recently if I could make les caves à l'orange again.  Do you know what they were?  My earliest macarons while experimenting with reduced sugar - long before the book was even thought of.  Out of the oven came orange flavoured empty shells that had puffed up with no feet - and the girls christened them les caves, which was rather fitting.  Do you think I can make them again?  No.  Because I had no idea what I had done wrong.
I guess that's the way the cookie crumbles!
A few years on, Lucie is still making them - but now without the bashing bit to make them crumbly.  Now they're 'just' chocolate brownie cookies - but with a mixture of good quality chocolate (e.g. we use Barry or Valhrona). Often in place of chocolate drops/chips, she chops up a mixture of white, milk and plain (72% cacao) and adds finely chopped walnuts or pistachios.
See how fudgy and lush they are inside?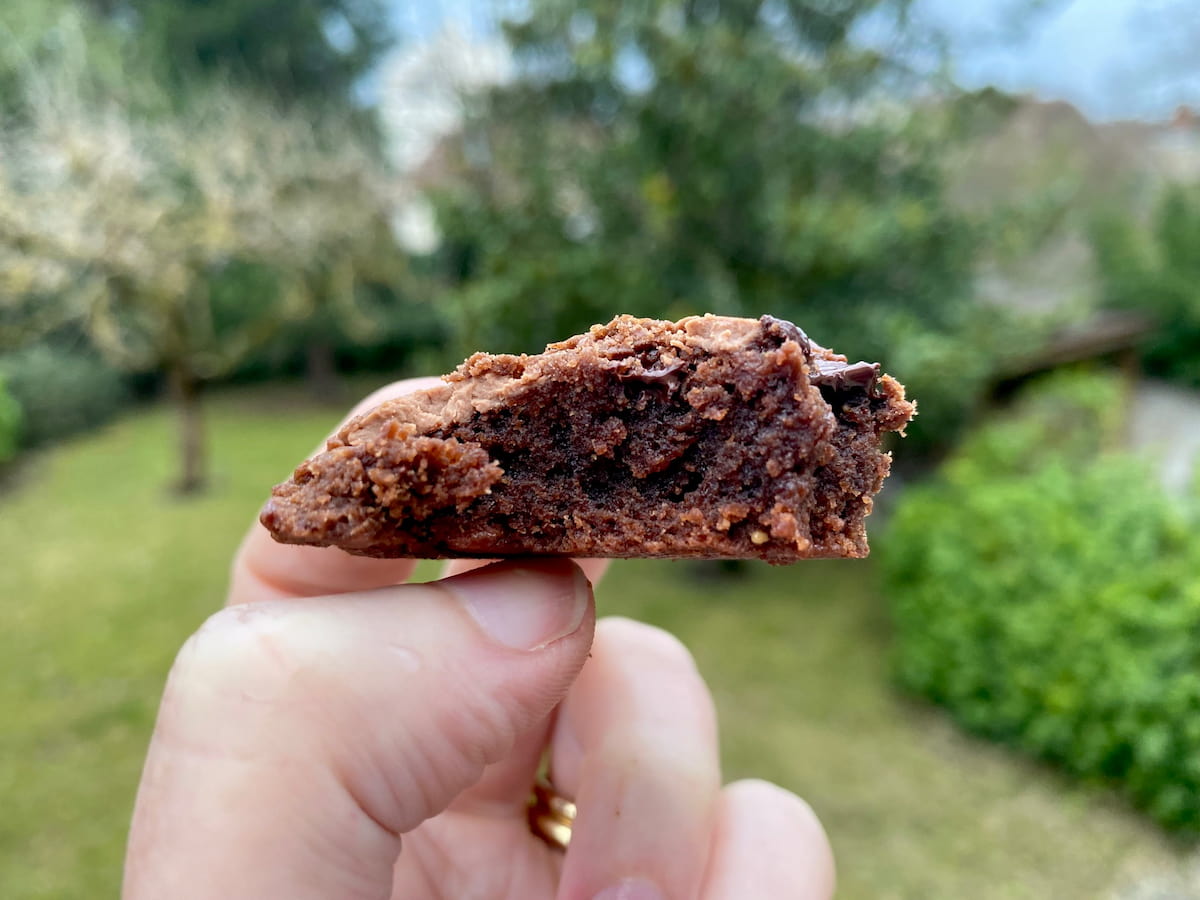 On a side note, Lucie is now also making her own macarons - following the recipe to the letter from my book, Mad About Macarons without my help in the kitchen.  Well, technically I am still helping, I suppose! This lot was her latest assembly line - each one was just beautiful before she packed them away in the box and left them to mature for a couple of days.  They were divine. But I digress. Back to the brownie cookies.
Now Lucie makes these cookies regularly - as with the peanut butter sablé cookies. They are so quick and easy to make - please just use good quality chocolate.
This still is the best and most delicious treat for a proud Mum. Ever. When I finally get thrown out of the kitchen and told the cookies or macarons are ready! My job is done. See the specks of fleur de sel salt? That's the part that makes them rather addictive...
More Quick & Easy Cookie Recipes
Breakfast Oat Cookies with Cranberry, Orange & Hazelnut 
Chocolate Chip Hazelnut Cookies
French Salted Butter Biscuits (Palets Bretons)
Melting Moments (mini oat & cherry cookies)
Peanut Butter & Chocolate Chip Sablé Cookies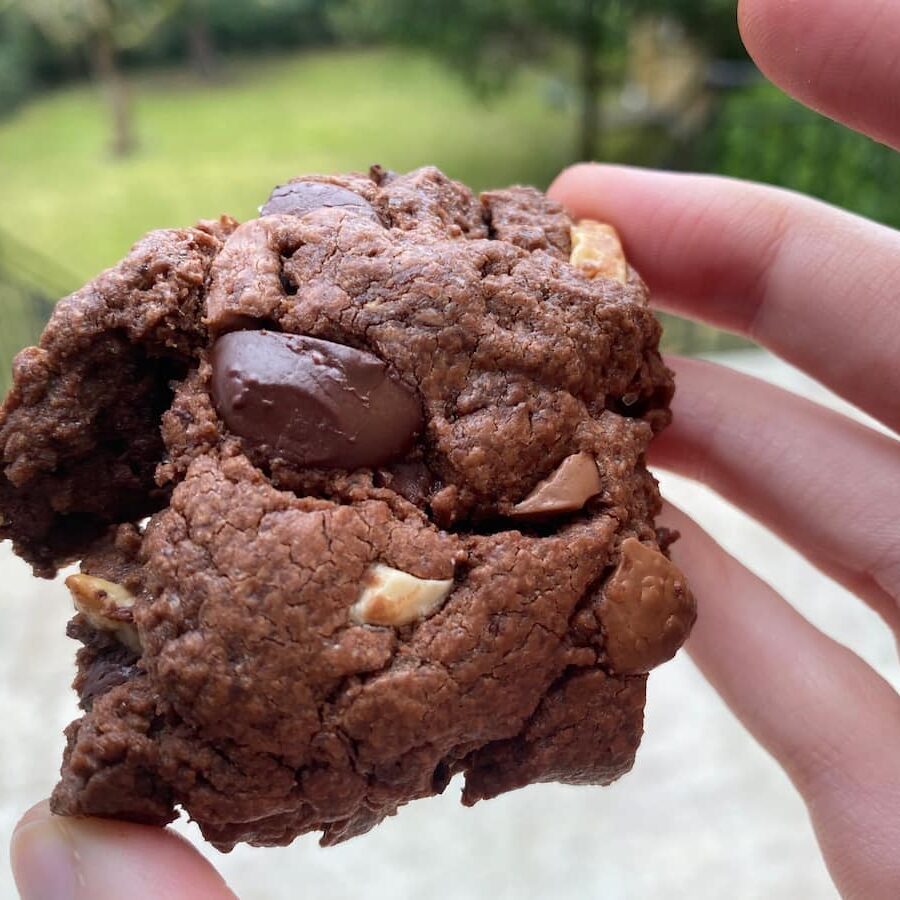 Chocolate Brownie Cookie Crumbles
Chocolate brownie cookies that turned into wonderful crumbles. Not to be confused with chocolate crinkle cookies, these are more fudgy and brownie like in texture - so intense in chocolate with added salt and nuts.
Ingredients
125

g (4.5oz)

unsalted butter

softened

70

g (3oz)

light brown sugar

50

g (2oz)

sugar

1

large

egg

140

g (5oz)

peanut butter

(or Nutella)

2-3

drops

vanilla extract

or ¼ teaspoon vanilla powder

200

g (7oz)

Plain flour (all-purpose)

1

teaspoon

baking powder

30

g (2tbsp)

unsweetened cocoa powder (I use Van Houten)

¼

teaspoon

sea salt

(fleur de sel)

125

g (4.5oz)

dark chocolate chips

or mix of chocolates

30

g (2tbsp)

mixed nuts

roughly chopped
Instructions
Preheat the oven to 180°C/160°C fan/360°F/Gas 4.  In a large bowl, mix the butter and the sugars with an electric whisk (or in a stand mixer) until smooth and creamy.

Add the egg, peanut butter and vanilla extract and beat again until the ingredients are well mixed.

Sift the flour into another large bowl, adding the baking powder, cocoa powder and salt and mix with a  wooden spoon.

Add the flour mix to the first bowl and mix well with the wooden spoon.  Add the nuts and chocolate chips. (The mix will be rather thick but this is normal).

Place 6 or 7 heaped tablespoons of the cookie dough on a baking tray covered with baking parchment or a Silpat silicone mat.  Leave a good space between each, as they'll spread out a bit during cooking.  (Either make another batch but we do just the one and keep the dough in the fridge for more next day.)

Bake the cookies in the oven for 14 minutes for normal brownie cookies.  But for crumbles, remove from the oven after 10 minutes, flatten them down with a pie slice until they break up slightly, and continue to bake for 4 minutes.  Remove from the oven and leave the cookies to cool on a wire rack for 2-3 minutes.
This recipe was originally published in January 2014 but has now been updated with new images and text.