Discover the original French 75 created in Paris, a little of the cocktail's history, the classic ingredients with some variations and how to order it in a bar in France.
Where was the French 75 Created?
Created in 1915, the French 75 was born at the New York Bar in Paris's opera district in the 2nd arrondissement, just 4 years after opening. The same bar was renamed Harry's Bar in 1923 when Scotsman, Harry McElhone took it over and it became one of the world's most famous cocktail bars.
Today I love to pop in and try one - just to test if it's the same as I make at home (that's my excuse for you, anyway). Discover the extra ingredient they add below to give it that extra subtle kick.
Spot the 'sank roo doe noo' around the bar - it's the phonetic pronunciation of the Parisian address on 5 rue Dannou.
Do the French Actually Drink it?
It's surprising how the French 75 is so popular outside of France. Yet look around the cocktail menus in most bars around Paris and elsewhere in France and, chances are, you'll not even see it listed!
Instead, our main classic cocktail is a Kir or Kir Royal. It's also made with Champagne or quality sparkling wine but with simply a little crème de cassis (blackcurrant liqueur). Although this is the absolute classic, it's so good with the other varieties: peach (pêche), raspberry (framboise) or blackberry (mûre). But I digress.
Back to the cocktail menus around France. By and large, if you ask for one, many bars know how to make a French 75 - but don't be surprised if they don't! It happens to me quite often. I know because this is my personal favourite cocktail when I'm feeling the need for a real alcoholic kick. Believe me, it packs a punch so ensure you eat something and don't consume on an empty stomach!
"First you take a drink, then the drink takes a drink, then the drink takes you."

- F. Scott Fitzgerald (quotation framed along with the French 75 anecdotes at Harry's New York Bar in Paris)
Fun Fact about the French 75
When I first came to Paris (er, back in 1992), I discovered that French car registration plates (plaques d'immatriculation) ended with a postcode. The last 2 digits designate the car owner's region.
When a car plate has '75', you know it's from Paris, as 75000 is the postcode for Paris.
Sidenote: if you're on the motorway, I try to avoid the mad drivers with '13' - that's Marseille where they drive even faster than in Paris! If it's 33, I'd even wave at the driver, since they're from the wine region of Bordeaux.
So I initially assumed that the 75 cocktail was from Paris because of its postcode. I was totally wrong.
Why is it Called a French 75 Cocktail? Its History
Instead it took its name from the 75mm gun, famously used by the French in the First World War. The Imperial War Museum in London has a great permanent exhibition and explains it so well, including details on the 75 field gun exhibited. It was given to the museum by France as a symbol of their army's heroism. Luckily we were allowed to take photos to show you what it looks like.
The French 75 quick-firing field gun was known for its speed and, at the time, was impressive in that it was deadly at first impact. It could fire up to 20 shrapnel shells each minute with devastating accuracy and caused enormous casualties.
By 1914 all the major armies had similar weapons but nothing like the reputation of the 75mm. For military ceremonies, it's sometimes brought out to impress us still today.
Notre 75 - Our 75. When it speaks, all are quiet.
Le roi Canon - Gloire à notre 75 (King of guns - glory to our 75)

The French people on their 75mm field gun
(source: Imperial War Museum, London)
So if you heard that a French 75 was being loaded, that was it. It became so well known that this cocktail was named after it in Paris.
French 75 Ingredients
As a result, this French 75 cocktail is totally loaded like its field gun! With its classic ingredients of Champagne, gin, lemon juice and simple syrup, it pops in the mouth and startles the tastebuds.
At the cocktails's birthplace at Harry's Bar in Paris, they also add one extra ingredient. They first add just 2-3 drops of Absinthe in a chilled glass. It may sound so little but it gives an intriguing underlying herbal note. Although optional, as not that easy to find, I totally recommend trying this original version too.
The French 75 is much like the popular Tom Collins cocktail, but carbonated or soda water is replaced by the Champagne or sparkling fizz.
What's a Simple Syrup and Why Add it?
A simple syrup is also called sugar syrup, which is just equal amounts of sugar and water. They are stirred and heated together for about 5 minutes until the sugar dissolves until a clear syrup is created then left to cool. Voilà - that's it.
So why add a simple syrup to this cocktail? You know me by now. I'm always cutting down on sugar so this is no exception in a cocktail. When I first made this at home, I didn't think the sugar syrup was necessary. I was so wrong. Try this without the syrup and taste the difference.
Without it, the drink is far too bitter. The syrup rounds it all off, helping us to taste the flavours of the gin and lemon together rather then just get hit by the alcohol.
Only a little syrup is needed to turn a bitter, lifeless drink into a French 75 cocktail with its punch. Although the original cocktail uses a simple syrup, the recipe in the Savoy Cocktail Book (1930) calls for a spoonful of powdered sugar.
What's the Difference between a French Martini and a 75?
The French Martini cocktail was invented in New York, not France. The only thing French about the drink is that it uses Chambord raspberry liqueur along with vodka, pineapple juice and ice. Plus it's served in a Martini glass without any Martini in it.
So the difference between the two is huge: neither of them have anything in common, except from the word, 'French'.
"Hits with remarkable precision."

The French "75" Cocktail, The Savoy Cocktail Book (1930 republished edition, 2023)
With Gin or Cognac?
The original cocktail was made with gin, Calvados, grenadine and Absinthe. This version appeared in many recipes around the 1920s and 1930s, including The Savoy Cocktail Book (1930).
Thereafter, the Calvados was dropped, grenadine with lemon juice and appeared with a variation using Cognac or Brandy instead of gin. I've seen it named as a French 125 and a French 45 online but not in French bars. However, the classic 75 remains with gin (not Cognac) as at Harry's Bar in Paris today and around France.
How do you Order it at a Bar in France?
To test this out for you, I've done some homework around Paris. As I'm French, I normally order it in French but I have heard a few tourists being corrected when they simply ask for a 75 in English (that's so Parisian, I know, but start with Bonjour and you get off to a better start - we're not in the 1942 film, Casablanca).
So in France, ask for a French Soixante-Quinze (pronounced 'swaz-onte-kanz), s'il vous plaît. Yes, this isn't a spelling mistake: say 'French' (the English word - we never say Français 75) with a French accent, rolling the 'r' followed by soixante-quinze.
Do you Tip at Bars in Paris?
Service charge is already included in bars and cafés in France, so tipping isn't necessary. Waiters are given a living wage so don't worry about them missing out by not giving tips.
However, if you particularly appreciate the service and want to give a discretionary tip, then it's not rude and is also welcomed. It's up to you.
How to Garnish a French 75
At Harry's Bar in Paris, the authentic French 75 cocktail is served straight up without ice and no garnish. However, in the UK, the Savoy Cocktail Book mentions ice (oh-là-là) and the Ritz Bar in London garnishes it with a maraschino cherry.
As there's already a strong hint of lemon from the juice, I personally prefer it without the ice and served on its own. If you absolutely need a garnish, just add a small twist of lemon peel. Nothing more should interfere with the flavours.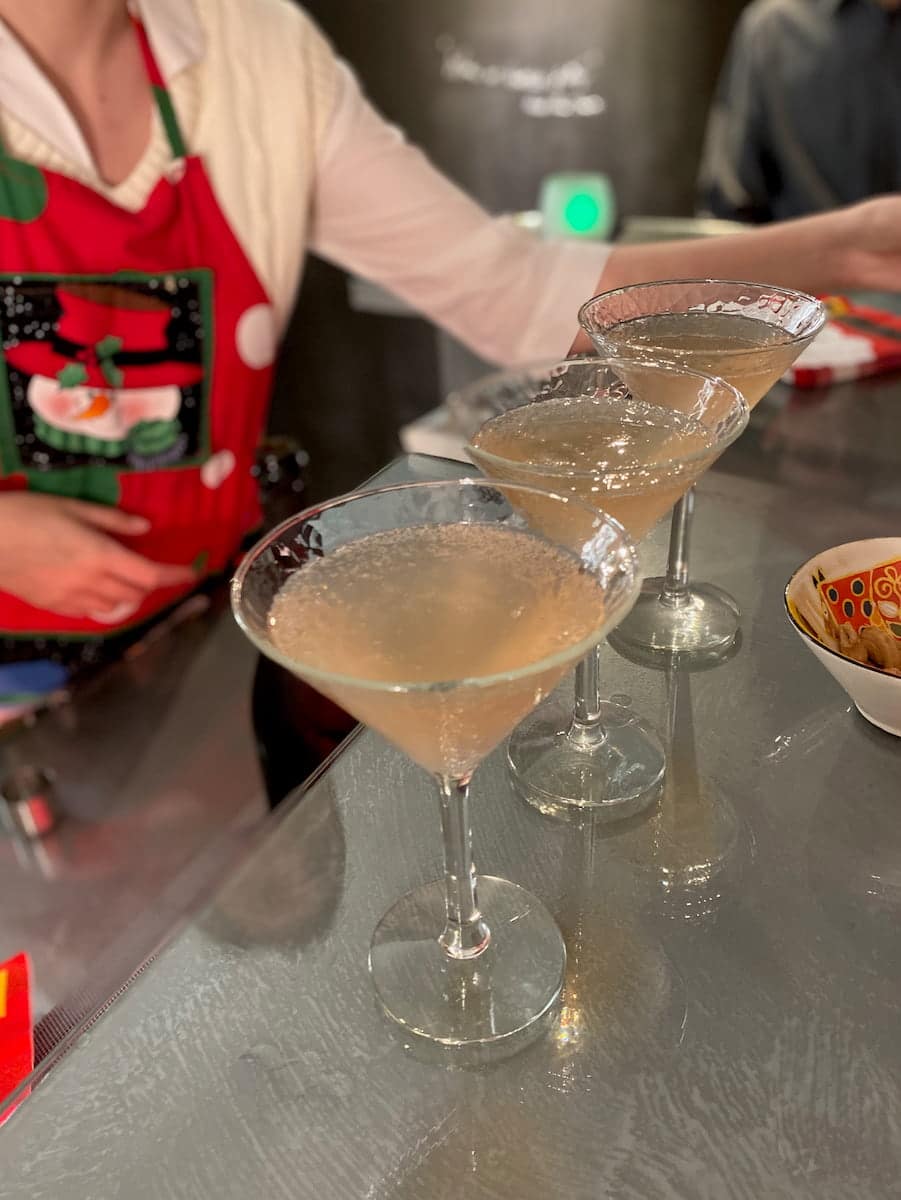 French 75 Variations
To keep to the classic, here are some variations that wouldn't majorly interfere with the flavours of a French 75:
Different kinds of gin - mainly citrus based. I've also tried it with a French one using immortelle flowers from l'île d'Oléron and another Breton gin with salty seaweed notes - both fabulous.
Replace Champagne with a more budget-friendly fizz: such as good quality brut/dry sparkling wine (pétillant). For example: French Crémant de Bourgogne, from Alsace, Saumur or Vouvray (Loire) or Italian Prosecco.
Use a dry rosé or pink fizz to add a spot of festive colour for special occasions and/or serve in a Martini glass.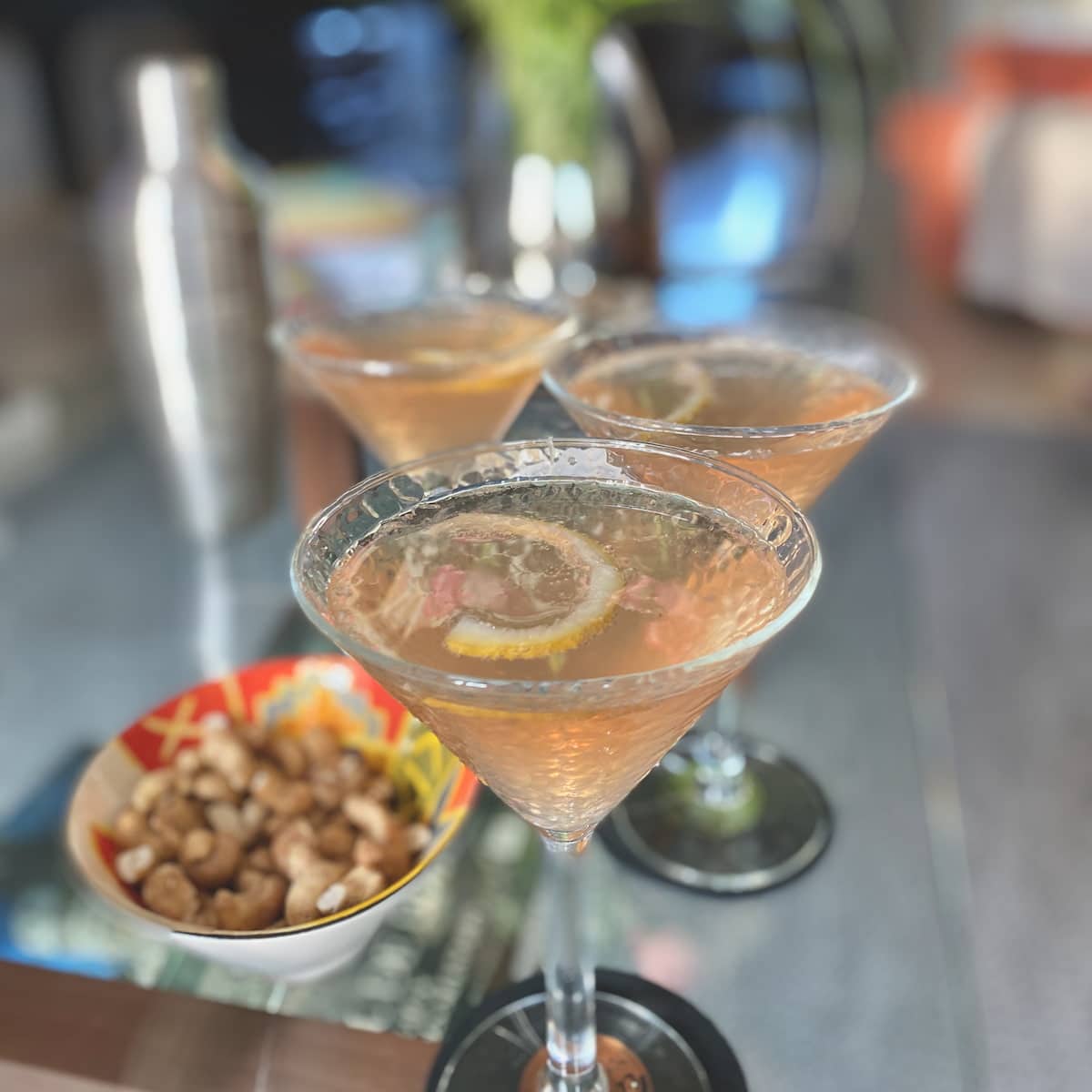 What Food Goes with it?
In France we'd drink a French 75 as an apéritif before dinner - either on its own or with a few nuts or olives. If you're looking to pair with food, then this cocktail does match well with most dishes that go with lemon.
Basically, dishes that feature a lemon wedge is a good rule of thumb. Such as: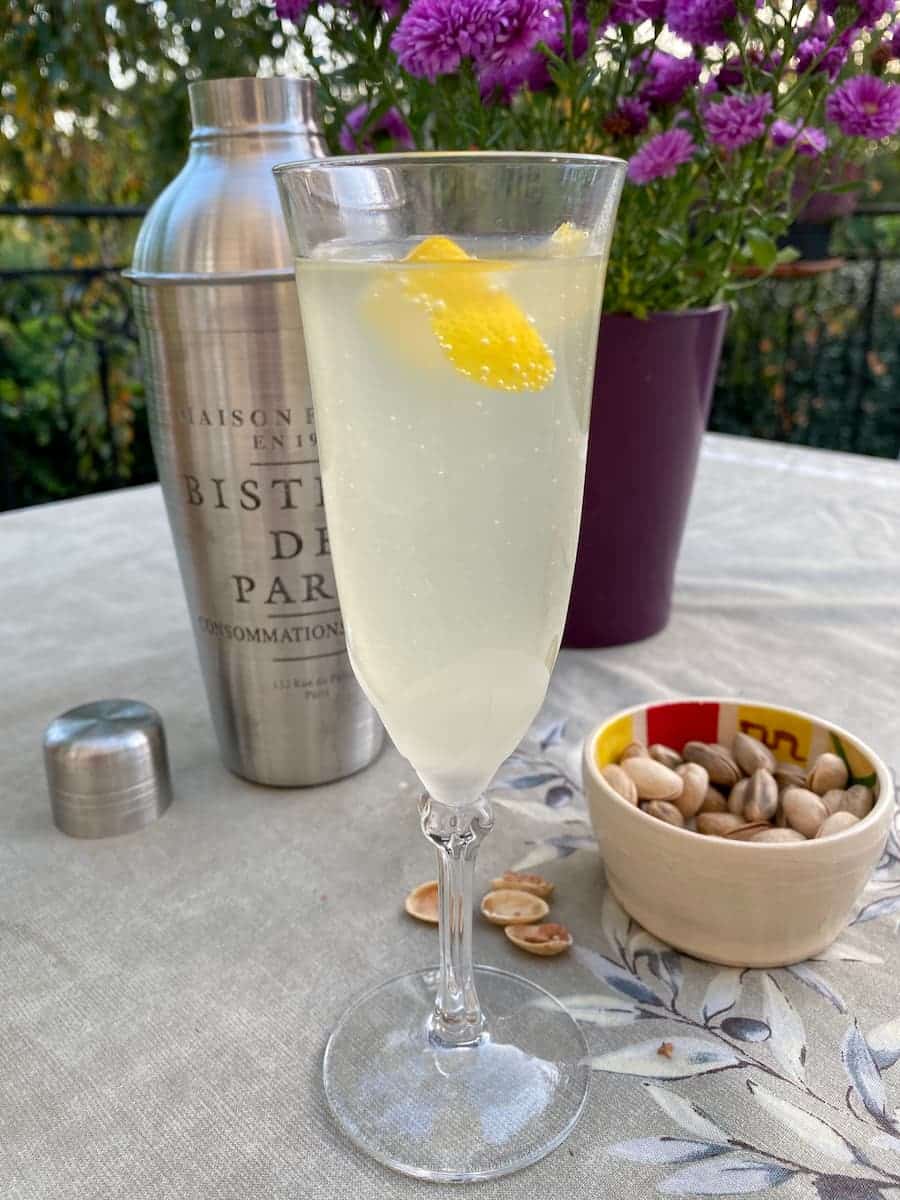 French 75 Cocktail
Classic recipe from the original Harry's New York bar where the French 75 was created in Paris. Normally served with no ice or garnish, this cocktail is like the 75mm field gun and 'hits with remarkable precision'.
Ingredients
2-3

drops

Absinthe

optional (in the classic original version from Harry's Bar in Paris)

30

ml (1 fl oz/ 1 measure)

Gin

15

ml (½ fl oz/ ½ measure)

lemon juice

15

ml (½ fl oz/ ½ measure)

simple sugar syrup

see notes

60

ml (2 fl oz)

Champagne, chilled

or sparkling dry white wine (Prosecco, Crémant brut)
Instructions
If using, put 2-3 drops of Absinthe into a chilled Champagne flute or coupe.

Shake together vigorously the gin, syrup and lemon juice in the cocktail shaker.

Pour into the glass and top with the Champagne.
Notes
Serve with a twist of lemon peel and no ice.
Formula for Simple Syrup (sugar syrup): Stir

together equal quantities 50g (¼ cup) of sugar and water in a saucepan then simmer (not boil) over medium heat just until the sugar dissolves. This should take only 5 minutes. Set aside to cool then chill until needed.
Champagne: this classic has different measures for the Champagne. The International Bartenders Association uses 60ml (2 fl oz), while the French version (François Gaudry's book, On va déguster la France) uses 40ml.
For a more budget friendly version, replace Champagne with good quality brut/dry sparkling wine such as French Crémant from Bourgogne, Alsace, Saumur or Vouvray (Loire) or Prosecco.
As the French say, to be consumed 'avec modération'.