Every time the clocks move to winter mode, it signals a new season of pastries in Paris. So, in true Teatime in Paris style, I headed to Angelina, who kindly invited me to choose from the silver platter to show you nine new gourmet patisseries that are gracing their Autumn-Winter collection.
What is Angelina Famous For?
In 2013, the Parisian institution of Angelina celebrated its 110th anniversary. Just stepping inside you can imagine when this elegant tea room opened its doors in rue de Rivoli in 1903. Since then it has been famous and attracting the famous too. The Parisian aristocracy swooned in wearing their fineries and celebrities of the fashion world rubbed shoulder-fitting suits with the likes of Coco Chanel seated at the marble tables.
Angelina sums up so well its Belle Epoque interior as being "an exquisite space, somewhere between serenity and indulgence." As we were there at teatime, the sweet Parisian rush hour, out of respect for the full house of clients I didn't take the interior. However, I did manage to take more photos of the tea salon upstairs for a private event later for their Christmas Yule Log (Bûche) collection.
Angelina's Classic Pastries
The platter consisted of the regular Classic collection which are available all year round.  What about the caramelised flaky vanilla mille-feuille (left); the Saint Honoré with its three little caramelised choux-filled puffs of vanilla pastry cream sitting on a ring of puff pastry and crowned with a swirl of whipped cream; the Paris-New York (a variation on the classic Paris-Brest - more on that later); a lemon tart with vanilla marshmallows - and a chocolate or coffee éclair.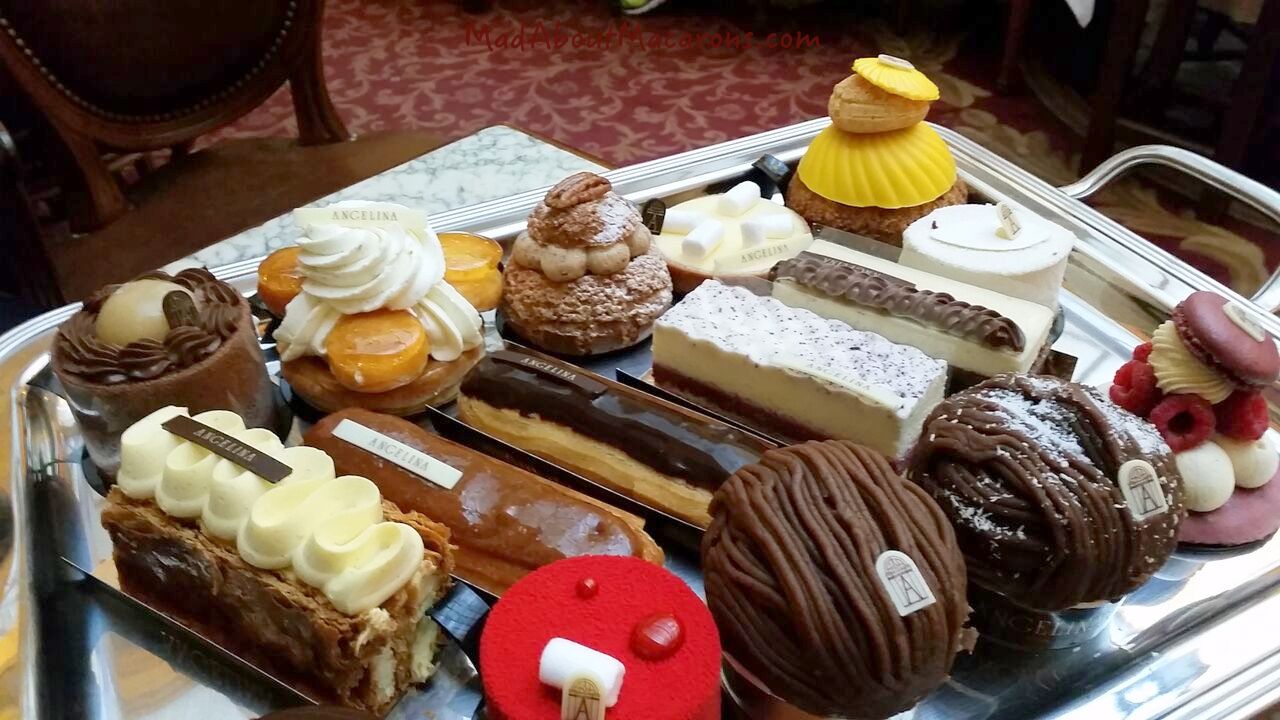 Autumn & Winter Pastry Collection
However, we were essentially here for a taste of the ephemeral new collection, highlighting the season with citrus fruits, exotic fruits; comforting chocolate or praline or the more sophisticated acidity of dark berries.
From the left, there's the pear and chocolate charlotte; praline éclair with its traditional praline of hazelnuts (the French love this nut in their pastries); blackcurrant cheesecake; the bright red Babylone, an almond meringue biscuit with vanilla mousse, raspberry confit and strawberry marshmallow; the Black Forest (Forêt Noire); and the Calisson, a pastry take on the traditional oblong confection of marzipan and sugar icing from Aix-en-Provence (more in my article about French bonbons or candy).
How could you choose? An absolute must was the new coconut and passion-fruit variation on Angelina's iconic pastry, the Mont-Blanc, which has been its signature pastry since 1903. The classic is a mound of chestnut paste vermicelli which encases light whipped cream and a meringue heart. You'd think with the chestnut purée and meringue that the dessert would be pretty sweet but that's what makes Paris's top pastries so special: they're surprisingly not as sweet as you'd think.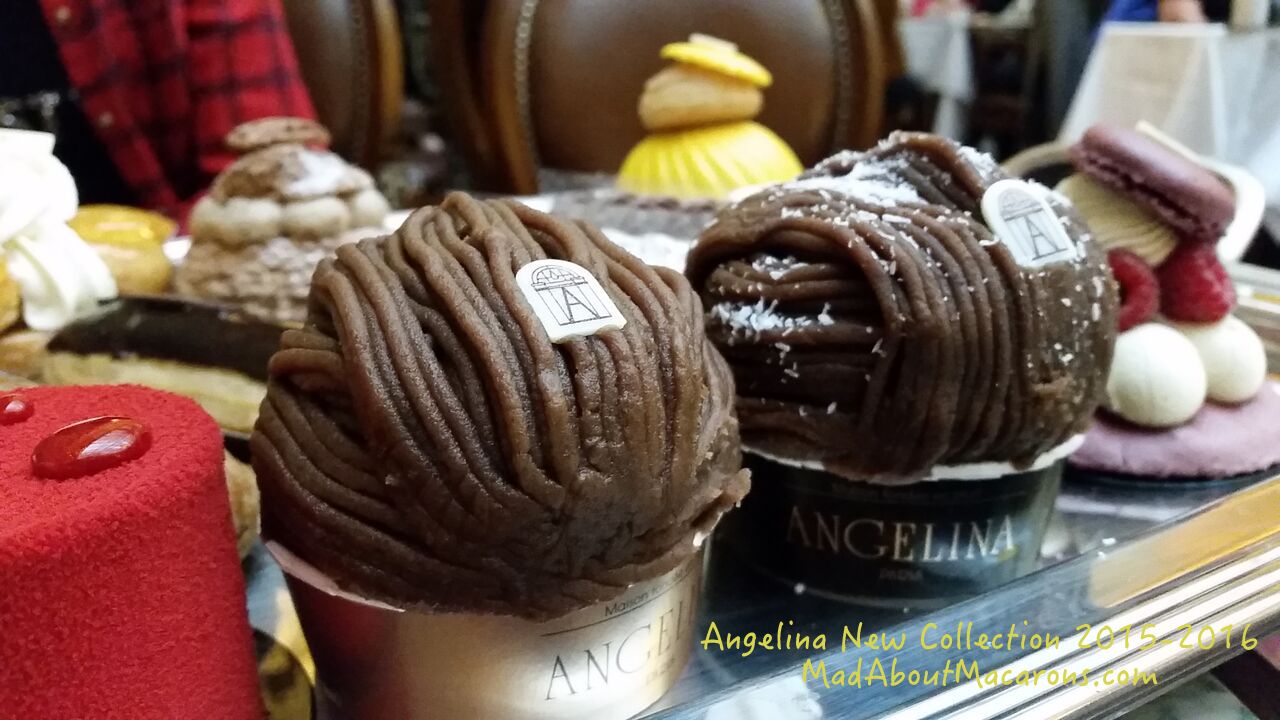 They're an ephemeral fashionable pastry catwalk on silver - even the elegant lemon and praline Religieuse looked ready to sit down next to us on the plush leather chair with her bright yellow hat tilted to one side.  It was a sign - but then the Joconde, the other new seasonal pastry just seem to say, take me, take me...and as I'm known to be mad about macarons. Guess what?
Not the Only Joconde in Paris!
The Joconde is one of the most expensive of the pastries and has a sumptuous cream of cherry blossom tea sitting on top of a large macaron shell.  Raspberries surround its blackberry and blackcurrant heart and it's finished off with a little macaron hat.
The cream was so delicate and went beautifully with the light berries. Perhaps the cream made the macaron shell just slightly on the moist side.  It's certainly best to ensure that you eat this pastry on the day itself if you've bought them to eat at home. I love how this pastry is particularly light - and gluten free.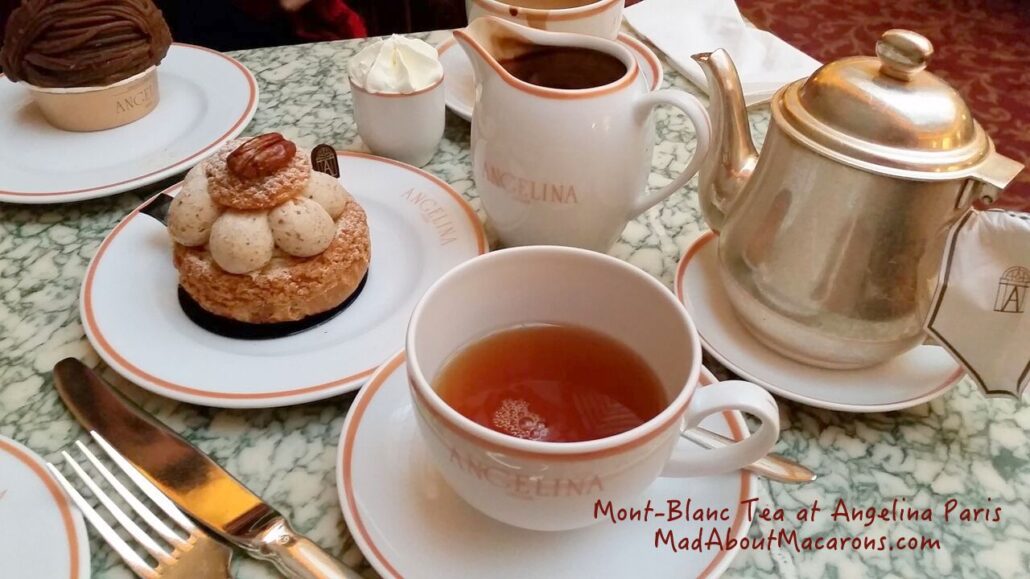 Angelina Paris Hot Chocolate: The Choc Africain
Angelina's famously thick hot chocolate is named "African" since it's composed of three different cacao varieties: from Niger, Ghana and the Ivory Coast. It's even served with a pretty little pot of whipped cream - but seriously, that's sheer decadence since already a little goes a long way.
For African Chocolate fans, there's also a pastry that goes with it. It's the Choc Africain, a chocolate brownie with pure dark chocolate mousse and cream.
A pot of Mont-Blanc tea hit my perfect teatime spot, an ideal match to accompany such delicate treats with its hints of maple and candied chestnuts and apricot with toffee aromas.
Paris-New York Choux Pastry
Don't ask me why but with such a dizzying choice, I even went for another to share - their classic Paris-New York. It's based on the classic Paris-Brest (I mention all about this in my book, Teatime in Paris, along with a macaron version and a Paris-Brest-Edinburgh). However, instead of the choux pastry filling of a hazelnut praline cream, Angelina's New York touch is to use pecan nuts for the praline and adds an extra crunchy pecan praline heart to it.
Signature Mont-Blanc Pastry
Our unanimous favourite from the tasting was the Mont-Blanc Passion-Coco.  Lucie in her excitement to pounce on it, realised afterwards that she'd been served with the classic Mont-Blanc (without the coconut on top) instead of the new version.  The staff were totally adorable and appeared immediately with the new version but as she had tucked into it wanted to finish and so we were even given a cute box to take it home with us.  We were reassured that we could easily eat it next day.  After all, one day of decadence was enough!
Remembering the exclusive raspberry version from the Bac Sucré event in June (from the Angelina boutique in Rue du Bac), this version hit a very-special-pastry-nerve. The coconut whipped cream was so delicate with just a touch of passion fruit in its heart.
With a sprinkling of coconut on top, it guards its snowy traditional resemblance of the Mont-Blanc, the highest mountain in Europe.
Every year, we're lucky that a new Mont Blanc variation comes out and each winter, it's a sheer beauty. If it this pâtisserie was on the catwalk, it would be the bride in the finale.
Angelina's Macarons
How could I take you to Angelina's and not mention their ten classic macaron flavours? Chocolate, pistachio, lemon, coffee, vanilla, blackcurrant, caramel, chocolate-passion, raspberry and their speciality, the Mont-Blanc.
Do you Need a Reservation for Angelina Paris?
To avoid regular queues like this, I strongly recommend you reserve a table like we had, especially for teatime. That way the special queue-saving time can be used instead to stroll off the desserts in the Tuileries Gardens across the road. If you haven't booked, expect to wait about 15 minutes minimum, especially on weekends.
I'll leave you with a few Mont-Blanc macarons, my favourite here, filled with a chestnut cream and topped with crushed meringue. If you're in Paris around the beginning of  November, Angelina usually host a special Mont-Blanc day featuring variations on their famous dessert.
So, after all that - what would you choose?
Angelina Tearoom
226 rue de Rivoli
75001 Paris
Tel: 01-42 60 82 00
Metro: Tuileries