How to make the most delicious passion fruit and vanilla cream filling for giant raspberry macarons. An egg yolk recipe for macaron lovers.
Standing in the buzzing queue of many of Paris's best pâtisseries, I often realise that decision-making has never been one of my strong points. Well, how can you blame me? With such sumptuous choices to ponder over, there are a number of pastry classics that look up from the shiny museum-like glass counters, saying "Go on - don't forget me! Pick me!"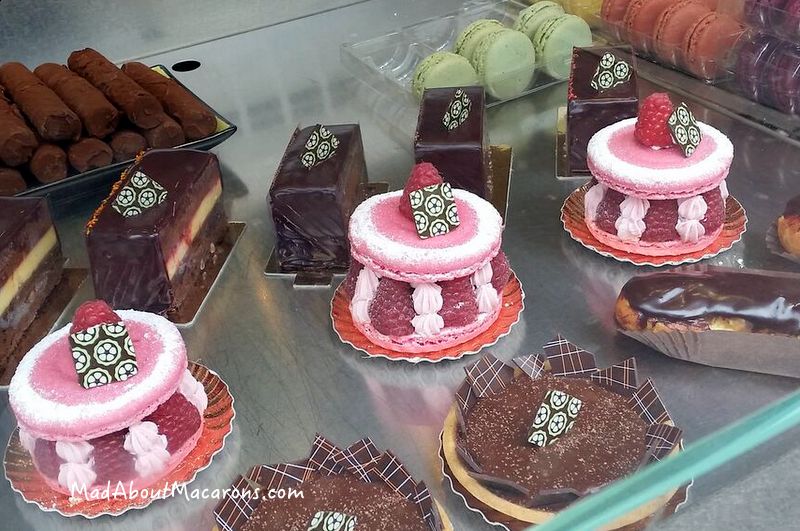 Admittedly, picking one or two out has become quicker, thanks to taking around eager testers on my previous chocolate and pastry tours around Saint-Germain in Paris. What a responsibility it can be to choose a wide enough variety of fabulous samples without them all floating off into a sugar coma.
One of the lighter popular classics is a giant pink macaron garnished with pastry cream and surrounded with fresh raspberries. What's more, it's gluten-free. However, it's not that easy to cut up into sample pieces!
Pierre Hermé, dubbed by Vogue Magazine as the Picasso of Pastry, christened the most famous of giant raspberry macarons the Ispahan, named after a tender, fragrant Iranian rose. The giant pink macaron is filled with a rose and lychee cream and finished off with beautiful fresh raspberries. See more on the story of the Ispahan with raspberries and rose.
So many pastry shops in Paris have drawn on his inspiration with their own take on it. Even our local pâtisserie had their version (above) with the bottom macaron shell upside down...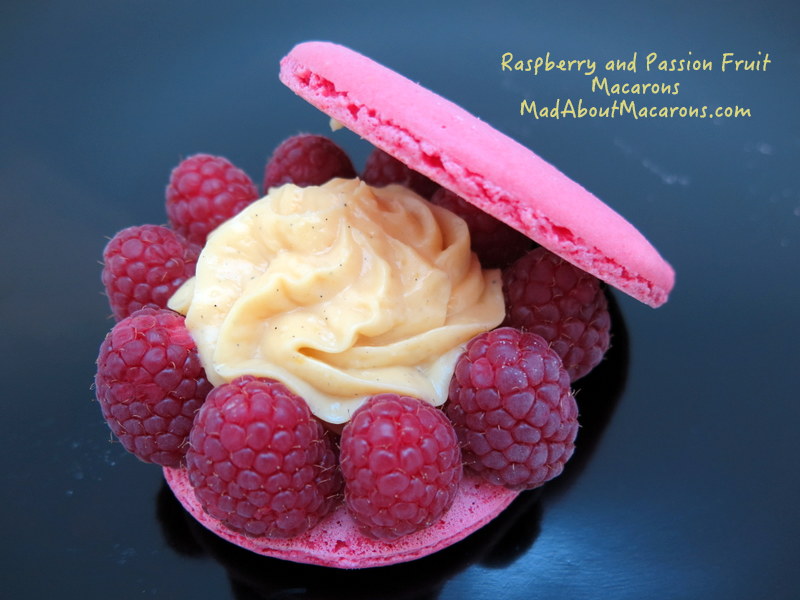 As you can imagine, such Parisian pâtisserie temptations are a constant source of exciting inspiration.  For this dessert classic I replaced the lychee and rose with a zingy passion fruit filling, adding that extra acidic touch to the raspberries.
Truth be told, I ran out of passion fruits as I thought two would be enough. But after tasting the cream, I felt it needed another passion fruit for that extra fruity punch.  So instead I added some extra passion fruit purée as an emergency back-up. I use an excellent passion fruit purée from Monin.
Speaking of passion fruit, have you tried the passion fruit and lemon meringue tartlet recipe from Teatime in Paris yet? My lovely friend, Christina, of Christina's Cucina has just made them and posted the sample recipe! 
Passion Fruit Cream Filling for Giant Macarons
I used the basic macaron recipe in "Teatime in Paris" adding a pinch of deep raspberry pink powdered colouring (if using "Mad About Macarons", use the measurements specified in the Annex of the book, under "Egg White Reference Chart" based on 100g egg whites).  This will make 12 large macarons.  The filling is based on a classic pastry cream (recipe also in "Teatime in Paris") but I've adapted it here based on the liquid of the passion fruit.  Don't forget that macaron shells can be frozen, so I often prepare them in advance and defrost them the day of a dinner party and the rest is easy to put together.
Passion Fruit & Raspberry Giant Macaron Filling
How to make the most delicious passion fruit cream filling for giant raspberry macarons. An egg yolk recipe for macaron lovers.
Ingredients
250

ml (9fl oz)

full cream milk

1

vanilla pod

seeds scraped out (or ½ teaspoon powdered vanilla)

3

egg yolks

organic

50

g (2oz)

sugar

30

g (1.25oz)

cornflour

(cornstarch)

3

passion fruits

(the equivalent of 4 tablespoon once seeds removed)

2

punnets

fresh raspberries
Instructions
In a medium saucepan, gently heat the milk with the vanilla pod then scrape out the seeds and add to the milk.

Meanwhile, using a balloon whisk, mix the egg yolks and sugar in a large bowl until creamy, then whisk in the cornflour until smooth.  When the milk is hot (but not boiling), add half of the hot milk to the beaten egg yolk mixture. Whisk vigorously then quickly add the mix to the rest of the milk in the saucepan while whisking continuously.

Continue to whisk over the heat until the mixture thickens. Cover with cling film so that no skin forms on the surface and leave to cool for about 10 minutes then chill in the fridge for at least an hour.

Meanwhile, using a sieve, strain the juice and remove the seeds.

When chilled, whisk in the juice of the strained passion fruits and continue to chill until closer to serving time.

Spoon or pipe out the filling into the middle of 6 giant macaron bases and arrange about 8-10 raspberries (according to size) on the outside and finish off by topping with a macaron shell.
Notes
The step-by-step recipes for macaron shells are in both my books, Mad About Macarons and Teatime in Paris.