Known as Crème Dubarry or Velouté du Barry, Dubarry Cauliflower Cream Soup is a French classic, created for Madame du Barry, King Louis XV's last and favourite mistress, who adored cauliflower – it's the crème de la crème of French soups.
This soup also has a steamy royal romance behind it, which simmered away between Versailles and Paris in the 18th century.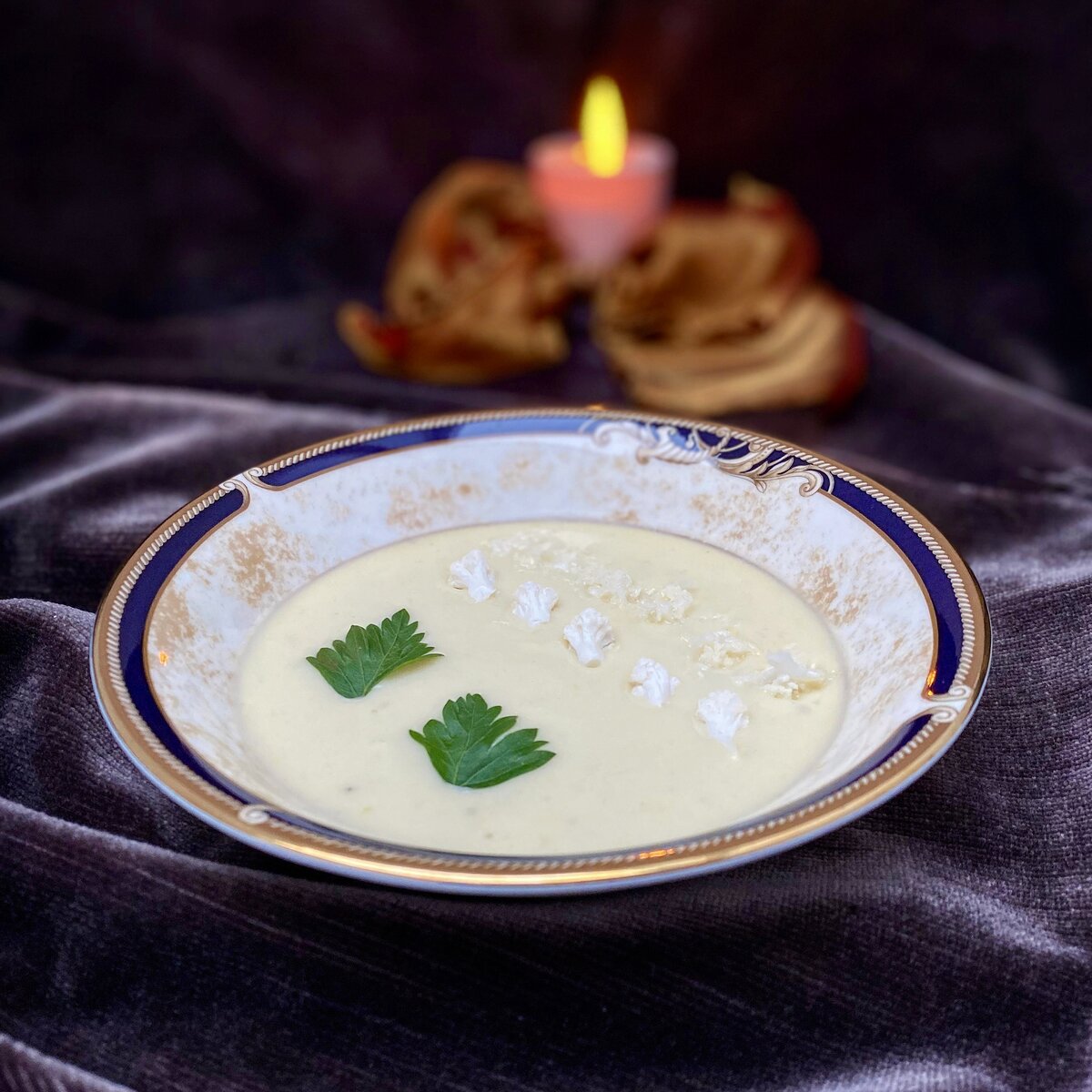 What is Dubarry – or Du Barry in French Cuisine?
Turning to my French Larousse dictionary, anything called 'Du Barry' in French cooking contains cauliflower – from a simple salad to the most famous Crème Dubarry, often served on winter menus in chic Parisian restaurants.
Why Dubarry? It's a smooth, rich cauliflower cream soup or silky velouté that gets its name from the Comtesse du Barry, who adored the humble winter chou-fleur.
Trust the French to bring cauliflower and a hungry royal love affair together!

Who was the Comtesse du Barry?
The Comtesse du Barry was the last mistress and favourite of King Louis XV. (Not to be confused with the chain of French boutiques, Comtesse du Barry, known in and around Paris for its gourmet tinned meals for those who would rather have foie gras or truffles on toast than baked beans.)
The Countess was renowned for her beauty, her blond curls, her blue eyes, her love for luxury – and her way of wrapping her little finger around aristocratic, influential men.
Antoine and I were intrigued to visit part of the residence given to her by Louis XV, where she stayed in Louveciennes in Les Yvelines, just 10km west of Paris. Alas, the domaine is now private and not open to the public – but once a year for just a couple of hours, guided visits are arranged in May by the Office de Tourisme de Boucles de Seine.  As photos were not permitted inside the residence, my photos are restricted to the lush grounds.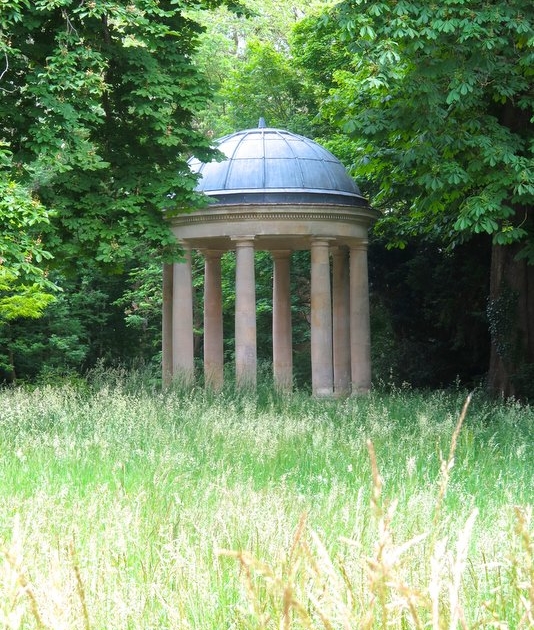 Louveciennes was host to painters such as Madame Vigée Le Brun (who painted 3 portraits of Madame du Barry) and the Impressionists. Camille Pissaro also later lived here and Sisley painted many landscapes, which shows not that much has changed outside her residence.
It's another lovely walk in the area, as part of the 4 Impressionist Walks by the Seine (see my post on the Renoir walk from Chatou to Carrières-sur-Seine).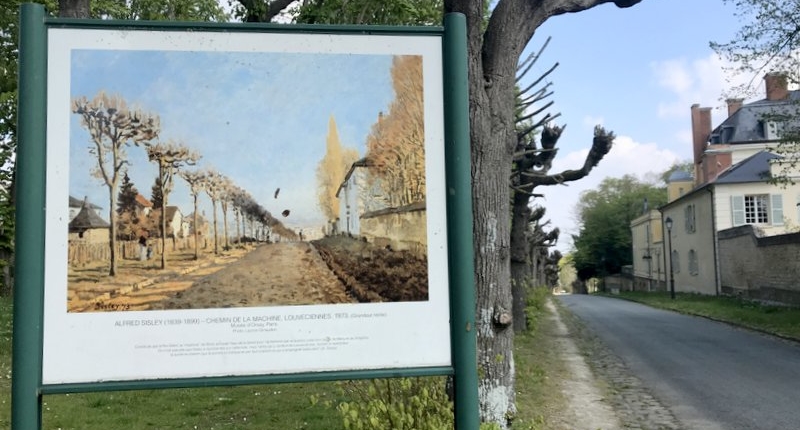 Outside Madame du Barry's residence was the enormous pipe – still camouflaged today – in the lush countryside.
Apparently the noise of the water from the pipes was rather distressing for Madame; it transported water to the Versailles fountains from the Seine river via the Machine du Marly, an extremely incredible feat of engineering to cope with Louis XIV's luxurious tastes for the palace.
Madame du Barry to Countess
The Countess wasn't always a countess. Raised as Jeanne Bécu in a convent (since her mother had a dangerous liaison with a Franciscan monk), she then worked her way up from hairdresser to haberdashery in Paris. It was the wealthy, influential casino owner, Jean-Baptiste du Barry that changed her direction as Mademoiselle.
Jeanne became his mistress, and became mistress to others too in royal circles – right up to Louis XV. One problem: she wasn't appreciated as being a non-aristocrat in French society and the king couldn't see her unless she had a title. The King solved this by ensuring her marriage to Du Barry's brother, the Count Guillaume du Barry in 1768, giving her title of Countess – even if she was and is still referred to as Madame.
After King Louis XV's death in 1774, Madame du Barry wasn't permitted to stay in the court (Queen Marie-Antoinette thought of her as rather common – read vulgar) and so she stayed here, continuing to lavishly entertain in her particularly impressive oak-panelled dining room.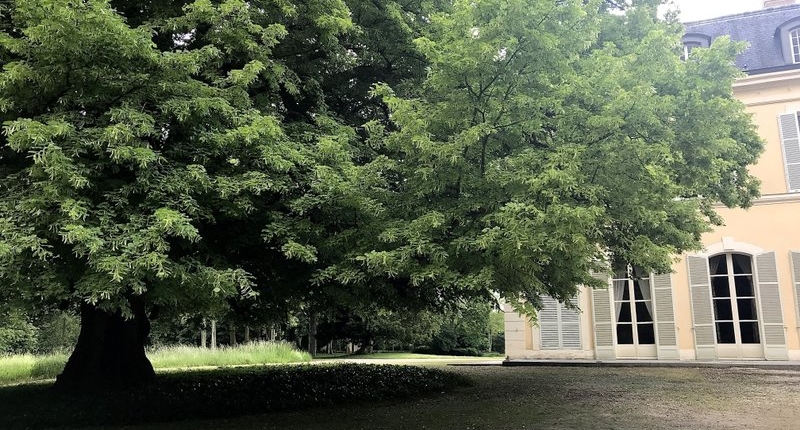 Countess Amorous Royal Chocolate Drinks
It was apparently under this enormous tilleul or lime tree that the elderly King Louis XV and young Madame du Barry would sip chocolat together in Louveciennes, not far from Versailles. Although the luxury of chocolate (as a drink) was brought to the French court via Louis XIII then Louis XIV, it was Louis XV that was reputed to have loved chocolate the most.
Considered an aphrodisiac drink, the king prepared his own love potion chocolate drink in his appartments in Versailles, adding an egg yolk to his chocolate recipe to ensure its extra velvety, rich texture – see the recipe here, via Versailles Palace.
Dubarry Cream of Cauliflower
Keeping with rich, velvety textures, Countess du Barry's chef, Louis Signot, created a soup with Jeanne's favourite vegetable. It was so simple yet sophisticated enough for royal approval. It's not clear what is the original recipe but looking around in cookbooks (in vain), French gourmet dictionaries, online, and even from French recipe booklets received from our local market there are two versions of Dubarry Cauliflower Cream Soup.

One is based on milk, cream and potatoes; the other Crème Dubarry is based on a white roux (butter and flour) with added egg yolks and cream at the end of cooking. Seen as Louis XV's chocolate potions included egg yolks, I'm guessing the King cracked for the latter version so I'm sticking with this. The vegetable market's booklet recipe, however, used a whopping 6 egg yolks. Instead I developed the recipe as follows, as it's silky enough without being too overwhelmingly rich to start off a meal.
How to Prepare Cauliflower Cream Soup
This is the first time I've made a white roux for a soup. Normally I wouldn't add flour to soup and use a potato to thicken it instead. However, for the sake of authenticity with French recipes, let's make that roux by adding butter, gently cooking the leeks and adding the flour to make a paste then stir in the stock and tiny cauliflower florets.
All of the bitter stalk is discarded. Small, digestible florets are used, cleaned first in a mixture of water with a dash of vinegar. Don't forget to keep the smallest florets aside for the garniture.
Once mixed or blended using a stick blender or 'giraffe' (I love how some of my French friends call it this!), create the liaison (pun totally intended!).  A mix of the egg yolks and cream are gradually blended into the soup by adding some of the soup liquid to the cream, then adding the whole lot to create that rich, velvety Dubarry cream.
Dubarry Cauliflower Cream Soup Garniture
The garniture for serving Dubarry Cauliflower Cream Soup is just as important as the cream itself. There are 2 simple classic garnitures: finely chopped chervil and tiny cauliflower florets (pre-cooked à l'anglaise – English-style in boiling water).
That's it. My personal preference is not to cook the cauliflower garniture at all. Just sprinkle with the smallest of florets and the heat of the soup and the raw crudité-style cauliflower adds a magnificent crunch! I also finely grate a cauliflower floret on top of the soup too.
Seared scallops are another possibility. If you've seen my recipe for Curried Cauliflower soup, I got the idea of adding seared scallops when tasting wine under January hailstones in Clos Veogeot at the annual Burgundy wine festival, la fête de Saint Vincent. So add scallops if you fancy – but for royalty, the good old classic cauliflower with chervil or parsley will do!
Even although the Parisian gerbet macaron wasn't yet created in Paris yet, there's nothing stopping you from serving the Dubarry Cauliflower Cream with a mini curry macaron, is there? The recipe is in the savoury macarons chapter from my book, Mad About Macarons! I'm sure the Countess would have approved.
This has turned out to be a long post for a few wee bowls of soup – but don't you love a delicious French love story behind it?
Dubarry Cauliflower Cream Soup Recipe
Dubarry Cauliflower Cream Soup
---
Description
A rich, creamy French classic soup or velouté that was created for Madame du Barry, King Louis XV's last and favourite mistress, who adored cauliflower
Ingredients
700

g (1.5lb)

organic cauliflower

(prepared after stalk/leaves removed)

2

leeks (white part only)

sliced

55

g (2oz)

butter

(unsalted)

2

tbsp

flour

(all purpose)

1

litre

chicken stock

* (stock mixed with hot water)

2

egg yolks

organic

100

g (3.5oz)

half-fat cream or crème fraîche

Fresh chervil or flat-leaf parsley

optional, for decor

1/2

tsp

each of salt (fleur de sel) & freshly ground pepper
Instructions
Remove the bitter stalk and leaves from the cauliflower, reserving the florets. Wash in a mixture of water with a dash of vinegar and set aside. Clean and slice the leeks.

In a large, heavy pot, melt the butter then sweat the leeks in it until translucent but not brown. After 4-5 minutes, add the flour and stir together well until a smooth paste forms. Gradually whisk in the hot stock. Add the cauliflower florets, setting aside a few of the raw, smallest florets for decor. Bring to the boil.

Cover, turn down the heat and leave to simmer gently for about 25 minutes.

Towards the end of cooking, in a separate bowl, whisk the egg yolks with the cream, salt and pepper. Add a ladle-full of the soup's hot liquid and whisk together. Using a hand-mixer, blitz the soup until well blended. Gradually whisk in the yolk and cream mixture until the soup is smooth. Adjust seasoning if necessary.

Serve topped with tiny raw cauliflower florets, chopped fresh chervil or parsley.
Notes
*  fresh chicken stock is best for this recipe, although I cheat and buy frozen stock from our local gourmet frozen French food store, Picard.
Decorate with a few tiny reserved (raw) cauliflower florets and sprigs of fresh chervil or parsley. 
Update (March 2020): Try the same recipe using broccoli - it's fabulous!